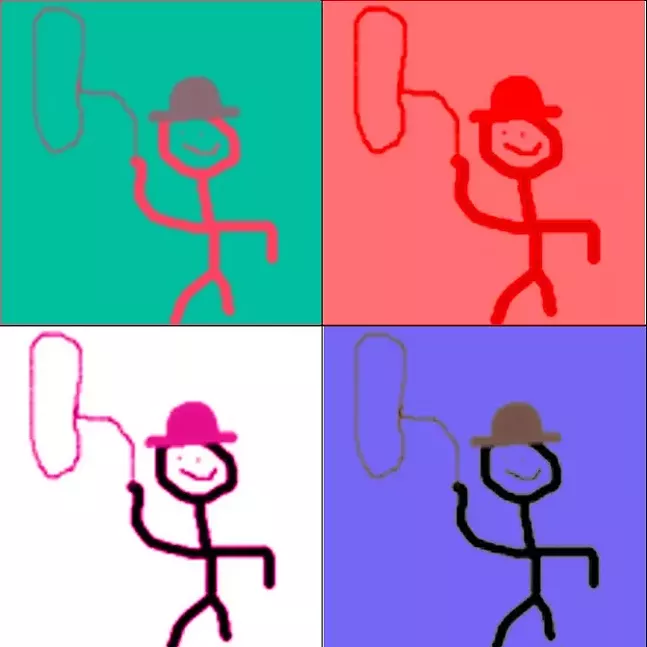 If that headline makes no sense to you, go back and check out the original story
here
. The basic gist of it is that a hastily doodled cowboy has evolved into regularly shared meme for 1A's Friday news roundup. Last week, we published an interview with the stick figure's illustrator, John Meyer. Today, we're talking with the senior producer for digital at 1A, Gabe Bullard, to hear the story from its side.
As you probably saw, the artist John doesn't have a name for it, but I imagine the people on staff at 1A do. Is there a unanimous nickname? You used "cowboy" in your Twitter DM, and a RT I saw called him "Roundup Guy."

We've tossed around a lot of potential names. We've called it the Roundup Cowboy a lot around the office, and one fan online called it Lasso Man, which I like. But I think we'll keep the character nameless for now — it can be anything to anyone.
Can you walk me through this story from your end? How did the illustration spread among the 1A staff?

It's been a favorite since our very first week on air. When we were launching the show in January, one of the questions we were asked most frequently was whether we would still do a News Roundup like the one on The Diane Rehm Show. The first time we did the News Roundup, John sent the drawing to the show. I forget who saw it first, but we all loved it. It was great to have someone engage with us in a fun way during our first week on air.
What was the first use of the cowboy in social media?

I wrote back to John to ask if we could post it online and, if so, how he'd like to be credited. I shared it that day, attributed to "John from Pittsburgh."
After that, it was an internal symbol — my colleague Lindsay had a printout of it at her desk. I kept it saved on my computer and put it on Instagram and Twitter from time to time. We started modifying it around March by putting the cowboy into big images from the news. After a few weeks, it became a thing we'd joke about on Thursday afternoons as we were getting the show ready. Everyone on the team suggests different ideas for what to do with the drawing.
What's your favorite tweet involving the cowboy?

It's hard to choose! I think if I had to, I'd pick the GIF of the cowboy with the dancing hot dog from Snapchat, or maybe this one:
I wrote about how this Friday tradition provides a nice breather from some of the heavier topics 1A covers. How deliberate is that?

It's a breather for us, I'd say. We try to have fun whenever we can. Just like any team of colleagues anywhere, we're not always super-serious. And by Friday, when we've been covering a week of stories and putting together the Roundup, no matter what's in the headlines, it's a lot and lightening the mood feels more welcome for us and for the folks following us. But at the same time, we don't want to make it The-One-Fun-Thing-That-1A-Does-On-Fridays ©, which would take some of the fun out of it, I think.
If the mood seems right, if there's a good image in the zeitgeist, then we go for it. The show on Friday is already sort of an event — we stream it live on Facebook, we get a lot of feedback and questions about the stories we're covering. There's a nice spirit in studio and online.
So, if there's an opportunity for us to have fun, why not? Early on, I thought it would just be something we smiled about in the office and our most devoted Twitter followers might get a kick out of. Now, if we don't do it, people ask where it is. It's nice to see that and have people to share in the fun.