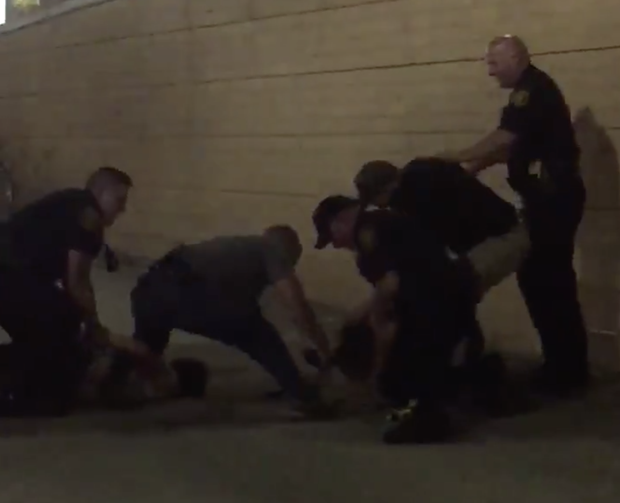 On social networking site Facebook, videos of alleged police brutality often spread like wildfire. So last night, when Facebook user Joce Smith posted a video of a Pittsburgh police officer apparently slamming a man's head repeatedly into the ground, it went viral.
The altercation on film, took place on Sept. 19 outside of PPG Paints Arena in Uptown following a Pink Floyd concert. In the video, a Pittsburgh police officer can be seen repeatedly punching Daniel Alderman, 47, of Ravenna, Ohio, in the head. Three other officers appear to be restraining and handcuffing another man also on the ground.
"My immediate reaction was to cringe," says Brandi Fisher, director of the Alliance for Police Accountability, a police watchdog group currently looking into the incident. "It just looks like a brutal beating. This person wasn't fighting back at the time, didn't appear to be resisting."
According to public safety spokesperson Sonya Toler, Alderman had attempted to interfere with the arrest of the other man, David Jones, 34, who was wanted on a warrant out of Cranberry Township on forgery charges. Police say Jones had previously fled from a Pittsburgh officer who was attempting to serve that warrant.
"[Alderman] was forcibly taken into custody and is in the Allegheny County Jail on charges of obstructing the administration of law, resisting arrests, and public drunkeness," Toler said in a statement. "Earlier this morning, the Bureau began an internal review of the use of force."
Toler says the Office of Municipal Investigations is also investigating. The officers involved in the incident were Andrew Jacobs, Brian Markus, Todd Modena, Robert Palivoda and Francis Rende.
This isn't the first time Pittsburgh police have been accused of using excessive force. In 2010, an altercation with three officers left
Jordan Miles
with bruises and broken bones. Another officer, David Derbish currently faces a civil rights lawsuit for allegedly using excessive force during a traffic stop that left
Leon Ford
paralyzed. In both cases, charges against the men were later dropped.
This also isn't the first time officer Rende's name has come up in relation to a filmed incident of police misconduct. In 2013,
Rende
was filmed accosting someone and brandishing a taser in the South Side during local St. Patrick's Day festivities.
"This is very typical of the Pittsburgh police department," says Kierran Young, a local political strategist, who obtained the video of the Sept. 19 incident from a friend related to Smith. "They assault people."