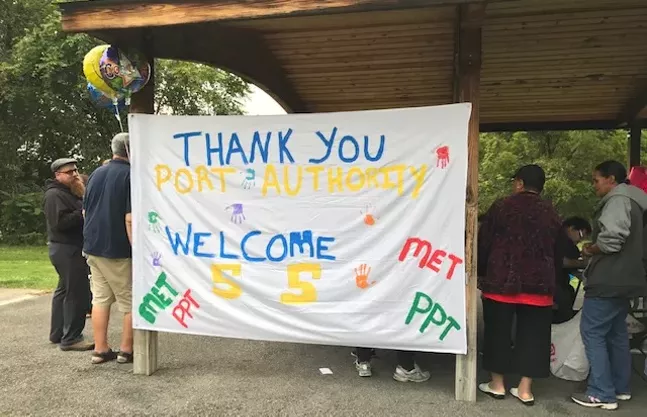 The U.S. Census just released its 2016 estimates for commuters in Allegheny County, and the number of Pittsburghers biking and using public transit is growing. Compared to 2015, people who commute to work via public transit grew 0.8 percent, and by bicycle by 0.2 percent. (In the city of Pittsburgh, bike commuters increased by 0.9 percent).
Allegheny County is actually bucking national and statewide trends, in terms of public-transit use. The U.S. as a whole decreased its share of public-transit users by 0.1 percent from 2015 to 2016, as did the state of Pennsylvania.
But
six
five state representatives from Allegheny County just voted for a House budget bill that proposes $50 million in cuts to public-transit funds, as well as cutting $50 million in multi-modal funds, which are used to build non-car infrastructure, including bike lanes. The representatives —
John Maher (R-Upper St. Clair), Jason Ortitay (R-South Fayette),
Rick Saccone
(R-Elizabeth),
Hal English (R-Allison Park
), Mark Mustio (R-North Fayette) and Speaker
Mike Turzai
(R-Marshall) — all voted for the bill, and were the only Allegheny County representatives to do so. The bill passed by two votes. The only Allegheny County Republican to vote against the proposed budget was Eli Evankovich (R-Murrysville); Hal English (R-Allison Park) was marked "excused" from the vote.
The bill will be taken up by the state Senate, and if passed, on to Gov. Tom Wolf's desk. Wolf has called the House's proposal "irresponsible," and is unlikely to sign it. But Wolf's likely decision is not stopping transit users and bike riders from criticizing the Allegheny County state reps.
The growing needs of cyclists are not being met. Eric Boerer, of bike advocacy group Bike Pittsburgh, says the
growth of bike commuters
in Pittsburgh and Allegheny County is an anomaly among big cities.
Boerer says cities saw bike-commuting growth for a while, but many of those are seeing their numbers flatten out recently. (Philadelphia, for example, saw no growth in its bike-commuter numbers for 2015-2016.) "We kinda bucked the national trend," says Boerer. "We have continued to climb. In a decade, we have more than doubled the bike-commuter rate."
He says cuts to the state's Multimodal Fund are the opposite of what Pittsburgh needs, since the addition of bike lanes has corresponded with a growth in bike commuters. Boerer says this should be the opportunity to expand funds, not cut them. He says getting more people to bike-commute and ride the bus saves people money, since they don't have to pay for parking, gas or other costs related to owning a car.
"[These votes are] literally taking money out of people's pockets," says Boerer. "I think the people that voted against it are a bit out of touch with what is going on here. Investing in transit and biking has improved people's lives."
Steve Korbel, a Democratic Ross Township commissioner, says North Hills representatives like Turzai are "out of touch" with the needs of their constituency regarding public transit. Korbel says several employers along Perry Highway, in Ross, drive down to West View to pick up employees who don't have access to a car. He also cites the public push two years ago to get a bus that would extend along Perry Highway, to CCAC North and the Northland Library in McCandless, in Turzai's district.
Korbel says during that campaign there were hundreds of residents, students and employers who were supportive of the bus extension. (
City Paper
attended a Port Authority of Allegheny County meeting filled to capacity during the group's campaign in 2015.) Ultimately, the Port Authority didn't award the campaign a bus extension due to limited funds.
Korbel says that Allegheny County reps should be supporting public transit, not voting to defund it. "That our state legislators aren't backing up the local officials and their constituents is a problem," says Korbel. "They should support us. Public transit is a very important issue to my constituents and a very important issue in the North Hills."
In West Mifflin, residents recently celebrated the
addition of bus service
to Mifflin Estates apartment complex. The 55 bus route was extended to serve the 200 residents of the complex, many of whom don't own a car. Allegheny County Council passed a resolution in March "urging the Port Authority of Allegheny County to reinstate service to Mifflin Estates in order to adequately address the service needs of the population of the West Mifflin Area."
But if the proposed cuts go through, that route could be endangered, as it a low-performing route in terms of ridership and cost per rider, according to Port Authority's 2016 service guidelines. The 55 serves part of Saccone's district, who voted for the state House budget proposal.
Ironically, some of the Allegheny County Republican's district could actually see immediate public transit benefits if funds were increased. When considering service expansion, Port Authority rates proposals through a
series of metrics
to determine which routes will be the most economical and serve the greatest need. Many of the top-rated service requests lie inside the districts representted by Turzai, Mustio and Ortitay.
In Turzai's district, bus route 12 runs along McKnight road to McCandless. Extending this route would take the North Hills bus to Wexford, which the highest-rated service request in 2016. Also in the top 10 of proposed services changes is the creation of a new route from Bellevue to McCandless. This route would provide Tuzai's constituents with a connection in Bellevue to take a bus Downtown, something riders living near Perry Highway currently can't do.
Mustio's district has three service request with ratings in the top 10, including extending the 21 bus and bringing back 25 bus to provide Moon Township with more service, and altering the route for 28X bus, so it goes straight to the airport instead of stopping at Robinson Town Center.
And in Ortitay's district, restoring the 33F route has a high service-request score and would provide riders in McDonald and the western edges of Allegheny County with bus service; that area currently has none.
Ross Township commissioner Korbel says that of the Allegheny County Republicans who backed the state House budget proposal. "Voting to remove funding for Port Authority is going against their interests," says Korbel.
Editor's note: This article originally stated that state Rep. Hal English (R-Allison Park) voted in favor of the budget bill, but he was marked excused according to the vote count. The article has been updated to reflect the accurate information.