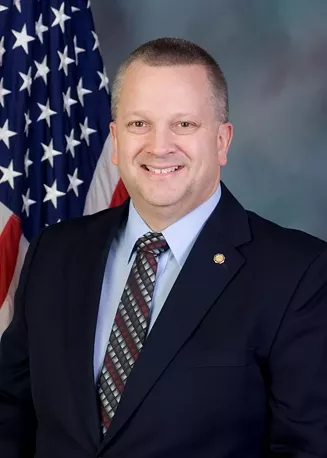 Pennsylvania state representative Daryl Metcalfe (R-Cranberry) has been known to take on many controversial topics. He regular shouts criticisms of "
anchor babies
,"
gay tourists
, and people who warn of the dangers of climate change. Serving as a state representative since 1999,
Metcalfe
has been spouting far-right views since before Breitbart existed. In fact, Metcalfe once claimed in the
Pittsburgh Post-Gazette
that he "was a Tea Partier before it was cool."
But he has a new enemy in his sights, and one that is widely enjoyed by hundreds of millions of Americans: Labor Day. In a Facebook post, on the holiday (Sept. 4) which all Pennsylvania state employees, including Metcalfe, get off work, the legislator wrote: "Labor Day created by unions, of course it would be celebrated by avoiding work! The public sector labor unions are one of the greatest threats to economic freedom and prosperity in Pennsylvania!"
Metcalfe went on to blame unions as an obstacle to state Republicans' efforts to privatize liquor, reform the public pension system, reduce welfare spending and pass
"school choice"
legislation. (However, wine and spirit sales in Pennsylvania are slowly privatizing and a public pension reform bill was
passed recently
with bipartisan support in Harrisburg, all while labor unions still exist.) Metcalfe's post concludes with "Freedom loving Americans should celebrate Labor Day by committing to shutting down the collectivist mentality promoted by the labor movement!"
Metcalfe's condemnation of Labor Day, a holiday created to celebrate the good of labor unions, didn't sit well with some of Metcalfe's constituents.
Patrick Andrekovich, who lives in Butler County, says he took offense to Metcalfe's comment. "The real reason to celebrate Labor Day is to look back and remember the way things used to be and the strides unions made, like better wages and working conditions and getting sick days," says Andrekovich. "All those things were achieved through organized labor."
When he read the post on Facebook, Andrekovich says he called Metcalfe's office, but no one answered. Andrekovich points out that state reps like Metcalfe receive a $86,000 salary with benefits and only have to work about 100 days while the legislature is in session. Andrekovich says it's ironic that Metcalfe is so critical of Labor Day, but is willing to participate in its benefits.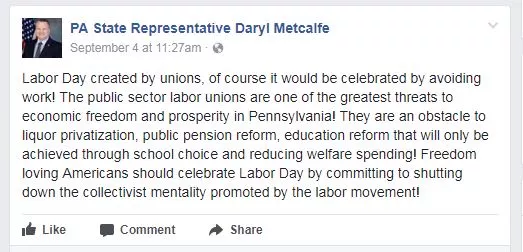 "There is nothing that requires Metcalfe to take that day off, but he chose to do that," says Andrekovich. "It was so unnecessary. There is no need to lash out at a group of people that spent decades to give better working conditions for people."
Carol Kurpiewski Mintus lives in Westmoreland County, but spoke with many friends that live in Metcalfe's district that were upset about his comment. She felt compelled to respond. "Shall we talk about how many days a year our legislature is actually in session?" she wrote on Facebook. "Or how you guys exempt yourselves from punitive health care provisions or how you get a pension for life after only two terms? How DARE you denigrate hard-working union members? You, sir, are a hypocrite."
Mintus' response received more than 380 likes, which was about 300 more than Metcalfe's post received. As of press time,
Metcalfe's post
has received more than 300 comments and many of them are negative.
Mintus says ideas exposed from Republicans like Metcalfe's Labor Day comment are what made her leave the Republican Party years ago. "They spew all this hatred and take the benefit of what everyone else has worked for," says Mintus. "The fact that he would choose Labor Day to spew hatred is really what hit me the wrong way. Without unions, we would not have a 40-hour work week and small children would still be working."
__