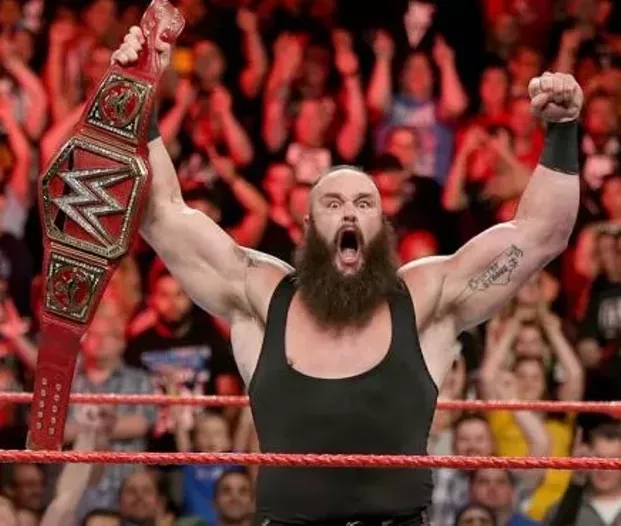 Pops and Botches is a weekly roundup of the WWE happenings on Monday Night RAW, Smackdown Live, 205 Live and NXT as told by me, Meg. I'll break it down by pops (good things) and botches (clear misses) for each show. These are obviously my opinions, most of which I log live while watching these shows.
POPS
RAW
I love Braun vs. Lesnar, actually. Braun Strowman is the babyface monster we didn't know we needed a year ago, and it's actually really fun to watch him fight Lesnar. Hoss fights usually bore me, but I'm into this.
John Cena is an angelic being and the opening segment with Roman Reigns, Samoa Joe and a very fired up, hot on the mic Miz was awesome. Bonus points to Miz for cutting a sick promo about being underappreciated after wrestling to like 50 people right after they opened the doors for the pre-show at SummerSlam.
Their match would probably have been fine but beach ball mania ruins everything. I hate Brooklyn wrestling fans.
Hardys v. Rollins and Ambrose aka Shield Lite was incredible. These four men are sublime in the ring. Literally awe-inspiring. It also seems the Broken Hardy gimmick is getting closer, and that makes my little mark heart swell. I love a well-done face v. face match, honestly.

Smackdown Live


A.J. Styles announcing an open challenge and the crowd expecting a debut to only get Kevin Owens, who proceeded to cut a helluva promo throughout the segment. It was a true blessing. Fuck you, BK! KO does what he wants, and cares not for your feelings or expectations. His indigence is believable, and these segments remind the WWE Universe why he's one of the best in the biz.
I was very in my feelings during Kevin and Sami's backstage conversation when KO asked Sami to guest referee his U.S. Title rematch. If you know anything about their storied history, it's like a ripping open old wounds every single time their past is brought up.
Those two always have great matches together, and the addition of having Baron as guest referee (then ejected by McMahon who took over after a very funny exchange), just made it that much more entertaining. It was a great feud between KO and AJ, and I'm excited to see who they feud against next, or if Kevin is headed for an IC or WWE Championship shot.
Okay...not going to lie. Bobby Roode's debut and the insane pop he got gave me some real ass goosebumps. Looks like they're keeping him a heel, but I hope the crowd actually boos him as a heel instead of supporting his scummy, misogynist, macho butt persona.
Shelton Benjamin returns. To tag with Chad Gable. Be still my patriotic heart.
The Fashion Police are hilarious, and I love them. They make damn sexy zebras, after all.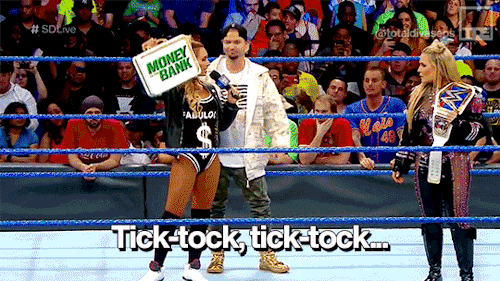 Carmella cut a delightfully wicked promo on new champ Natalya. (Botch: Ellsworth was shitty and clunky. Let me repeat for the millionth time. Get him the hell out of there. She's perfect on her own.) It does also look sort of like there's a glimmer of hope of dissonance between idiot chinless and Mella.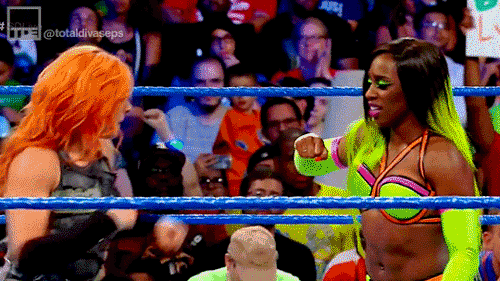 I love Naomi and Becky Lynch tagging together. #GLOWFIRE has my heart. The match against Carmella and Natalya was cool. I do love seeing a good face victory, and I like the tinges of a perhaps longer feud between 'Mella and Natty. Their antics were really funny as a super fragmented tag team.
205 Live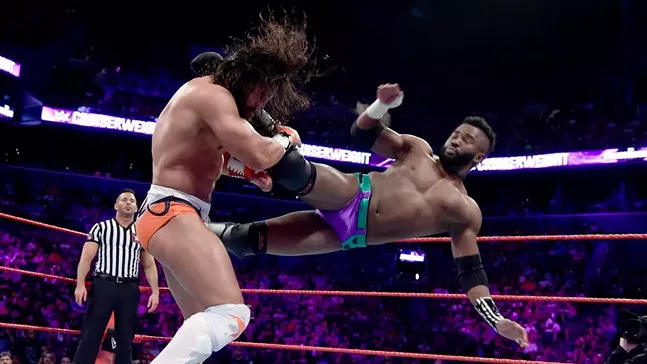 Tony Nese is such a delightfully chach-y heel. His "eight reasons" he is better than everyone else (each one of his abs) make me laugh every time he points them out.
Gran Metallik's style, as I mentioned last week, is absolutely bonkers. THE MOONSAULT AFTER LETTING NESE SLIDE THROUGH THE ROPES? INSANE. Double suicide dives through the ropes by Cedric Alexander and Metallik? Yes please!
Titus O'Neil and Tozawa make a delightful pair. I love their backstage work, and I'm invested in their partnership/friendship.
Neville v. Tozawa was another beautiful match. Neville is such a sinister heel, and Tozawa actually has face love from the crowd. The moonsaults. The selling! The near falls!! The Rings of Saturn!!! I'm kind of sad they played hot potato with the belt, but I'm glad it looks like Neville is about to get another hearty run...see botches for the rest of my feelings.
NXT

The initial recap of NXT Takeover III was so well edited and produced, and my heart bursts every single time I see shots of Code Orange performing "Bleeding In The Blur" to kick off the event/playing Aleister Black's entrance theme. Us Pittsburghers should be proud as hell of that band.
No Way Jose's entrance was tons of fun and the pop was huge, which made the crowd's anger at Lars Sullivan for jumping Jose even more powerful. It's a great way to build heel heat.
The Iconic Duo's got such a well-established gimmick, and Peyton Royce is absolutely phenomenal to watch. Her flexibility and viciousness was a perfect foil to "Country Strong" competitor Sarah Logan's strength and grit. I really enjoyed this match, and it felt really big.
It's always a bit of an adjustment seeing Tyler Bate and Trent Seven be enemies with Pete Dunne since they tag/stable together as British Strong Style in Progress, but different companies have different storylines. It's an exercise in giving yourself over to kayfabe.
That being said, the pop for BSS was HUGE, and Pete Dunne is such an electric champion. The match, in which Wolfgang tagged with Dunne, was obviously incredible with vicious limb manipulation via Dunne, amazing graps and striking from Bate and the unbelievable strength and charisma of Seven. Wolfgang's ability to fly in addition to being a hoss rules. Wolfgang's senton bomb at the end to Bate made me mark out.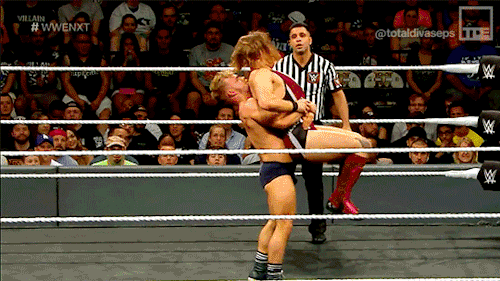 BOTCHES
RAW

The Brooklyn crowd actually is the fucking worst. They were so self-absorbed, didn't play into the storylines at all, cared more about getting on TV themselves by playing with fucking beach balls, and were generally a nightmare. It was actually ruining my experience as a viewer, to be honest. I wish that SummerSlam was not going to be there next year with all my damn heart.
A literal botch happened when Enzo and Cass were in a "Brooklyn Street Fight," whatever the fuck that means. Enzo at this point is pathetically annoying, and Cass suffered a serious knee injury that had Enzo "win," but mostly I'm just sad that Cass got injured at the hands of a storyline that desperately needed to die weeks ago.
Nia Jaxx squashing Emma. Jesus. Fucking. Christ. There's no story here, and it's so unfortunate to see Emma continually get jobbed out when the women's division on RAW desperately needs a non-title storyline. Have Jaxx crush jobbers, that's fine. Just don't have her crush someone in the locker room who will look weak if/when they try to build her into a legitimate storyline. #GiveEmmaAChance #GiveWomensWrestlingAChance #WillWeEverGetToSeeTheWomensDivisionGetTheTimeItDeserves
R. Truth vs. The Drifter...was a squash of Truth? Hollow as hell.
I absolutely loved the actual wrestling in the 205 Live eight-man-tag match, but it was way too short, contributed to no storylines, and is a complete nightmare because the crowd didn't care at all, despite the fact that some of the most amazing technical dudes were tearing it up in the ring.
Finn vs. Jason Jordan was such a waste of time. The crowd doesn't give a shit, and Finn can't even save this storyline.

Smackdown Live

I'm sorry, but putting Shinsuke against the Singh brothers in a match? He deserves a more compelling feud than his present one with Mahal and company. We know he could beat them all with his eyes shut. Put him the IC Title picture already if you're not going to put the WWE Championship on him. I don't care if the Singh Brothers take great crazy bumps, or if Jinder helps WWE expand their market in India.
The Usos vs. the Hype Bros was so lackluster. It's not like either team isn't talented, but there's no history, no storyline. It existed solely to show the Usos are tough, something we already knew.
The crowd chanted "We are awesome" and "We want Ellsworth" during the women's tag match. I am going to have reoccurring fantasy dreams about kicking the Brooklyn crowd's ass.
Dolph Ziggler as a smarmy bad guy is where he sits best, but his character as a giant baby who throws temper tantrums because people don't love him off the bat is so silly and hard to take seriously.
I hate Baron Corbin's pants. This isn't really anything particularly pressing. I just wanted all of you to know that I think his pants are ugly.
205 Live

Brian Kendrick sending out as a clown in his place for the scheduled 'duel' with Jack Gallagher? Absolutely fuck that noise. I understand that it was a setup for the eventual surprise Kendrick ambush and the table spot, as well a chance to see a new, more aggressive look for Jack Gallagher, and I'm looking forward to a no DQ match in the cruiserweight context, but it just feels so...bleh.
Surprise, surprise. TJP tries to gaslight Rich Swann!! BREAK HIS OTHER KNEE. EJECT HIM FROM OUR EARTH. His manipulative, fake-friend bull shit must not be tolerated!
Alright. It makes sense to bring Enzo to 205 Live given his size, and I'm sure it's a help to 205 ratings. That being said. Get him the fuck away from the belt this early!! I'm fine with a build, but the thought of seeing Neville and Enzo go at it is baffling. Enzo has been nothing but a physically weak character for the past few months—I can't even imagine him being strong in the ring against anyone. I feel like in order to take him seriously, they need to show us that he can fight other folks on the 205 Live roster with ease.
NXT
I really don't like that they had Bobby Roode debut on Smackdown last night but are still keeping him connected to revenge on Roderick Strong and an attempt to grab back the NXT championship from McIntyre. You made it to the main roster, dude. Leave it alone. There's enough fresh talent there that Roode is not needed at all—cut him loose from NXT's story lines.