Squeeeeee! Could this week's cover be any cuter? It's by comics and animation cartoonist Caitlin Rose Boyle, whose whimsical, anime-inspired artwork of a young, wide-eyed student just arriving in Oakland couldn't be a more perfect fit for our College Issue. Caitlin went to school in Pittsburgh herself, arriving here back in 2008 and graduating with a BFA from Carnegie Mellon University in 2012.

Some folks will recognize her work from Boom! Box's Jonesy, a comic book created with writer Sam Humphries, about an angst-ridden teenager with the secret power of making other people fall in love with anyone or anything. If you're not familiar and you dig this week's cover art, definitely check them out, especially if you've ever felt tortured in high school like, ahem, me. Humphries' writing is super smart, but it's Caitlin's playful art that really brings the comic to life. Plus, it's refreshing to find a comic with so many strong females and minorities in the storyline.

Caitlin was also the co-creator for the 2014 Nickelodeon Short Toon Buck n' Lou and the Night Crew, and just this spring, local comic and cartoon arts museum Toonseum awarded her their Emerging Artist NEMO Award, given to "notable individuals for excellence in the cartoon arts," according to its site.

Sadly, after nine years in Pittsburgh, Caitlin has packed her bags and is heading to Los Angeles. We caught up with her over email after she finished this week's cover illustration and talked to her about her upcoming move, her comics and robot octopus arms.

Say it's not so: You're moving to L.A.! What's behind the move?
I'm so sad about it! I love Pittsburgh dearly, but there are a few important factors pushing me out the door. It's about time for a new adventure and a slight change of scenery, but I'm also looking to be closer to my collaborators. Most importantly, I'm looking to be closer to the animation industry. Comics and cartoons are my two loves — you can make comics from anywhere, but it really helps to be near the studios if you'd like to work in studio animation. My work schedule has been three hours behind for a while now. It'll be nice to finally be in the same time zone as the rest of my team!

What do you think you'll miss the most about the city?
So many things! The people, the neighborhoods, the architecture, the food! It's all super near to my heart. To be honest, the ultimate answer is probably Spak Bros. I've lived somewhere near them for the past five years now and it's going to be hard not being 10 minutes away from a Pittsburgh steak hoagie at any given moment.

Have any Pittsburgh artists inspired you over the years?
Oh, I wish I could just list everyone I know because I inevitably have to leave some people out, and EVERYONE is rad. There are too many wonderful artists in this city. John Peña taught a comics class at CMU that kind of helped jumpstart my comics making process. Juan Fernandez has been a constant friend since our time at school and he's one of the hardest working comics people I know! I'm always inspired after a conversation with Juan. Jenn Lisa's drawings are so full of life and heart; her comics & drawings supercharge me when I look at them. Lizzie Solomon's work pushes me to be bolder and weirder, Rachel Masilamani's work is so powerful and raw and makes me want to share my heart on the page. I'm very lucky I got to share a space with Pittsburgh artists and comics-makers for awhile.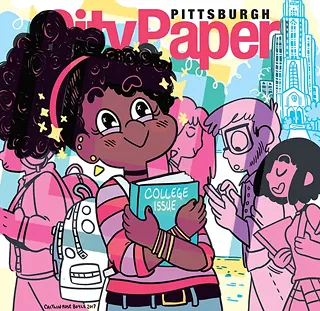 Your cover illustration this week is for our College Issue. You're a CMU grad. Do you have any advice for incoming freshmen moving in this week?
You should check out the city outside of Oakland and Squirrel Hill! It took graduating to get me to really explore the city, but I know not everyone is going to stick around. Make sure you do a little bit of exploring now! Definitely go to Garfield's Unblurred gallery events (and go to Spak Bros while you're there), check out the Allegheny Cemetery (if you're a weirdo like me and you like old cemeteries), go to Polish Hill and check out Copacetic Comics. There's a lot to do outside of the university bubble!

What do you think your freshman self would think about where you are in life right now?
She would be overwhelmed, probably? I'm not like, at the very top of my game, but I'm doing okay. The complexity of life as an adult is not something teen-me would have grasped very well. She would, however, be very stoked about being able to walk into a bookshop or comic book store and see her work on the shelf. That will never stop being completely weird and rad.

I have to give a shout out to your killer work on Jonesy. You draw teenage angst so well! Have you modeled any of her emotional scenes from your own high-school experience?
Nothing that Jonesy goes through is a one-to-one analog of anything that I went through, but I was absolutely channeling the emotional rollercoaster that was being a teenager. I was definitely someone who moped and yelled through most of ninth grade. I felt really lost and lonely, and my grades tanked. It took making some really good friends and getting passionate about drawing to pull me out of my sadness spiral. I'm so proud of the emotional journey Jonesy goes on through those 12 issues! She doesn't grow all the way up, but she kind of learns to stop being absolutely terrible all the time, and how to care about things outside of herself.

Jonesy has a secret power: to make anyone fall in love with anyone or anything. If you got to choose a super power for yourself, what would it be?
Ooooo, turning into an animal or talking to animals would be cool. Anytime I'm playing a roleplaying game like D&D, I gravitate towards druid & ranger stuff because I just wanna be an animorph, minus the alien war and teen angst. Or like, maybe telekinesis? So I can ink a page and make dinner at the same time. Is that how telekinesis works? Maybe I just want a set of robot octopus arms.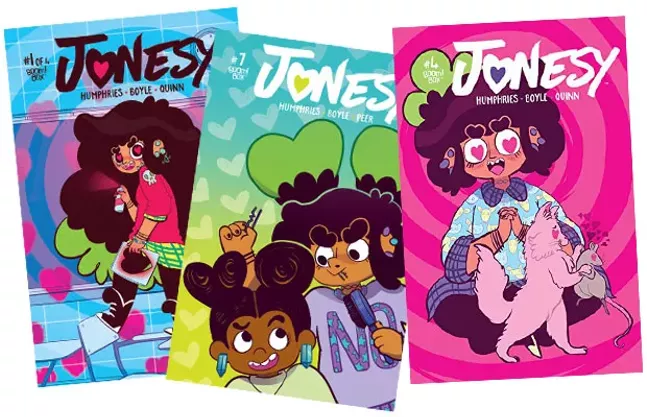 The comic book world used to be heavily male-dominated. When I was growing up, trying to find a comic book that had a strong female lead who wasn't drawn with huge cleavage was next to impossible. Have you found that has changed at all recently?

I wasn't super into American comics growing up, and the male-dominated atmosphere was a big part of it. I gravitated towards manga, which had a huge selection of female creators to choose from in a bunch of different genres. There's still totally an old guard of comics dudes making really stale stuff with the bigger publishers, but there are honestly SO many women and non-binary people doing amazing work in comics right now, here and all over the world. A large chunk of it is independently published, or published online, but it's accessible and there's so much of it that I frequently have a backlog of amazing work to read through.


Did you have any favorite comics growing up?

I loved the Sonic the Hedgehog comics as a kid and The Electric Tale of Pikachu. And, I had a very lengthy Garfield phase in elementary school. The comics that REALLY impacted me were from the manga aisle at the local bookstore — Sailor Moon, Cardcaptor Sakura and Inuyasha lit a fire under me and pushed me to really begin to draw in earnest. In high school, I got really into the work of Jhonen Vasquez (I was edgy, it was edgy) and Serenity Rose by Aaron Alexovich, and (back to the manga aisle) Full Metal Alchemist and Fruits Basket.


I know you're a big fan of gaming. Does that ever play into your artwork?

Sometimes! I feel like Pokémon honestly has had a very strong influence on my character designs. When you're following a media franchise like that for more than half of your life, it kind of seeps into your bones. I draw characters holding handheld game devices a lot (my favorite way to play — it's reminiscent of reading a book, it feels more intimate and immediate, and also you can do it for like 15 minutes at a time), and a few years back I did a short comic about games as self-healing exercises for the anthology Chainmail Bikini.


Have a favorite designed game?

Animal Crossing and Katamari Damacy are both tied in my heart for perfect game world. I love games that are whimsical and full of color and music and heart.


You did work with Nickelodeon a few years ago. Was that as cool as it sounds?

HECK YES, Nickelodeon is full of wonderful people, I can't wait to work with them again. Co-creating Buck n' Lou and the Night Crew with Tara Helfer at Nickelodeon was like a dream — a sometimes stressful, wild, super-informative dream where we basically got to be mini-showrunners for a three-minute animated short. I feel very blessed to have that experience under my belt, and I pull from things I learned at Nick constantly! AND, I got to sit on a couch shaped like the word "Nick."


Fans of your artwork can sign up for your Patreon. Tell us what kinds of perks our readers can get if they subscribe.

There's no set schedule for updates, it's basically "whenever I have a minute," so rewards are like spontaneous art surprises in your email a couple times a month! For $1 you get access to my behind-the-scenes blog where I post process gifs (small loops of me penciling a page or inking a character), comics pencil pages and sketches. [Three dollars] gets you the behind-the-scenes blog and also unlocks the "secret art club" level, where I am currently taking requests for Cosplay Jonesy drawings and posting a series of small comics about my move. [Ten dollars] gets you the behind-the-scenes blog, the secret art club, and one postcard per month, with a sketch on the back. There are higher levels that get you everything plus a small commission, but I suggest checking out the reward tiers on Patreon if you're interested! Every little bit super helps, especially during the move.


Do you have any other upcoming projects we should be on the lookout for?

Nothing I can talk about right now! Keep an eye on my Twitter for announcements. That's usually the best place to keep tabs on me.


Any parting words for Pittsburghers before you peace out?

I didn't grow up here, but I really do feel like Pittsburgh is my home. I'm going to miss it fiercely when I'm gone. Thanks for having me for almost a decade! I hope I can visit again soon! Love you!