Pops and Botches is a weekly roundup of the WWE happenings on
Monday Night RAW
,
Smackdown Live
,
205 Live
and
NXT
as told by me, Meg. I'll break it down by pops (good things) and botches (clear misses) for each show. These are obviously my opinions, most of which I log live while watching these shows.
POPS
RAW
They have been teasing out this
will Seth and Dean get back together, will they not
angle at the perfect pace. And when all this drama between two complicated men came to a head on Monday night and they reunited, it was truly beautiful. This storyline, although it's probably not intended to be this way, is a beautiful homage to all the queer fanfic on Tumblr about these two men. My little gay heart backs it so hard right now, which means that when Dean inevitably goes heel on Seth my reaction will be big as heck too.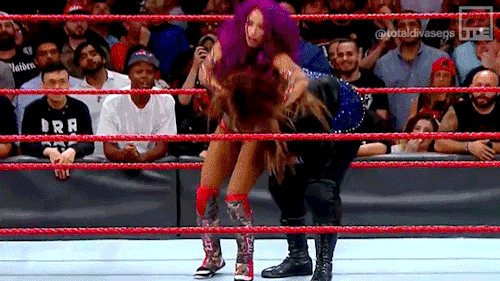 Wow. Nia v. Sasha was really good!! Nia still scares the shit out me as a worker, but this match was really well executed, and Sasha Banks final maneuver out of harm's way and into a Bank Statement was so beautiful it should be in a museum. Gosh bless.
The Cruiserweight title match between Neville and Akira Tozawa. Wow. Just. These men are absolutely brilliant wrestlers, and the pacing was great. I genuinely didn't expect Neville to lose his title, so I was shocked by the results. Titus (as Tozawa is part of the Titus brand) taking a selfie of Akira with the belt on his shoulders was cute as heck, but I also was low-key very, very sad for Neville.
SmackdownLive
Natalya v. Becky was absolutely beautiful. These two are such good technical wrestlers that it makes my brain hurt. I wish the match had been longer, but it was beautiful while it laste d. I hate that they always make Becky look weak though, so minor botch on this bad boy.
Honestly, Carmella's heelish behavior is on point. She is good enough on her own, and Ellsworth looks honestly pitiful compared to her genuinely good performances. Boy, bye!
BARON CORBIN CASHED IN HIS "MONEY IN THE BANK" CONTRACT AND LOST. HE FUCKING LOST.
I cackle every time I think about it. It was fun to see that the contract doesn't mean an automatic win when you do cash it, but it was also just fun because it's so fitting for Corbin's dumpster fire character.
The Fashion Peaks finale was quite lovely. They discovered a final clue, a slip of paper that says "2B" with an ominous warning of something back coming for the whole tag team division. Will it be a debut from NXT? Will it be another betrayal? I don't know, but I'm excited to see Breezango return in two weeks.
AJ got layers and they look lovely!
205 Live
I'm a sucker for a shot of a kid staring at their hand in disbelief and joy after a wrestler has given them a high five. This week's tender moment was brought to me thanks to Cedric Alexander. Thanks, Cedric.
Speaking of Cedric, he and Gran Metallik's match with Tony Nese and Drew Gulak was absolutely marvelous. I love Metallik's "King of the ropes" style, as it's kind of stressful and honestly so cool. Alexander has charisma out the ass. Nese and Gulak are fun heels. There's really no storyline I'm invested in here, but I enjoyed the match.
Jack Gallagher showing up to save Mustafa Ali from the conspiracy-theory obsessed, paranoid freako that is Brian Kendrick. I love Gallagher's aggressive side, and seeing Kendrick freaking out was sick. Also anytime I get to watch Ali wrestle, I'm going to be a happy bean.
NXT
The Ember and Asuka feud is absolutely electric. Ember's promo was intense (and made some darn good points,) and Asuka cut a heated promo in fucking Japanese, that's how fired up she was! It was incredible!!
The Street Profits are such a spectacular tag team. They've been around for like two weeks and are quickly becoming my favorites. In addition to have some cool in-ring moves, the two are hilarious and engage the crowd. It's awesome to watch.
Ruby vs. Billie Kay was great. Their disdain for each other feels very real, and their big personalities really fill the match. Ruby has such a fun punk rock persona, and it is a perfect foil to Kay and her buddy Peyton Royce's shallow, self-obsessed friendship.
BOTCHES
RAW
In general, commentary has been bad. Do better, commentary.
Jesus, please stop this Cass and Enzo angle before my brain goes permanently to sleep. Cass has come a long way, sure, but he's still hella awkward on the mic. The only thing in this promo that was sick was what sounded like a shoot about Enzo being hated backstage (which has been rumored to be true). But the story itself is played out, Big Show and Big Cass have so little ring chemistry, and the Show just looks tired. It's less than compelling. I'm just ready for it to be over.
The Jason Jordan-Angle story line is drowning in the water. They're literally throwing the Hardys at it to try and get Jordan some heat and relevance. I don't know how you rectify such a bad storyline without having Jordan turn heel and reveal it was all fake and he was just using Angle to get to the top, which, doesn't look particularly possible right now.
Although I'm kind of excited for the Universal Title match at SummerSlam, this "main event" segment where everyone got in a ring together, talked trash, attacked each other and required a whole locker room of wrestlers to keep them apart was honestly a real snooze fest. Let me see Strowman throw an office chair at Lesnar. Now THAT'S something I'd watch.
SmackdownLive
Jinder Mahal is only a heel because of his Indian heritage!! This is trash writing!! I am sick and tired of WWE leaning on nasty ethnocentristic and racist-driven "heel heat" in a time where white supremacy is openly violently attacking people on the streets!! People literally only boo him because he's Brown and speaks Punjabi. It's insane to see WWE use Mahal as a ploy to pander to the fans in India and establish dominance in the country's wrestling sphere while maintaining the Indian wrestler is a bad guy JUST BC OF HIS CULTURE. DO BETTER, WWE!!
Also can't wait to see a bunch of dumb fuck white people chant USA at Jinder v. Nakamura, as the chant applies to neither.
Lana becoming what appears to be Tamina's manager has me very conflicted. On one hand, Lana was an amazing manager to Rusev and is an objectively bad wrestler, so I'm not opposed to her taking on a manager role. I just have no idea how they're going to make this story interesting since Tamina and Lana don't have much chemistry on screen.
Get RKO off my screen, especially if he's attacking handsome Rusev!! Stop making the quietly racist white guy fight all the "foreigner" characters! It's too real!!
205 Live
While everyone on this show is so talented, 205 Live is dangerously struggling. The audience is dead, barely anyone is invested in the feuds, and sometimes it feels like a chore to watch because the emotional engagement just isn't there. I'm praying for a facelift soon or a proper integration of the Cruiserweights into the rest of the division, but we'll see.
NXT
Pre-emptive botch here. WHY THE HELL IS ROODE V. MCINTYRE THE MAIN EVENT WHEN ASUKA V. EMBER MOON FOR THE NXT WOMEN'S CHAMPIONSHIP IS ON THE CARD. What fucking idiots would put one of the most dynamic feuds between two insanely gifted performers before the match between a guy who pretty much is only exciting during his entrance and another guy who is good in the ring but his feud with Roode doesn't feel heated? It's a hard no from me.
To reiterate, I hate the shit out of Bobby Roode. His misogynist turd character should be booed with absolute fervor, but I don't always get that vibe from the crowd. He'd be a more fun heel if some of WWE's fans didn't think his toxic masculinity was cool.