The art gallery at the Brew House Association, which re-opened in July after a long hiatus, now has gallery hours.
The space's inaugural show,
Homecoming: Artists and Adaptation
, can be seen Tuesdays and Thursdays from 11 a.m.-2 p.m., on Saturdays from 11 a.m.-2:30 p.m., and by appointment.
The gallery re-opened on July 14, several years after shutting down while the historic South Side complex underwent extensive renovations.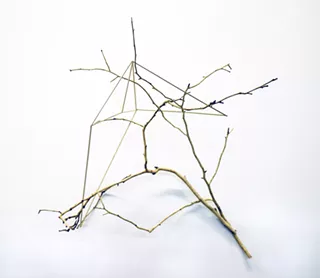 Homecoming: Artists and Adaptation
features work by 12 local artists who inhabited the complex, with its famous clock-tower, dating to the days when it was an artist-run co-op, and the gallery was a key part of the city's art scene. (Kids: This goes all the way back to before the South Side was considered simply a regional drinking destination.)
The artists include Bob Bingham, Chris Craychee, Christiane Delores, Tim Kaulen, Theo Keller, Rob Long, Aimee Manion, Bill Miller, Carin Mincemoyer, Keny Marshall, Wendy Osher and Renee Zettle-Sterling.
The Brew House structures date to 1899, when they were built by Duquesne Brewery. The brewery closed in the early '70s, and the building was later occupied by artists who renovated portions of it as living and working space.
The nonprofit
Brew House Association
, formed in 1993, later purchased the buildings from the city, but ultimately determined it couldn't maintain the sprawling old brick structure, only parts of which were occupied.
Against the backdrop of a rising real-estate market (in the neighborhood and city-wide), the BHA hired Trek Development Group to
renovate the property
, which was recast as 76 units of affordable and market-rate apartments, with preference given to eligible artists.
The BHA, whose new executive director is Olivia Payne, is also continuing its Distillery program, a career-development residency for local artists. And the Brew House rents studio space to arts groups, says board member Natalie Sweet. Current tenants include Iron City Circus, and Evolve Coaching and Art for Autism, Sweet told
CP
in July.
The BHA's gallery, formerly called Space 101, was founded in 1995 and hosted a wide variety of visual-art exhibitions as well as performances. It ran for some two decades but shut down during the renovations.
The new gallery space is larger, says Sweet, but similarly raw, with its brick walls, concrete floor and big windows opening onto South 21st Street.
Sweet, who organized
Homecoming
, is also exhibition and programming assistant at Contemporary Craft.
Homecoming
runs through Sept. 17. And the current Distillery artists will get their own group show next spring.
The Brew House is located at 711 S. 21st St.