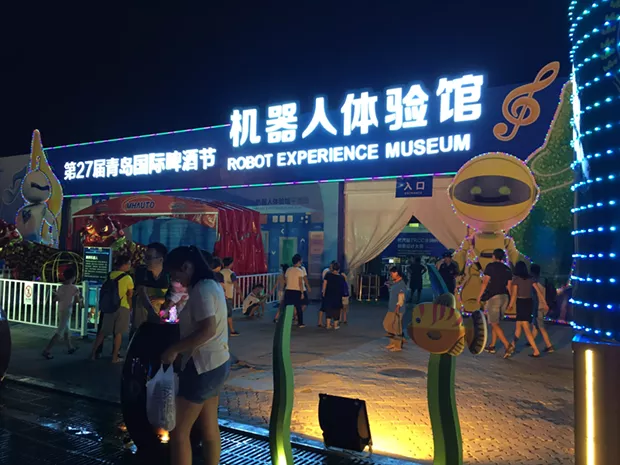 Pittsburgh-based Squonk Opera is spending August performing its show
Pneumatica
at the Qingdao International Beer Festival, in China's Shandong province. Throughout the month, Squonk members will be sending
City Paper
updates about their experiences week-to-week. For more info, go here.
While the Squonkers were getting the shows up and running in the heat, and seeing the Qingdao that our dear readers see documented here, waves of dysentery and head colds swept thru the ranks. Because the delivery of these infectious maladies so clearly involved the other Squonkers, cruel maledictions and the genetic fitness of our peers was questioned. Steve [O'Hearn, Squonk co-founder and co-artistic director] later apologized to the group for these accusations.
And here's what else happened during Week 2 in Qingdao …
[Squonk musicians] Jeremy and Dan discovered a music shop near the hotel, where Dan got a ukulele and Jeremy jammed with a young local drummer.
While Jackie [Dempsey, Squonk co-founder and co-artistic director] was trying to use Google translate on her iPhone at the local department store to ask a young salesgirl where to find medicine, the young lady seemed very excited and Jackie wasn't sure why until she handed her back her phone and read this …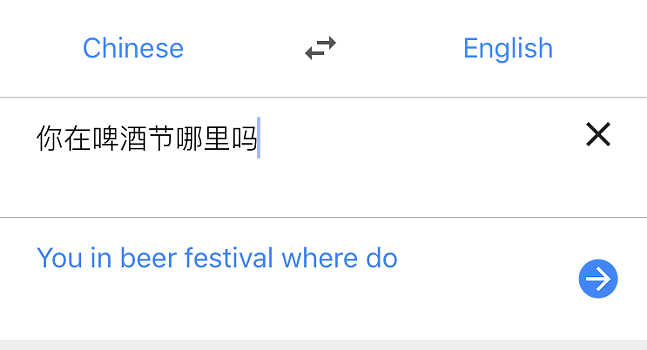 The Squonkers enjoyed their first vacation day since being in China, each going his or her own way to explore the city. Todd and Forrest hiked through the National Forest of Zhushan Hill and then checked out the overcrowded beach.
Steve, Jeremy and Dan went to the Qingdao Folk Customs Museum, where they purchased prayer ribbons, like the Spanish Milagros, to be hung on trees. They also got a great panoramic view of the city.
Jackie and David explored the Zhongshan Road shopping district, where Jackie considered purchasing a facekini to protect her fair skin from the sun (more on facekinis
here
) and David became a real Manlbdro Man.
Back at the festival the next day, we explored the vast grounds of Beer City. Our show takes place right across from this beer tent, and the music just keeps pumping out of this tent as well as two others, plus a karaoke tent right next to Lady Pneumatica, all during our show. A sensory experience like none other in our 25 years of performing.
Jackie timed her Chinese TV interview perfectly with the fireworks display and many gifts were given to the Squonkers post-show.
But the highlight of the week was when Steve, wanting to be a real boy and join the parade, like all the other inflatables, tried jumping in with assorted fruits and storybook characters. He put his inflatable on one arm at a time just like everybody else, didn't he? If you prick him, doth he not deflate? He wasn't so different! But he was so pointy! It did not take long for the local constabulary to indicate their disfavor.
More photos: