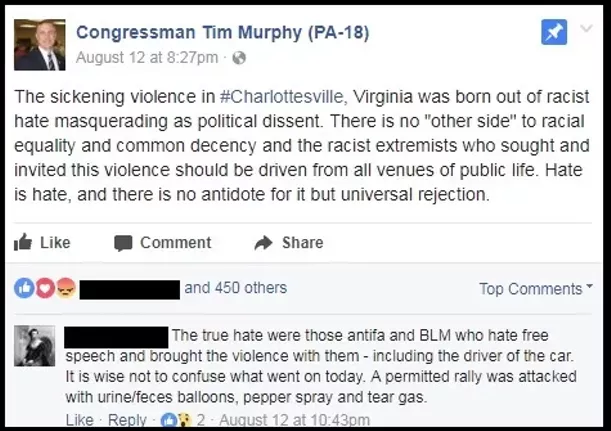 The Aug. 12 death of Heather Heyer and injuries to several counter-protesters in
Charlottesville, Va.
following a gathering of Ku Klux Klan, neo-Nazis, white supremacists and white nationalists has caused a political firestorm. A car, allegedly driven by James Fields, an Ohio man with ties to neo-Nazi groups, drove into a crowd of counter-protesters and killed Heyer. Before the death, white-nationalist protesters and counter-protesters, including members of
Black Lives Matter
and Antifa, an anti-fascist group, clashed and beat each other with flagpoles and clubs, but it's unclear what or who instigated the brawl.
After the dust had settled, President Donald Trump made a statement on Aug. 12 from his golf club in New Jersey and said, "We condemn in the strongest possible terms this egregious display of hatred, bigotry and violence on many sides. On many sides. It's been going on for a long time in our country. Not Donald Trump, not Barack Obama, this has been going on for a long, long time."
A couple of hours before, Trump had tweeted: "We ALL must be united & condemn all that hate stands for. There is no place for this kind of violence in America. Lets come together as one!" But his failure to call out the Nazi-sympathizing crowd by name, and to specially say that white supremacy and
racism has no place in the U.S.
, drew the ire of many, both on the left and right. (It should also be noted that during the New Jersey press event, Trump took time to brag about the state of the economy and his work attempting to negotiate trade deals.)
And while Trump was initially apprehensive to call out the neo-Nazi groups and their ilk, scores of Democratic and Republican leaders were stronger in their criticism, including Republican congressmen and political figures from Southwestern Pennsylvania.
Rep.
Tim Murphy
(R-Upper St. Clair) wrote in an Aug. 12 Facebook post: "The sickening violence in #Charlottesville, Virginia was born out of racist hate masquerading as political dissent. There is no 'other side' to racial equality and common decency and the racist extremists who sought and invited this violence should be driven from all venues of public life. Hate is hate, and there is no antidote for it but universal rejection."
Rep.
Keith Rothfus
(R-Sewickley) wrote in an Aug. 14 Facebook post: "I categorically denounce and condemn the violence that took place in Charlottesville this past weekend. The hate-filled ideologies espoused by the KKK, neo-Nazis, and other white supremacist groups, belong on the ash heap of history. Our country needs to come together and remember that we were all created equal, and are all members of this one nation, under God."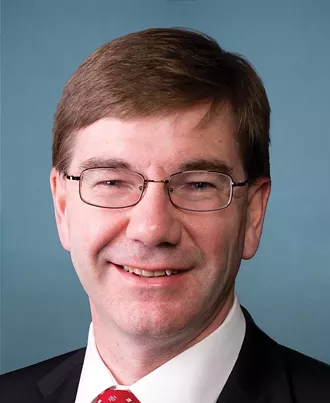 And while these comments mostly received praise, a group of commenters, including some constituents, voiced disapproval of the representatives' comments and echoed Trump's first statement that "many sides" are at fault. Some commenters pointed out that counter-protesters didn't have permits and were there to cause a fight. But counter-protests usually don't have time to get permits, since they organize quickly when they catch wind of an event they want to protest. And while a brawl did ensue on Aug 12, the Virginia state police broke up the fighting after the Virginia governor declared a state of emergency. The vast majority of the injuries was caused by the car, allegedly driven by a neo-Nazi sympathizer, that crashed into a crowd of counter-protesters.
On Murphy's post, as of press time, eight Facebook users indicated the post made them "angry," and more than six people, out of about 80 comments, posted responses indicating that Murphy should have called out the counter-protesters.
A man from South Strabane, Washington County, responded: "Hey Tim, extremists on the left are much, much worse. Let me see you post your outrage when an Islamist, a BLM or an Antifart murders." And a woman from Greensburg wrote: "This was bound to happen. BLM and liberals have been rioting, burning buildings, and attacking conservatives. There has been so much anti-President Trump haters including Senators and Congress members. ... This was NOT an attack by white people. This is what happens when BLM and liberals are given a pass, and the same respect is not given to white people. Plus, stop removing our history. It is our history, good or bad, and it should stay. Statues and monuments should NOT be removed, and our history should stay in the classrooms."
On Rothfus' post, as of press time, more than 10 people, out of about 60 posts, commented that BLM and anti-fascist groups should be called out by name, some even claiming the left-leaning groups were responsible for inciting the violence.
A man from the North Hills responded to Rothfus' comment and wrote: "There were other groups there also filled with Hate, BLM, LGBT all [inciting] riots. All groups went there knowing it was a confrontation. People Got killed for a freaking piece of History that belongs to all America. May as well destroy all Museums." One constituent from New Brighton, Beaver County, went so far to say that she will not be voting for Rothfus again because of the comment. She wrote: "Keith, you fail to mention the bus loads of Antifa, and BLM that were there. You aren't being honest here, along with the Media who is not reporting it. This is why I won't vote for you again. You are just like everybody else. Coming forward to make yourself look good, and not telling the truth!!!!!"
A reporter from the Pittsburgh news site
The Incline
pointed out on Twitter that Republican gubernatorial candidate Paul Mango also received angry comments after he condemned white-supremacy groups and the violence one of their members allegedly caused. Pennsylvania senators Pat Toomey (R-Lehigh) and Bob Casey (D-Scranton) also received a flurry of negative comments after they released statements condemning white-supremacy groups.
In the end, only after prominent politicians issued strong statements against racism and those groups that support racism, did Trump deliver a stronger statement. On the afternoon of Aug. 14, Trump said, "Racism is evil. And those who cause violence in its name are criminals and thugs, including the KKK, neo-Nazis, white supremacists and other hate groups that are repugnant to everything we hold dear as Americans."