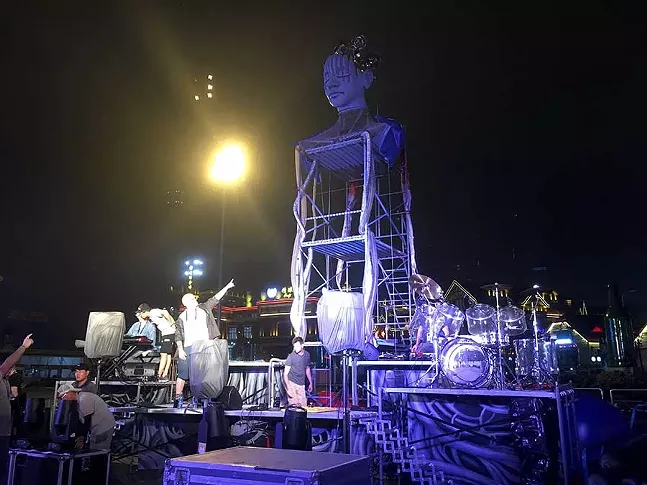 Pittsburgh-based Squonk Opera is spending August performing its show
Pneumatica
at the Qingdao International Beer Festival, in China's Shandong province. Throughout the month, Squonk members will be sending
City Paper
updates about their experiences week-to-week. For more info, go here.

Here's Week One:
__
After sending our
Pneumatica
set out to sea on a cargo container in mid-June, we prepared to send ourselves.
We flew out of Pittsburgh on Tue., Aug. 1, at 8 a.m. and were scheduled to arrive in Qingdao 22 hours later (6 p.m. the following day — Wednesday — China time). Our first of three legs landed us in Newark and then we boarded our long flight (14 hours) from Newark to Beijing.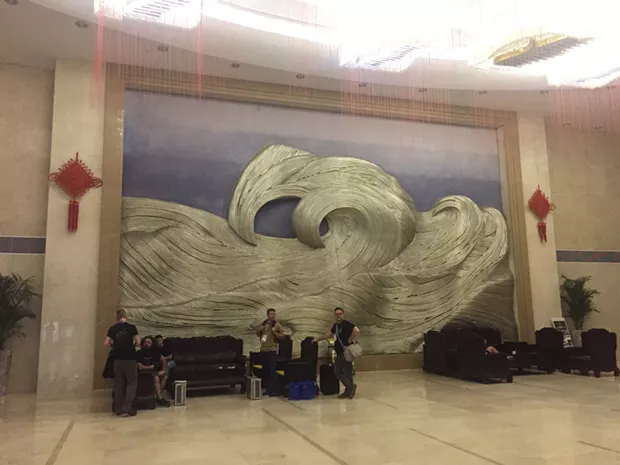 Everything was running smoothly until we got to Beijing, where we hit a major obstacle … a typhoon that canceled all flights to Qingdao and left us stranded at the Beijing airport.
8 hours and 4 missing bags later, we were saved by Wei from the Qingdao International Beer Festival, who had ordered a caravan of mini-vans to whisk us off on our all-night marathon nine-hour drive to Qingdao.
Steve [Squonk co-founder and co-artistic director Steve O'Hearn] learned to accomplish squat thrusts at 4 a.m. at a moist and lonely highway WC, but kept falling against the side of the stalls, due to a weak vestibular system. Forty-two hours since we left Pittsburgh, we arrived in Qingdao.
After lunch, we headed over to Qingdao West Coast New Area Golden Beach Beer City to start setting up our big, blue Lady Pneumatica opposite massive beer-garden tents, still without a night's sleep in a bed.
Back to the hotel after midnight and then back to the site a few hours later for a 13-hour day of setting up and rehearsing, all in temps in the 90s with humidity at somewhere between 80 and 90 percent. Squonk's sweatiest gig yet.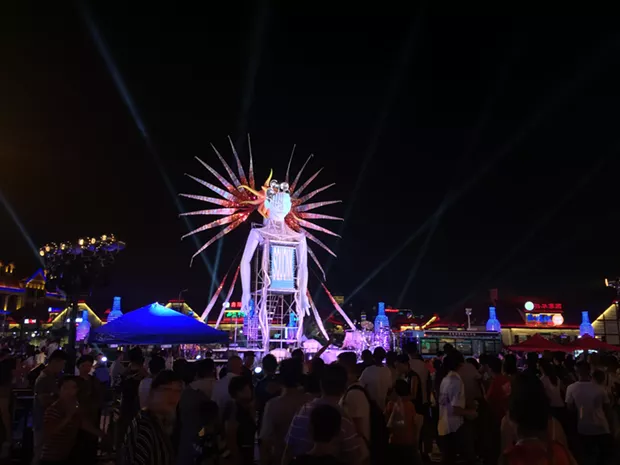 Due to fatigue and overheating, internal maledictions and accusations ensued. Some unpleasant things were said, some doubts about artistic commitment and moral fiber were voiced. Steve later apologized. Jackie [Squonk co-founder and co-artistic director Jackie Dempsey] said she had not been upset, because she drank from a deeper well of happiness, plus she caught a few hours of sleep in the hotel room. They were relieved when the real feel of the temperature dipped below 105 degree Fahrenheit that evening, and made amends, while they enjoyed their view of the opening parade and ceremonies from the Squonk set.
Following a drama about China's illustrious history, there were fireworks (which made us Pittsburghers feel right at home) and then it was time to Squonk.
Post-show, we posed for more photos with enthusiastic, captivated fans than you could shake a selfie stick at , and felt that our long, tough journey was worth all the time and effort and sweat!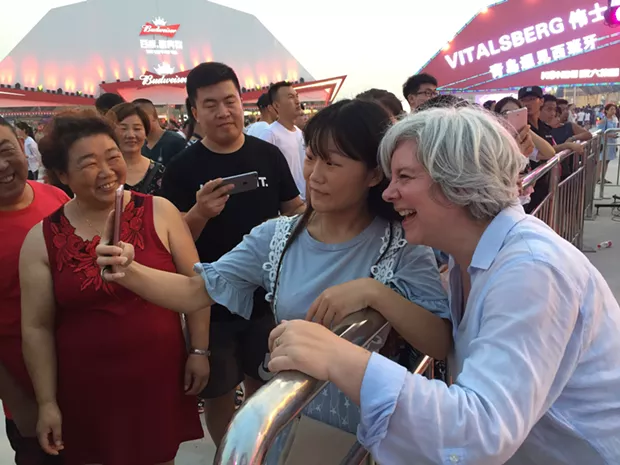 Squonkers on the trip:
Jackie Dempsey – Artistic Director – Keyboards & Accordion
Steve O'Hearn – Artistic Director – Electronic Bagpipes
David Wallace – Guitar
Jeremy Papay – Drums
Dan Glynn – Bass
Todd Nonn – Technical Director
Forrest Trimble – Technical Crew Head