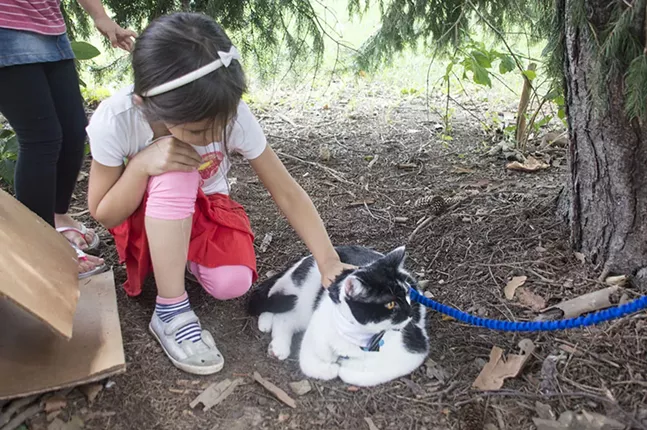 On Saturday afternoon, Frisky Lincoln, a black-and-white cat dressed up in his finest bowtie, arrived at the Mary Schenley Memorial Fountain in Schenley Park to mingle with other felines who can handle being outside on leashes.

First Caturday Pittsburgh at Schenley Park had almost 1,500 people interested in its Facebook event page, but only a small gathering of cats made an appearance this month. (There were four cats at the fountain when CP photo intern Jordan Miller stopped by to check out the scene.) Frisky Lincoln's owner Ariel Kornhauser told us there were more cat-lovers than cats during the three-hour event, with dozens of people stopping by to pet Frisky Lincoln and his new friends.

"It was a treat to watch the cats interact, and, fortunately, there didn't seem to be any issues," Ariel wrote
CP
after the event. "No hissing or spitting, just a lot of sniffing or a touch of grooming."
We asked Ariel if Frisky Lincoln had a comment.
"Frisky Lincoln didn't have much to say about First Caturday," she wrote. "He spent most of the rest of the weekend napping and purring; but this morning he brought me his harness. So, I suspect he's already looking forward to the next First Caturday."
You can meet some of Frisky Lincoln's new friends below.