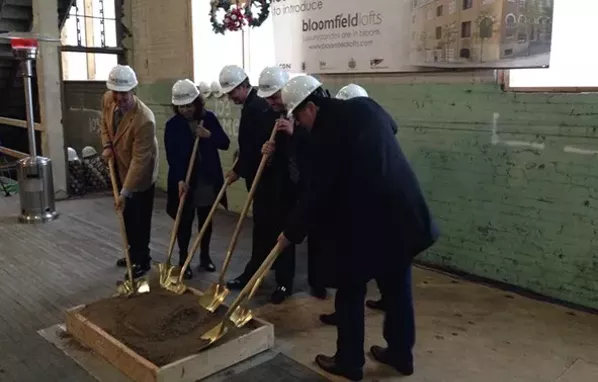 From 2010-2015 the Pittsburgh region's economy started to take off. Not in the same way as booming cities like Denver and San Jose, but for a Rust Belt city with decades of decline in its wake, not too shabby. According to data compiled by
Apartment List
, the region had a positive change in total employment of about 30,000 jobs from 2010-2015. Allegheny County led the way during this span with 18,000 jobs.
And when regions start to see some positive job growth, new housing construction tends to follow. But when new housing doesn't keep up, problems can arise. In cities like San Jose, this is a problem because the California Bay Area city isn't building enough houses to keep up with demand, and housing prices are skyrocketing (San Jose is seeing housing prices rise faster than any other U.S. city).
But according to data from Apartment List, the Pittsburgh region is on a good track. From 2010-2015, the Pittsburgh metro area saw 20,000 new units of housing construction. This gives the region a jobs-housing ratio of 1.5.
"If the area is adding 1-2 jobs per unit, then that is indicative of a stable climate," says Apartment List data analyst Chris Salviati. (San Jose, by contrast, had a job-housing ratio of 5.5.)
Additionally, Salviati says that cities like Pittsburgh have a factor that may keep housing markets stable here even longer than their numbers indicate: vacant units. The Apartment List data only took into account new housing construction, not small renovations to existing housing units. The city of Pittsburgh itself has more than 1,000 units that could be renovated into attractive housing.
"In a lot of these places, you are seeing as the jobs are added, we are definitely seeing vacancy rates go down," says Salviati. "That is the definitely the case in places like Pittsburgh, as demand increases, the vacant inventory acts as a buffer."
But unlike other Rust Belt metros (Detroit, Cleveland, etc.), Pittsburgh is not suffering from an oversupply of housing compared to jobs. For example, while Pittsburgh's job-housing ratio from 2005-2015 is 0.4, Detroit's is -2.3 and Cleveland's is -1.7. While this means that Pittsburgh may have less vacant structures than those regions, it also means that Pittsburgh is closer to an undersupply in housing and housing prices rising significantly.
In fact, Pittsburgh already has the highest rent growth of Midwestern, Rust Belt cities at a 31-percent increase from 2005-2015, tied with St. Louis. Over the last few years,
City Paper
reporting has shown that in some neighborhoods of the city, rising rents are
causing affordable-housing shortages
, even as others aren't seeing rising rents and home prices. So while statistics indicate the Pittsburgh region's housing market may be doing better than other comparable Rust Belt metro areas, it also may be closer to encountering widespread
housing problems
.