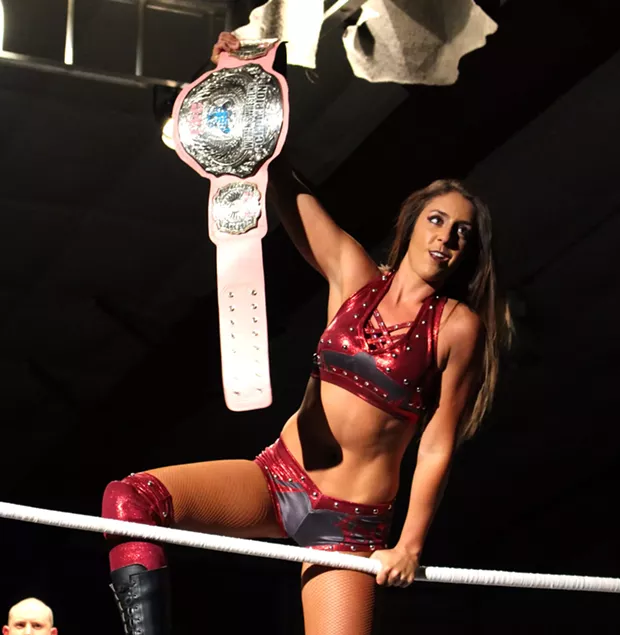 Indy wrestling lives and breathes in unexpected places, turning spaces like gymnasiums into intimate theaters for a few hours. At International Wrestling Cartel's event on July 22nd, Threat Level Midnight, a passionate crowd assembled to see a deep card of wrestling from local favorites and independent super stars.
The people crowded around the ring in the Court Time Sports Center in Elizabeth, Pa. were a mix of families, groups of teens, adult friends getting together to indulge in the graps and older folks who likely have been watching the sport since before I was born. It's a nice example of the squared circle's ability to make art accessible to a wide range of folks.
We stood during the opening match to get a feel for the crowd and the production. The six-man tag match featured Kevin Blackwood alongside The Upper Echelon (Colby Redd and PB Smooth) vs. James Drake, Ian Maxwell and Mister Grimm. The Upper Echelon and Blackwood walked away winners, and everyone walked away a winner in my eyes because it was a much better tag match than the other tag matches of the evening.
When we finally made our way to our seats, I sat next to a young boy in a Rey Mysterio mask who had some very strong opinions about who he wanted to win or lose. This pure little kiddo was a great litmus test to see who had real heel (bad guy) heat.
Longtime adult wrestling fans, especially smarks, sometimes fall in love with characters who we're supposed to hate, simply because they're so good at what they do (i.e. Kevin Owens in the WWE). But kids only see cheaters and scoundrels against the pure and good, so they do the fan's true job and absolutely boo the living daylights out of the heels who step foot in that ring.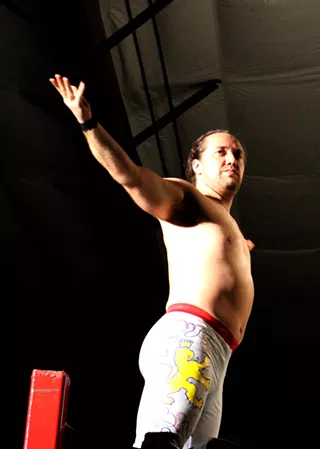 Arguably the human being in that building with the most heel heat was Chris LeRusso, the "Heir Apparent." His manager is BC Steele, a sleazy man in a bowling shirt with nothing but annoying and deceptive intentions. LeRusso was competing against Anthony Henry, Jonathan Gresham and DJ Z in a fatal four-way to determine who would be the next #1 contender for the IWC Super Indy title.
Before the match began, the crowd was chanting "Kill LeRusso!" as LeRusso pleaded and scolded the crowd to shut up. Throughout the match he did a great job of playing off that heel heat and responding to the crowd's jabs.
This four-way elimination match was spectacular. The pacing was nice, it was incredibly technical and stylistically sound. For the entire duration of the match, the crowd was making noise, cheering and booing as contestants were eliminated. Anthony Henry ended up on top after a hard fought battle and technical clinic from all four wrestlers, and the crowd seemed into it even if his pop was not as big as the others' when they first entered the ring.
Another great match of the evening was Britt Baker vs. LuFisto for the IWC Women's Championship (which Baker won in its inaugural year in 2016). This match had by far the best pacing of any event of the night, and both women kicked out and escaped some gnarly submissions and finishers. But it was ultimately LuFisto, whose in-ring shit talking and general personality are both electric, who finally took the belt off Baker.
It was also a great match because it showcased some really solid storyline development. Katie Arquette (a clear heel based on the crowd's reaction to her post-match appearance) showed up immediately after the match to thank LuFisto for taking Baker out of the picture, before quickly pointing out that she was going to take it away. After Arquette and her crony Calvin Couture attacked LuFisto and left her in the ring, LuFisto got some verbal barbs in before informing Arquette that she would get a title shot at the next event, Caged Fury. It would be a steel cage match though, and LuFisto is a queen of hardcore wrestling.
It made me genuinely excited to return for Caged Fury, but it was a bit unnerving to hear the crowd shout, "You can't wrestle!" over and over during Arquette's promo. Hopefully this cage match gives Arquette an opportunity to prove her chops to the IWC crowd, but either way LuFisto will put on a hell of a performance in her element.
Jack Pollock vs. Wardlow was solid, as was Gringo Loco versus crowd favorite Andrew Palace.
The main event featured Super Indy title-holder Adam Cole (BAY BAY!) vs. John McChesney, an IWC staple. The match had some of the best crowd interaction and felt fun and personal, seeing some amazing clotheslines and chin locks. It was proceeding smoothly until McChesney sustained a shoulder injury, which I initially thought was a work.
After only 12 minutes, however, McChesney pulled out his finisher to beat Cole for the title and was immediately attended to by a doctor who appeared to pop his shoulder into place. He emerged later with it wrapped in ice, so it remains to be seen if he'll be defending that title against Anthony Henry at Caged Fury. Despite the brevity of the event, both men showed their talents and packed a lot of entertainment into a short match.
Unfortunately, not everything impressed me. Low points for me included the flag match of Team Storm vs. The Mega Plowers, which turned out to be Jock Samson and Shane InYaFace after a backstage attack on Magnum CK, the other half of the Mega Plowers. I really just hate flag matches, so there wasn't much that could win me over on this one. I also really don't enjoy matches that feature a valet who doesn't interfere in the match and is just there as eye candy, so that was a bit disappointing.
That being said, the members of Team Storm are delightfully slimy heels. This match wasn't necessarily bad, but I was definitely not the target audience.
Probably the messiest match was the tag team battle between the STDs (and an enormous entourage of misfits) and Marshall the Bull Gambino and Jami Jameson. Seeing Jameson wrestle in Timberland boots had me nervous as hell, but the match was a cacophonous scene that lacked proper pacing, there was constant interference with little explanation, and I'm not exactly sure at the story it was supposed to tell. Props to Billy Ruxpin for saving a little face in the match with his big in-ring moves.
It also concluded in a no-contest with Officer Dan Murphy interfering and being a general turd. Because of the chaos, there was a lot of cross talk, so it wasn't really clear what Murphy's intent was, other than to fuck shit up. I also spent a solid five minutes trying to read how the crowd was responding to a police officer who was a heel. Something tells me any anti-police chant wouldn't go over in Elizabeth, Pa.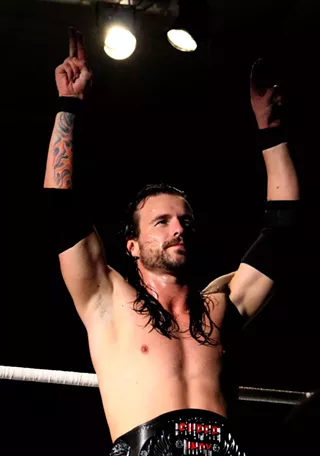 Obviously IWC can't have people posted all around the crowd to make sure nothing crummy is happening, but I was definitely disappointed by some of the sexist comments hurled from some teenage boys during the women's match, as well as some racist microaggressions during Dan Hooven's match with Bulk Nasty.
Wrestling should be for everybody, and backwards, ignorant heckles and chants do nothing to grow the community, especially with lots of young daughters in attendance seeing some of their first wrestling shows. While these youngsters should be falling in love with the art form, they're also already seeing some of the nasty underbelly of the wrestling community.
That being said, it was a fun event overall. I left looking forward to seeing some of the action at Caged Fury, and it felt like a treat to see so much independent talent in one night.
CP
will have a full update and review as well as some preview interviews before Caged Fury at Court Time Sports Center on August 19.