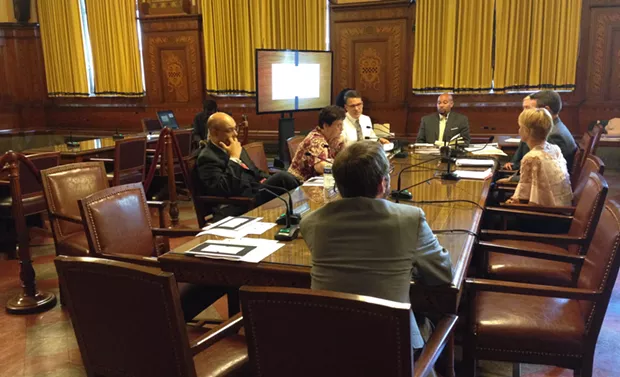 When Pittsburgh City Council convened a post-agenda meeting on July 18, councilors in attendance were given a sales pitch on why the best way to fill the city's affordable-housing trust fund is to take out a $100 million bond and pay it back by raising Pittsburgh's real-estate transfer tax by 1 percent. Councilor Daniel Lavelle (D-Hill District), who hosted the meeting, invited eight guests to speak, and all agreed raising the real-estate transfer tax is the way to go.
The tax would raise the city's real-estate transfer tax from 1 to 2 percent, meaning property buyers would have to pay 1 percent more in upfront costs. For example, statistics compiled by the Pittsburgh Community Redevelopment Group (PCRG) show the average home loan in Manchester, a North Side neighborhood in need of increased investment, is $128,000. With the proposed tax increase, a home buyer there would pay an extra $1,280 in upfront costs. (Sometimes buyers and sellers split this fee).
Kyra Straussman, of the city's Urban Redevelopment Authority, said at the meeting this tax increase would fill a desire for the city itself to take control and pay for its $10-million-a-year affordable-housing trust fund, called the Housing Opportunity Fund. Pittsburgh's Chief Financial Officer Sam Ashbaugh said taking out a bond and paying it with raised real-estate taxes is the "most responsible" way to tackle the affordable-housing shortage. He said 40 percent of revenue from real-estate transfer taxes comes from large commercial sales, and only 15 percent come from residential sales of less than $150,000. A slide at the presentation called the strategy to raise the funds "simple."
But this sales pitch has been made before. In September 2016, the city held a
public hearing
basically making the same exact arguments. Since that time, this method to fill the fund has been the only idea discussed publicly. And it hasn't been working very well, as some city councilors still appear skeptical, including councilors Theresa Kail-Smith (D-West End) and Deb Gross (D-Bloomfield), who offered uncertainty at the post-agenda meeting.
According the
Pittsburgh Post-Gazette
, Councilor Dan Gilman (D-Squirrel Hill) defended the real-estate tax increase at the meeting as one of the only ways the city could address affordable housing, considering the city is handcuffed by state law. "Do I think increasing the realty transfer tax is a great idea? No. Do I think it's the only tool in my very, very, very small toolbox? Yes," said Gilman.
However, other
ideas are out there
that don't require authorization from Harrisburg.
City Paper
reported in May that Realtors Association of Metropolitan Pittsburgh is for filling the affordable-housing fund, but against a real-estate tax increase. Instead, it wants the city to boost and modernize its real-estate department in order to sell its thousands of vacant properties, which could be sold at affordable rates. Also, PCRG, a nonprofit group of public-policy experts, is also skeptical of a real-estate tax increase being the only funding source and believes that a more complex suite of solutions would be more effective. This includes a small increase to the city's property-tax rate, a small real-estate tax increase, a contribution from the city's general fund, and contributions from Pittsburgh's foundation community. PCRG director Ernie Hogan also told
CP
in May that Pittsburgh can alter its zoning and tax-abatement laws, and attach affordable-housing requirements when allowing new development.
But none of these other ideas are being presented by city council, making any kind of compromise seem all but impossible. John Petrack, of the Realtors Association of Metropolitan Pittsburgh, attended the post-agenda meeting, but was not invited to speak. He was upset that an opposing view was not given the same platform as the support for the tax increase.
"I can only guess that certain city councilors are trying to lobby other council members to their agenda," said Petrack after the meeting. Petrack wrote in a later email to
CP
that since initial meetings with city councilors in the summer and fall of 2016, the real-estate association has not had any formal meetings with any councilors and "have not been invited to participate in any formal proceedings."
Additionally, none of the ideas that have been proposed by PCRG were discussed at the July 18 post-agenda hearing, or the public hearing that followed it. However, some new ideas may emerge into the public sphere.
Kail-Smith told the
Post-Gazette
on July 18 that she and four other councilors have other concepts to tackle the affordable-housing shortage. She didn't detail any specifics, but said ideas should emerge when council returns from recess at the end August.