Cleveland. So jealous of Pittsburgh. Our football team is better. Our Superhero movie (
The Dark Night Rises
) is better than theirs (the still-awesome first
Avengers
film). Our city is just better. So it's not all that surprising that the night before St. Louis'
Pokey LaFarge played Pittsburgh's Rex Theater
, he played Cleveland's Beachland Ballroom (which I must begrudgingly admit is a sweet venue) and got food poisoning while in town.
Things got started off with the Hackensaw Boys, a hard-charging Virginia-based three-piece featuring a lead guitar, fiddle and a dude who rocks the shit out of a homemade percussion kit made up of tin cans and a garbage-can lid. The crowd wasn't sure what they'd get out of LaFarge when and if he took the stage, but those fears were dissipated when the band broke into a fast-paced rendition of LaFarge's "Something in the Water," off the 2014 album of the same name.
After the first couple of tunes, the singer told the crowd about Cleveland's plan to poison him in an effort to prevent the fine people of Pittsburgh to enjoy his show. (OK, maybe those weren't his exact words, but that's how I interpreted it.)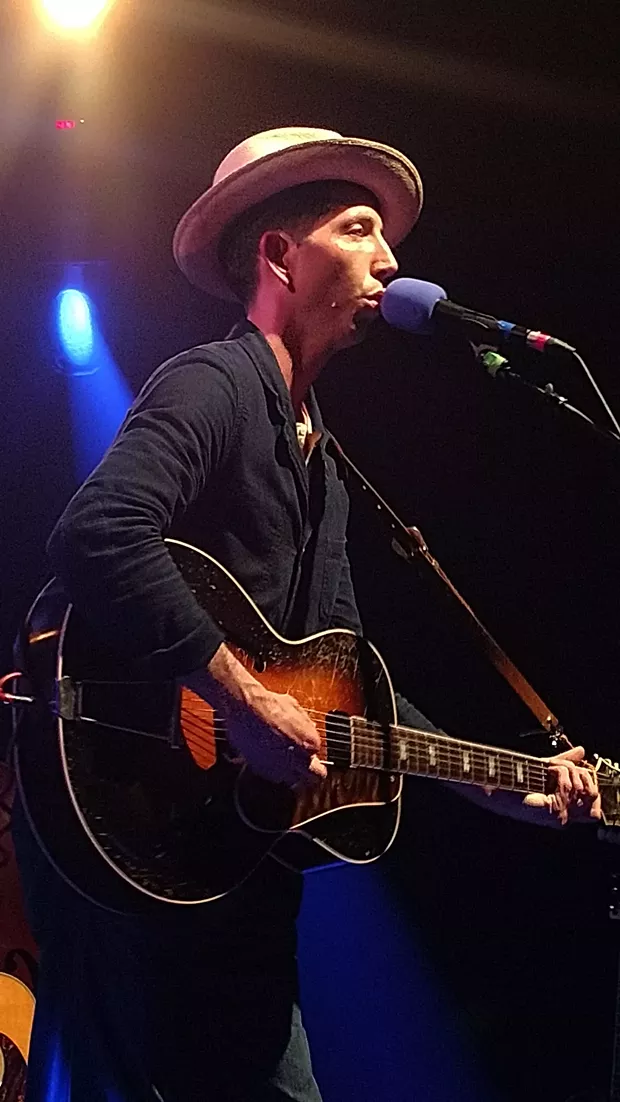 Despite his obvious ailment, the singer poured sweat and often took the kind of breaths between verses that anyone who's tried not to throw up would easily recognize. LaFarge didn't lack for energy. And although he apologized several times to the crowd and thanked them for their patience, the show maintained a high energy level throughout.
LaFarge moved around the stage, belting out tunes, mostly from his new record,
Manic Revelations.
One of the best songs on that record is the opener, "Riot in the Streets," and LaFarge and his band plowed through that up-tempo number. Bassist Joey Glynn and drummer Matthew Meyer pounded through the song, the backbeat pulsing through your chest. LaFarge's backing band is really top-notch. Lead guitarist Adam Hoskins and harmonica/banjo/washboard player Ryan Koenig as well as a stellar horn section were the perfect complement to LaFarge, who, while maintaining a retro look, plays modern takes on roots music inspired heavily by early swing, big band, blues and Western swing.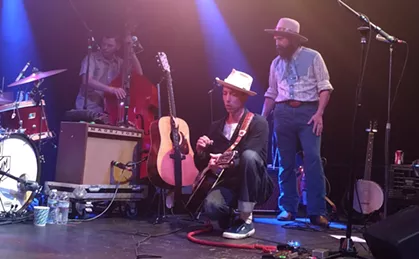 LaFarge owned the audience early on; a crowd that spanned generations. There were wristband-wearing early-twenty-somethings as well as some seniors who set up metal chairs along the stage-left side of The Rex, which was standing-room only for this show. Some of the young fans may not have had as much appreciation or knowledge of LaFarge's musical inspirations — one young female bemoaned the "horrible 1930s music playing" over the sound system when she heard country legend Charlie Louvin's 1965 hit "See the Big Man Cry Momma" — they certainly knew LaFarge's catalog. They sang along and offered well-timed audience participation on songs like "Wanna Be Your Man," "LaLa Blues," "Goodbye Barcelona," and "Central Time."
The show lasted more than 90 minutes and LaFarge only had to leave the stage once. In his absence, Koenig offered two cuts off his upcoming October release. When LaFarge returned, he actually looked worse for the wear, but he somehow found yet another gear and finished the show playing even harder than he started. He wrapped up the night with a cover of the Chuck Berry classic, "Never Can Tell."
If LaFarge hadn't told the crowd that he was sick, I'll wager that many would not have noticed. And if Saturday was any indication what an under-the-weather Pokey LaFarge can do, you definitely don't want to miss him when he comes back around at full strength. It will likely be epic.