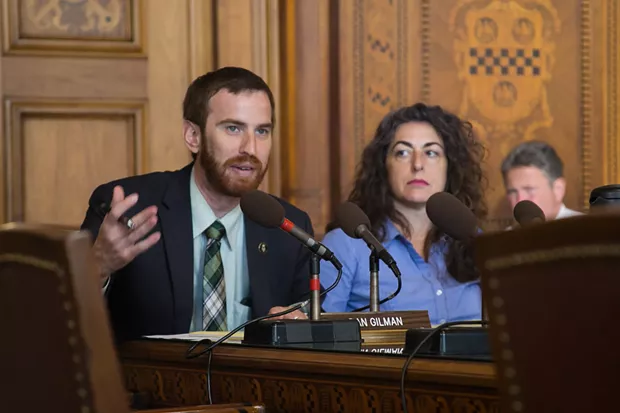 More than seven years ago, a CAPA High School student Jordan Miles was beaten by three undercover Pittsburgh police officers in Homewood. Then-17-year-old
Miles
alleged the officers didn't identify themselves, causing him to fear for his life when the three men approached him. He ran and a physical altercation ensued.
Over the past seven years, the events of that January evening have partly centered around whether or not the officers identified themselves. Had the officers recorded the incident with body-worn cameras, arguments over that fact and perhaps several others might've been laid to rest.
A national call for police to wear body cameras has gained steam over the last decade in the wake of several high-profile incidents of police brutality. Locally, the Pittsburgh Bureau of Police began implementing a body-camera program nearly four years ago, but to date, body cameras have not been given to all officers on the force.
That's due in part to the Pennsylvania's wiretapping law which prohibits recording without consent. Under current law, police can use body cameras in public places, but officers have to get permission from owners in private residences to record unless they are pursuing a suspect.
"My frustration as a council member is we have been talking about body cameras since we put funding in place three or four years ago," Pittsburgh City Councilor Dan Gilman said at a meeting this week. "I'm hopeful that we may actually be moving somewhere. But my fear is every day that passes there is potential for an incident where a body camera would be incredibly important — whether its for an officer, for the public, for a private citizen — and we're not going to have it because we can't get a sentence added that would allow us to have what almost every other state has."
Last week, in an effort to allow for the full implementation of body cameras across the state, the
Pennsylvania Senate passed legislation
to amend the wiretapping law. The House has already approved the legislation, and it has been sent to Gov. Tom Wolf to sign.
However, the city hasn't actually been waiting for the state legislature to give body cameras to Pittsburgh officers. So far, 147 cameras have been deployed, but state law has limited which officers are using them.
"The cameras are being rolled out," said Public Safety Director Wendell Hissrich at a meeting with city council this week. "Whether or not the law passes, we're still going to be moving forward until such a time it's illegal to use body cameras, but I don't think that's going to happen. It's not a case that we're sitting on the cameras waiting on the law to pass."
Right now, the bureau is protecting its officers by primarily giving cameras to bike and motorcycle officers who generally don't go into residences and operate where there's not a reasonable expectation of privacy. Other officers who have volunteered to wear the cameras work in places like South Side, and the bureau says these officers want the extra protection of having a camera. Hissrich says 150 more cameras are ready to go, and an additional 250 should be ready by the fall.
"The goal, of course, is to have enough to outfit all the police officers currently employed by the Pittsburgh Bureau of Police. There have been some hold-ups in this plan, a lot having to do with what's going on in Harrisburg," says Hissrich. "We were cautious here. We didn't want to move too aggressively on the body-worn cameras only to have the legislature change something. That's why we have been slow in moving forward, just so we don't waste tax-payers' money. It is a slow process. We're hoping it moves much faster as it moves through Harrisburg."
Currently, Pittsburgh's body cameras must be turned on manually to begin recording and will record 30 seconds of footage prior to the time they've been turned on. The bureau is looking into future options that would automatically turn on the camera if an officer draws a Taser or firearm.
"There have been instances where it wasn't activated as quickly as we would like, which is why we're looking toward as much automatic activation," said police commander Ed Trapp. "We want to take as much of that having to think about it away from officers. Our officers are really good under stress remembering what to do, and once they have the cameras enough, a lot of that will come to them automatically, but we want as much auto activation as we can have."
Trapp and police chief Scott Schubert said they're fans of the body cameras. They say body-camera footage has already been useful in criminal investigations and has been used to exonerate officers in the face of allegations of wrongdoing.
"The benefit far outweighs any issues with them. It helps with confidence from the public," said Trapp. "Ninety percent of the time, video exonerates the officer, because most of the time our officers do the right thing. I'm a big believer in it. I think it's a great program."
"It's something we do believe in," Schubert said. "It's a tool we can use, and it has helped on many occasions to have that footage to show what the officer saw at the time and the actions the officer took. I think it's a resource that keeps everybody honest. It helps de-escalate things out in the field as well, when the public knows the camera is on. A lot of times we see things where we get video from people, but you only get parts of the incident, and it can inflame the situation even more in the media. By having this, it's going to help our officers, and it's going to help the public with complaints."
While officers seem to be benefiting from the program, some worry the public won't see the same benefits. According to the new legislation, the recordings cannot be requested under Pennsylvania's open-records law, and requests would have to go to the district attorney's office. A district attorney can deny a request for several reasons, but one example would be if the video could be prejudicial to a jury. Denied requests can be appealed through the courts, but according to Trapp, the video footage is deleted after 30 days if police determine it has no evidentiary value.
"I'm very concerned, with my understanding of this law," said Gilman, "that they're tying it so much to the evidence side — that we're going to be sitting on video evidence of a situation that could protect a citizen, protect an officer, wherever the facts might [lead], and not have access to it or be able to use it, when we're sitting with it in our possession, on cameras the city paid for, being stored on equipment that's housed by the city, that the city paid for, but I have a county official or a judge withholding it from me."
Earlier this year, Pittsburgh Police officer Paul Abel was involved in an altercation with Pittsburgh Steelers coach Joey Porter. While Abel was wearing a body camera, the
police did not release the footage
.
But according to John Doherty, associate solicitor for the City of Pittsburgh, this footage is protected under law. Anyone who releases the footage could be fined. Last year, Doherty testified before the Pennsylvania House Judiciary Committee in favor of a blanket ban on Right to Know requests for body-camera footage. According to the
Pittsburgh Tribune Review
, he cited the example of an individual requesting the footage for the sole purpose of identifying witnesses, confidential informants or undercover officers.
Still, despite the reasons for not releasing the footage, Gilman says he forsees problems arising when the public is denied access to footage in the case of an alleged instance of police brutality.
"I hope we never have a high-profile incident in this city where there's body-camera footage and a very contentious situation. However, I'm also a realist and see what happens across this country, and unfortunately, it's not an impossible reality for Pittsburgh," Gilman said. "The fact that we may find ourselves in that situation, that we have video tape of what happened, whatever it may show, and the public will be demanding that [we] take action, and we're all going to have to sit there and say we have no control, is a slap in the face to the public. We're going to have protests, we're going to have angry citizens."