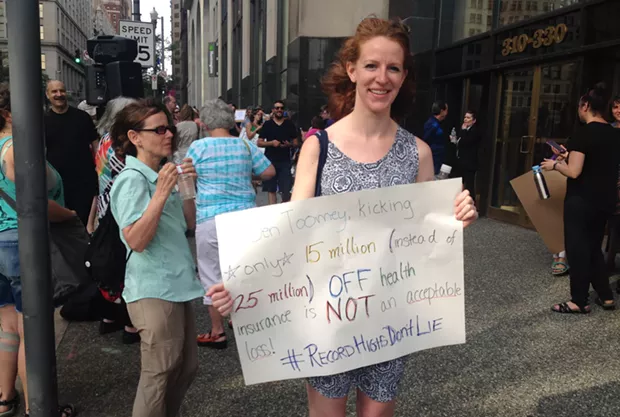 In June 2016, U.S. Congress voted to drastically increase funds to the National Institute of Health to battle the opioid epidemic, up to $261 million a year. Pennsylvania Sen. Pat Toomey (R- Lehigh) said in a 2016 statement that "it is important that my colleagues and I work to stem the opioid crisis in an effective and fiscally responsible manner."
Pennsylvania had the eighth-highest overdose-related death rate of any state in 2014 and the sixth highest in 2015. That increase was one of the highest in the U.S. and was considered "statistically significant," according to a report from the
Centers for Disease Control and Prevention
. In 2015 in Pennsylvania, 3,264 lost their lives due to drug overdoses. The CDC report said the vast majority of these deaths were caused by opioid usage.
As the opioid crisis has worsened across the country, and particularly in Pennsylvania, some are becoming critical of Toomey's recent moves related to federal funding for opioid-addiction treatment. Toomey is one of about a dozen U.S. senators who crafted the Republicans' effort to repeal the Affordable Care Act, called the Better Care Reconciliation Act. (The U.S. House version is called the
American Health Care Act
).
BCRA allots $2 billion for the first year to combat the opioid crisis, but health-care policy expert and
Harvard Medical School professor Richard Frank
told
McClatchyDC
on June 20 that an adequate amount to fight the epidemic would be about $19 billion a year. In fact, two Republican senators from states that also have significant opioid crises felt the $2 billion amount was insufficient. Shortly before the first BRCA was released on June 22, senators Rob Portman, of Ohio, and Shelley Moore Capito, of West Virginia, requested $4.5 billion a year in separate funding to combat the opioid epidemic.
As a result of this smaller-than-desired fund, many politicians like Pennsylvania Gov. Tom Wolf, Republican Ohio Gov. John Kasich and Democratic Pennsylvania Sen. Bob Casey have criticized the Republican senators' proposal. They have asked that Medicaid funding not be cut in the bill, as it is crucial to helping those facing opioid addiction.
"We know that coverage is the one thing that helps people who are facing this issue," says Kate Mevis, a Casey staffer and former White House adviser on health care.
Casey said in a June 26 statement that "for those families struggling with the opioid crisis, this bill pulls the rug right out from under them." Casey also said that BCRA will hurt
rural hospitals
, which are struggling
to find resources to tackle the opioid crisis
.
According to the latest estimate from the nonpartisan Congressional Budget Office, total Medicaid funding will be cut by $770 billion under the BCRA proposal. The
CBO
states, "By 2026, among people under age 65, enrollment in Medicaid would fall by about 16 percent and an estimated 49 million people would be uninsured, compared with 28 million who would lack insurance that year under current law." (BCRA lowers the federal government's share of Medicaid-expansion funding from about 90 percent to 75 percent by 2023, meaning that states would eventually have to cover a higher share of Medicaid-expansion funding.)
Caitlyn Fitzsimmons is a nurse at Allegheny General Hospital who participated in a June 22 rally outside of Toomey's office in Downtown. She said that she sees many patients suffering from opioid-addiction issues and that Medicaid has helped to fight the epidemic.
"Medicaid expansion pumped money into efforts to tackle the opioid crisis," said Fitzsimmons.
She said she doesn't understand why Toomey is behind an effort to reduce and cap Medicaid, considering its implications on those suffering from opioid addiction in Pennsylvania. She said she has seen patients from all backgrounds deal with opioid-related health problems.
"We see people from well-off families and those that are poorer," said Fitzsimmons. "It's heartbreaking to see him turn his back on those voters."
Teresa Miller, Pennsylvania Insurance Commissioner, shared in a May 10 tweet that the ACA has had a positive impact on fighting opioid epidemic.
Toomey's spokesperson Kasia Mulligan wrote in an email to
Pittsburgh
City Paper
that there is room in the future to increase the funding to battle the opioid epidemic and that Toomey is dedicated to addressing the issue.
"Senator Toomey has publicly stated that more will be done about opioids," wrote Mulligan. "In fact, Senator Toomey is open to considering any proposal that increases funding for substance-abuse treatment and prevention costs."
One change BCRA proposes that could positively impact those dealing with opioid addiction is an updated rule allowing patients seeking inpatient care at addiction-treatment centers to access Medicaid funds for longer stays. Gov. Wolf requested in a May 30 letter to Toomey that patients should have access to Medicaid funds for longer than the currently allowed 15 days at addiction-treatment centers. BRCA proposes patients get access to funds for up to 30 days.
However, this rule will only be beneficial if Pennsylvania is able to find extra money in its state budget, since BCRA proposes lowering the federal funding toward the Medicaid expansion. (Pennsylvania has had five budget impasses since 2007.)
Mulligan also wrote that there are many federal programs that battle the opioid epidemic, and that Toomey has been supportive of those efforts.
"Federal funding for opioid- and heroin-addiction treatment also comes from a variety of sources, including the bipartisan Comprehensive Addiction and Recovery Act and the 21st Century Cures Act, which Sen. Toomey supported," wrote Mulligan. "Meanwhile, Senator Toomey is continuing his work to protect families and communities from painkiller and heroin abuse, and to ensure there is appropriate funding to help Pennsylvania fight back against this terrible scourge."
However, in May of this year, U.S. Congress passed a budget bill appropriating $800 million to opioid-addiction programs of several federal agencies, again in response to the worsening epidemic. And Toomey voted against this 2017 budget bill, joining only 17 other Republican senators out of 52. In fact, Toomey was only one of four senators from states with large and fast-growing opioid epidemics to vote against this bill.