The album art for Devin Moses and the Saved's album release show features a group drawing, like a psychedelic class photo, of people who have helped the band along the way. There's people like Mary Jo Coll from Howlers, and the organizer of the Deutschtown Music Festival. Like any good class photo, there are also a bunch of misfits, like the model Iman, comedian Duncan Trussell, and the devil. And like their album art, The Saved is a hodgepodge of genre and inspiration.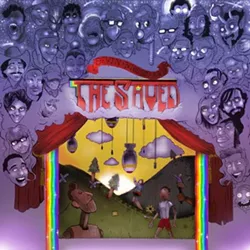 The band, which formed in 2015, will release their eponymous album with a show at James Street Gastropub on June 10th. Their current lineup includes frontman Devin Moses, Derek January and Nino Albanese on guitars, Chris Trepagnier on bass, Scott Mervick on drums, and Julie Shepard on violin.


Though this is their second album, following the 2015 LP Hit to Hurt, in some ways it's the band's first as a group effort.


"The first album to me sounds more like songs Devin wrote and told us what to play, and this feels like much more of a collaborative album," says January.
Collectively, the members have played in other bands with a wide range of genres including metal, indie, synth-pop, and blues. "When people ask me like what does your band sound like my go to answer is like alt country, folk rock, but we're not restricted by that," says January.


The Saved certainly have enough uplifting guitar riffs and gang vocals to qualify it as folk rock, like the fasted-paced "Problems," or the slower but still hopeful "Reply." Their songs have a big sound, one that'll make you play out movie trailer-like montages in your head as you look fondly out the window, like running up a mountain and reveling in the rain when you reach the top.


"When I was younger I'd write this cliche white boy acoustic guitar you know sad shit. But I'm not interested in that. I just wanna make shit that makes you feel good," says Moses. "It's folk rock initially but I've watched the Rocky Horror Picture Show a little too many times," he says.


Maybe best encompassing this is the video for their single "Sun is Out," which was filmed at a friend's 27 Club-themed 27th birthday. A camera runs through the house as partygoers dressed as Kurt Cobain and Jimi Hendrix dance it out to the surf-adjacent song.


"People get too concerned about what kind of music they want to make. I'm only interested in making dope shit, " says Moses.