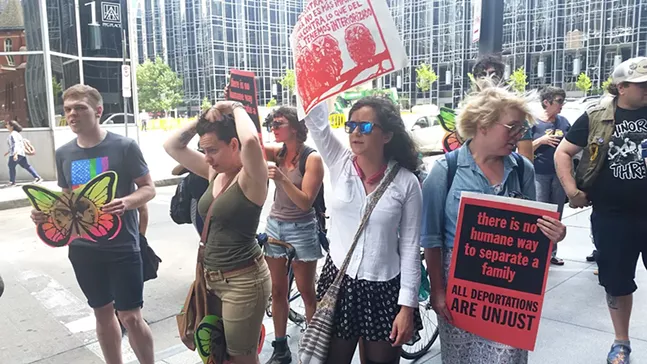 According to several
estimates
, the proposed border wall between the United States and Mexico would cost around $20 billion. President Donald Trump is pushing to have funding for the project included in a budget measure currently being considered to avoid government shutdown.
But according to a survey by The Associated Press-NORC Center for Public Affairs Research, released last month, 58 percent of Americans oppose new spending for the border wall, while 28 percent support it.
So far seven of the 25 largest design-build firms in the country, along with six other companies, have publicly said they would not bid on the border-wall project. Bidding closed last month.
Next month the Department of Homeland Security is expected to announce the companies selected to build wall prototypes, but in the meantime, Pittsburghers are calling on local firm DCK Worldwide to pledge not to profit from the border-wall construction.
Earlier today, a dozen protesters marched to DCK Worldwide's Pittsburgh offices Downtown in hopes of hand-delivering a letter they previously sent to the company by mail with no response. But security officers in the building would not allow two representatives from the group to meet with DCK Worldwide staff.
"We join the broad, international consensus that has denounced the wall as a symbol of racism, xenophobia, an environmental disaster and an intense waste of resources," a portion of the letter read.
Today's protest was one of half-a-dozen similar protests around the country planned during the coming weeks. Organizers are hoping to urge companies to pledge not to profit from the border wall or the deportation of undocumented immigrants.
"I think borders are anti-humanity, and no one should profit from violence and human suffering," says Ada Rajkovic, who marched today. "A lot of these people that the wall is targeting are fleeing from violence."
The community members involved in today's protest are also calling on DCK Worldwide to commit to not profit from the construction of detention centers used to detain undocumented immigrants. The company was involved in the construction of the
Nevada Southern Detention Center
and the
Lexington-Fayette County Detention Center
.
"They represent out community, and they and their partners have profited from these detention center," says Jordan Malloy, an organizer at today's protest. "They have to prove they are a moral and ethical company because we want a moral and ethical Pittsburgh."
In an email to
Pittsburgh City Paper,
DCK Worldwide spokesperson Laurie Bowers said they were "were not made aware of the protest and have no understanding of our connection in this matter."
"As you may know, dck worldwide is a global construction company dedicated to developing, managing, and building projects around the world. Our focus is on serving clients in our core markets, such as in the Hospitality, Multi-Family, Healthcare, and Commercial sectors," Bowers wrote via email. "As a US-based company and responsible member of the Pittsburgh community, we support and defend the rights of individuals and organizations to protest in a peaceful manner and to voice their opinions."