Local artists and arts leaders expressed surprise and dismay over word this week that the
Greater Pittsburgh Arts Council
is eliminating the job of Deputy Director Tiffany Wilhelm.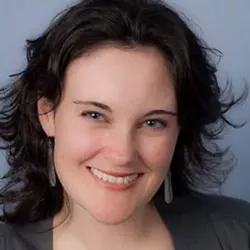 Wilhelm has worked for GPAC for nearly a decade and is widely admired for her commitment to arts advocacy, especially on issues of equity and inclusion.
"I'm truly shocked," says Celeste Smith, CEO of 1Hood Media, an arts-and-social-justice group. "I truly just can't see how [cutting Wilhem's job] is a good idea."
"It's painful," says Kathryn Spitz, executive director of Film Pittsburgh, which organizes several local film festivals.
"I know that she put in just so much work into her advocacy work," says comics artist Marcel Walker. "She's a remarkable person. … This is a loss."
GPAC Executive Director Mitch Swain announced the decision Tuesday in a letter to GPAC's members, including both arts groups and individual artists. Swain says eliminating Wilhelm's job is a "proactive" response to current and anticipated funding trends that will require GPAC to rely less on foundation grants and more on corporate sponsorships and individual donors. He says GPAC is creating a new position, development director, to pursue such funding.
"This is a very difficult decision," Swain told
CP
in a phone interview. "Tiffany has done exemplary work for the arts council and the arts community."
GPAC's largest single funder is the Heinz Endowments, whose spokesperson, John Ellis, tells
CP
that the foundation's board will shortly vote on granting GPAC $925,000 in operating funds over the next two years — amounting to $25,000 less for this coming fiscal year than for last. Ellis says the change reflects Heinz's increased focus on direct grants to communities, which includes grants in arts and arts education.
GPAC's members include about 100 arts organizations. The group's activities include soliciting foundations and corporations for funding to redirect in the form of small grants to artists and groups; providing artist-support services, including professional training and consulting; and lobbying for public arts funding.
Wilhelm is one of 14 staff members currently listed on GPAC's website. As deputy director, Wilhelm writes grants and oversees GPAC programs including its grant program, its Business Volunteers for the Arts program, and its accessibility and artist-relations program.
Swain says that in the future, grant-writing will be done by the new development director, and the deputy director's remaining duties will be handled by other staffers "as a committee." He says that he had considered offering the development-director position to Wilhelm herself, but decided that the position required a different skill set, and someone who would be more "externally focused" on new funding sources than Wilhelm had been.
Wilhelm's position will be eliminated as of May 31. She did not respond to
CP
's emailed request for comment. In a group email sent on Tuesday addressing the elimination of her position, she wrote, "[T]hose that know me understand that my work for the arts, artists, equity, and justice will never stop."
At least one member of GPAC's own board, reached by email, expressed dismay over the elimination of Wilhelm's job. "I'm very disappointed in this decision," wrote Mark Clayton Southers, artistic director of Pittsburgh Playwrights Theatre Co. "I was hoping that it could have been worked out by seeking additional funding."
Wilhelm is widely respected on the local arts scene, both among those who have worked with her directly and those who have not. "She's a super-talented person," says Karla Boos, artistic director of Quantum Theatre. Wilhelm has been highly visible at local arts events. "Tiffany was to me the face of that organization," says Film Pittsburgh's Spitz.
Before coming to Pittsburgh, in 2007, Wilhelm served as executive director of the Central Wisconsin Children's Museum. While many GPAC staffers work on issues of equity and inclusion based on race, gender, sexuality and gender identity, Wilhelm is particularly known as an advocate in these areas. Her recent Twitter feed has included messages like "Quick survey of top six Pittsburgh theatres this season — 82 percent white playwrights, 70 percent by men" and "Often it is written in invisible ink on audition notices that the role will be cast with a white person."
Wilhelm is "an advocate for challenging white supremacy," says 1Hood's Smith.
Smith recalls Wilhelm's response, in part, after the release of
The Unsung Majority
, a 2015 report that documented inequities in funding between larger and smaller arts groups. ("Even though the vast majority of organizations are small to mid-sized, the vast majority of dollars are directed to a just a few large organizations," concluded the report.) When the consortium of local arts funders who had backed the report called for a series of meetings with arts groups, Smith says, Wilhelm insisted that artists have a voice at the meetings. That led to a slide show depicting the efforts of local black-led arts groups — and even some live spoken-word and
a capella
performances.
"It was fabulous," says Smith. Wilhelm "was very much on the team with myself and the other artists. She was there at the forefront."
Julie Mallis, creative director of arts collective BOOM Concepts, notes that it can be difficult for people to think about their own advantages in life, and about their role in passively supporting white privilege. But Mallis says that Wilhelm is skilled at encouraging this process. "Tif has been very good at being careful in helping nurture people … to get to a place where they can be self-reflective," says Mallis, who as part of BOOM has co-hosted with Wilhelm workshops and other events promoting diversity and inclusion.
Swain says that the values Wilhelm championed will continue to guide GPAC. "Everything we did before will continue to be in place," he tells
CP
. "It's an organizational priority." Swain adds that GPAC's board is working on adopting a formal statement and policy on equity and accessibility.
People who've worked with Wilhelm say that they expect that she will land on her feet. "I have to believe that something bigger and better is going to come for her," says Spitz.
But some are concerned what Wilhelm's departure will mean for the local arts community. "Professionally, it worries me," says Walker, the comics artist. "The elimination of the position worries me too. Who are we gonna have that does that specific work now? … I'm not sure what this says about GPAC continuing this work in inclusion and equity."
"It's going to leave a hole," says Smith. Of GPAC, she adds, "I think they're going to have to rebuild their relationships. … I will be watching to see if they keep on with the work [Wilhelm] was striving so hard to do."