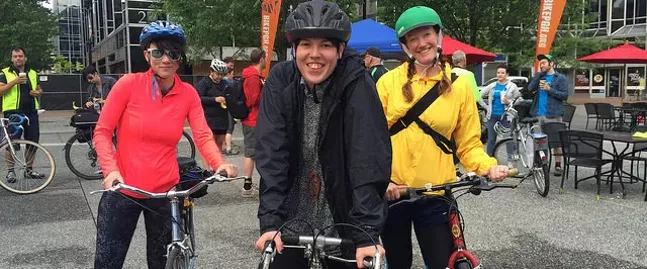 Cyclists in and around the city must feel a little vindicated. In a Pittsburgh mayoral race in which candidates blamed bike lanes (which account for a
minuscule fraction
of the city budget) for the city's lead-water-pipe problems,
public-safety issues
, and a shortage of affordable housing, the one candidate who was pro-bike-lane, Mayor Bill Peduto, emerged victorious, with about 69 percent of the vote.
In fact, the bike advocates at Bike Pittsburgh rejoiced in a tweet a couple hours after the polls closed at this past Tuesday. "Bill Peduto's opponents made this race a referendum on bike lanes. Looks like bike lanes are pretty damn popular with voters," the organization tweeted.
And with a substantial bike-lane victory now under its belt, Bike Pittsburgh is hoping to encourage Pittsburghers to commute via bike on National Bike to Work Day, on May 19. Bike Pittsburgh will be running Commuter Cafe locations in Schenley Plaza, in Oakland, and Market Square, Downtown, where free snacks, coffee and educational resources will be available to those commuting by bike. Cafes will run from 7:30 a.m.-10 a.m.
In a press release, Bike Pittsburgh said that during its 2016 Bike to Work Day event, cyclists accounted for 31 percent of all vehicles on a Downtown stretch of Penn Avenue between 8:15 a.m. and 9:15 a.m. Bike Pittsburgh members who stop by one of the cafes will receive a complimentary bike bell.
More information is available at
www.bikepgh.com
.