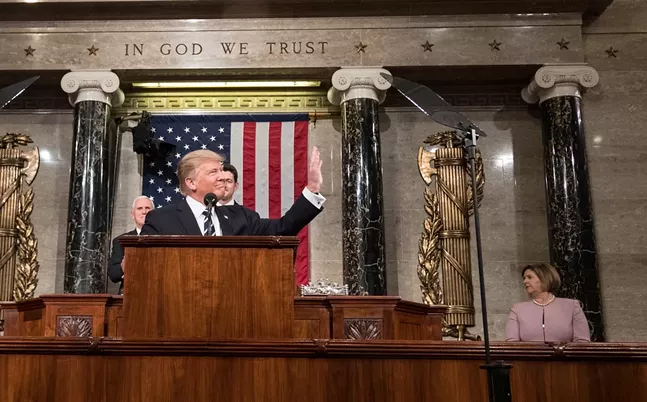 When Franklin & Marshall College released its Pennsylvania political poll on May 11, President Donald Trump must have felt relieved. Although many polls nationally show Trump maintaining a low approval rating and, in some cases, even losing support, the Pennsylvania poll showed Trump gaining 5 percentage points from 32 percent approval in February to 37 percent in May. And 60 percent of Southwestern Pennsylvania voters (outside of Allegheny County) approve of the president.
But Trump supporters might want to hold off celebrating, since the F&M poll also indicates Trump is losing support of a group of voters that may have pushed him to a narrow Election Day victory in Pennsylvania: independents.
Trump won the state by about 44,000 votes, or just 1.2 percentage points against Democratic rival Hillary Clinton.
Exit polls
indicated that while Democrats and Republicans supported their candidates by almost identical margins, independent voters went for Trump by between 4-7 percentage points. Also, even though polls taken in the months before the 2016 election showed independents offering more support for Clinton, Trump still garnered anywhere from
30-34 percent
of independent support.
Now, according to the the latest
F&M poll
which surveyed hundreds of Democrats and Republicans and 89 independent voters, only 18 percent of independents say he is doing a excellent/good job, while 78 percent say he is doing a fair/poor job. This is almost identical to how Pennsylvania Democrats assess the president (17 and 82 percent, respectively).
"Certainly our poll does show a larger disapproval for Trump among independents," wrote F&M pollster and Pennsylvania political expert G. Terry Madonna in an email to
City Paper
.
Independent voters are also grading Trump harshly on many policies important to Pennsylvanians. In terms of job creation, 36 percent of independents said he was doing a excellent/very good job, while 43 percent said he was below average/failing. That's starkly different from how Republicans feel Trump is doing on job creation; 75 percent of GOP-ers said Trump is doing an excellent/very good job while only 10 percent said he was below average/failing.
In terms of fixing the state's infrastructure, only 11 percent gave Trump a grade of excellent/very good. Even Democrats were more supportive in this measure with 12 percent saying he was doing excellent/very good in terms of improving our roads, bridges and public transportation.
But Madonna wrote this doesn't necessarily mean Trump is shrinking his Pennsylvania base. He noted that the poll shows some of Trump's strongest geographic support base (
Southwest
and Northeast Pennsylvania) haven't lowered their approval.
"I'm reluctant to generalize about what has happened to his support among [independents]," wrote Madonna. He also notes that it was the Southwest and Northeast that gave Trump an edge in the 2016 election.
However, organizations like the
Independent Voter Project
and conservative media outlet the
National Review
say that independent voters going for Trump was key for victories in Pennsylvania and other Rust Belt states.
And as Trump has proposed, and accomplished, some policies over his first 100-plus days, state independent voters appear to be judging him harshly, especially when it comes to the environment, immigration and health care. (Quick recap: Trump has signed executives orders rolling back some Obama-era
environmental regulations
, altered
deportation priorities
, unsuccessfully tried to ban travel from several Muslim-majority nations, and threw weight behind the GOP's Obamacare repeal, the
American Health Care Act
, which cleared the U.S. House.)
According the the F&M poll, 62 percent of Pennsylvania independents said Trump is failing in dealing with climate change, 48 percent said he's failing in handling immigration, and 53 percent said he is failing in improving the health-care system.
Independent voters in Pennsylvania will have a chance to judge Trump again. It's just 1,267 days until the next presidential election.