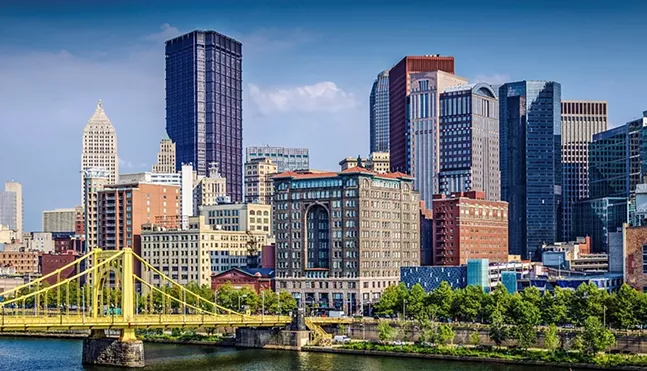 In April,
Philadelphia Magazine
profiled Pittsburgh and contemplated if and how
Pittsburgh could surpass Philly
as Pennsylvania's No. 1 city. The article had all the elite economic buzzwords, like "innovation" and "tech," and made many substantial points about Pittsburgh's prowess in the field of
robotics
and
driverless cars
. However, the story never mentioned words like "equal," "equitable" or "inclusion."
The idea of equal economic growth across all demographics is something Pittsburgh Mayor Bill Peduto has campaigned on with his "city for all" agenda. Peduto's mayoral opponent, Rev. John Welch, has also made inclusive growth a big part of his messaging, arguing the city's growing economy isn't improving the lives of the city's low-income and minority residents.
But just how is Pittsburgh doing in terms of growing for all its residents? A new study by public policy nonprofit the
Brookings Institution
provides some conflicting answers.
The March study shows that, from 2010-2015, the
Pittsburgh metro area
, in terms of inclusive growth, is actually doing pretty well. Out of the U.S.'s 100 largest metro areas, Pittsburgh's ranked 26th in terms of inclusion, which Brookings defines as how changes in income and employment are distributed among individuals.
Brookings Senior Fellow Alan Berube says "inclusion is how the growth of the economy is delivering for workers near the bottom" as well as the top.
Berube, who co-authored the report, says Pittsburgh's impressive inclusion rating was driven mainly by its increase in the "prosperity" ranking. Brookings defines prosperity as "when a metropolitan area grows by increasing the productivity of its workers, through innovation or by upgrading workers' skills, for example, the value of those workers' labor rises." Pittsburgh was third best in terms of prosperity among metro areas in the U.S.
Berube says the prosperity ranking was due to Pittsburgh's growth in sectors with high productivity and higher wages. The region saw a 58 percent jump in computer-systems design (
tech sector
) and a 29 percent increase in management/scientific/consulting services. Berube says fields like tech are growing, and company headquarters are "booming" in the region, which increased Pittsburgh's Gross Metropolitan Product by 13 percent.
Berube adds that Pittsburgh's growth in "prosperity" is quite unique for a Rust Belt metro. He says places like Toledo, Ohio, and upstate New York also saw some productivity gains, but those can mostly be attributed to manufacturers becoming more efficient, with automation replacing human labor and other factors.
"Pittsburgh is different because you are seeing growth in sectors that are adding new jobs, and diversifying the economy," says Berube.
However, this growth didn't lead to broad-based jobs gains. The Pittsburgh metro area only grew its jobs figure by 3.2 percent, which was the fifth slowest of the country's 100 biggest metro area. Furthermore, the region also saw big losses to many lower-wage sectors like grocery stores (-10 percent), business-support services (-17 percent) and clothing stores (-17 percent).
(Also concerning is the loss of mid- to higher-wage jobs of the local government and primary and secondary education sectors, jobs that typically include labor protections like unions. Local government employment fell by 9.5 percent, far faster than the national average, and Pittsburgh's primary and secondary education sectors fell by 26.5 percent, even as nationally, that sector grew by about 15 percent.)
Berube says gains in high-wage employment and losses of low-wage jobs, something that local activists have
protested in the past
, doesn't necessarily mean the Pittsburgh region is on a path to worsening its inequality. "There is lot of good research and experts that say growth in higher-tech jobs can be good for economical mobility, even if the short run it seems to be increasing inequality," says Berube.
However, Berube points out the Brookings study does show ominous employment statistics for the
region's black population
. For whites, the median wage increased by 8.1 percent in the Pittsburgh region, well above the U.S. average, while blacks saw their median wages drop by 19.6 percent, well below the U.S. average.
"The black populations seems to be left out," says Berube.
Data from the 2017
State of Black America report
reaffirms Brookings findings as well. In a black-white income comparison, Pittsburgh ranked 65th out of large metro areas and fell nine spots compared to 2016. Even Akron, Ohio, ranked higher than Pittsburgh in this metric.
Berube also says the Brookings data indicates economic growth may be concentrated in small pockets, geographically speaking. "There appear to be some nodes in the region that are capturing some of the growth," says Berube. (Remember, though Pittsburgh's economy is growing, it's
population is not
.)
Tech firms, corporate headquarters and management companies are mostly concentrated in a few Pittsburgh neighborhoods and in Cranberry and Canonsburg. The growth in those sectors explains the region's impressive jump in Gross Metropolitan Product, says Berube, but the slow overall growth might be explained by the continuing decline of the area's post-industrial regions, and the rise and fall of natural-gas drilling, or fracking, in rural areas.