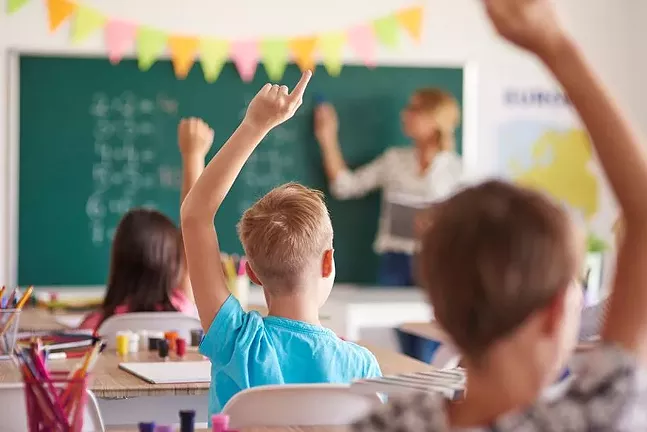 Children spend an estimated 1,000 hours every year in schools, early-education centers and after-school programs. While parents can work to protect their children from environmental hazards like lead and radon at home, they have little control over the facilities where their children spend a large chunk of their day.
"The research is clear that both lead and radon can impact a child's development, growth and learning," Michelle Naccarati-Chapkis, executive director of Women for a Healthy Environment, said at a press conference earlier today. "While these hazards are commonly found in schools and other educational buildings, any testing for these hazards is voluntary."
In order to address this issue, WHE, the Green Building Alliance and The Heinz Endowments today launched an initiative to help schools, early-learning centers and after-school programs test for lead and radon and mitigate the environmental risks in their facilities.
"We are here today to ensure increased attention and resources are provided to address these harmful environmental exposures," Naccarati-Chapkis said. "The long-term goal for us is to ensure every school and early-learning center tests for these two environmental hazards, and then takes the necessary steps to remediate those risks which is so important."
The dangers of lead contamination have gained a lot of attention in recent months since the
Pittsburgh Water and Sewer Authority
found high lead levels in the city's drinking water. But radon in the air is equally harmful to childhood development.
Radon
is also estimated to cause approximately 21,000 lung cancer deaths per year, according to the Environmental Protection Agency. And they estimate more than 70,000 schoolrooms around the country have elevated radon levels.
School districts in Pennsylvania aren't required to test for radon or lead. But last week, Sen. Art Haywood (D-Montgomery County) reintroduced legislation that would require schools to conduct lead testing before the start of every school year.
Despite the dangers, according to a survey of school districts across southwestern Pennsylvania, conducted by WHE, only 20 percent of respondents had tested for radon and only 11 percent had tested for lead. Among those schools that have tested are the Allegheny Valley School District and Wexford Elementary School.
"In the Allegheny Valley School District, it was extremely important for us to know whether or not our children were in danger of any sources of lead," said Allegheny Valley Superintendent Patrick Graczyk. "No one forced our hand to test the water quality within our schools. We as educators and parents wanted to ensure that the drinking water used by our students, staff and community was safe to drink. Guessing was not an option."
"We expressed to our principal that we wanted to do this in our school and he was in full agreement," said Kristi Wees, a parent at Wexford Elementary. "By partnering with him and our school administrators and facilities staff, Wexford was tested for lead and radon last year, and at that time was in no need of remediation. This gave me and all the other parents great peace of mind."
Thanks to a $400,000 grant from The Heinz Endowments, WHE and GBA hope to help 100 to 200 grantees conduct lead and radon tests and access resources to reduce exposure to these hazards. Each participating organization can receive up to $7,500. Schools in under-served communities will be prioritized.
"We really believe this campaign can have a major impact on these specific issues," said
Andrew Ellsworth, vice president of health and learning for GBA, "and we hope to trigger broader understanding, broader awareness and broader action on this specific issue across the region."
For more information visit
www.1000hoursayear.org
.