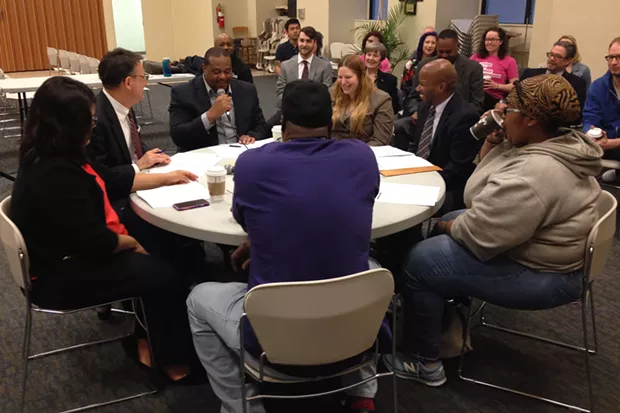 Big news stories about how President Donald Trump and Republican lawmakers in Washington, D.C., are introducing rules and laws meant to
attack immigrants
, organized labor and
health care
seem to be dropping weekly. While those stories get most of the public's attention, for Pittsburghers and Pennsylvanians, it may be more prudent to watch the similar action happening at the state level in Harrisburg.
Republican, and even some Democratic lawmakers at the state capitol are
also introducing bills
attacking labor unions, immigrants and public health. And because of the 10th Amendment to the U.S. Constitution, the federal government tends to avoid overreaching its authority on a multitude of state laws. So, the lesson from an April 14 roundtable discussion with local politicians, union members and immigrant-rights advocates: pay attention to Harrisburg.
"We came here to talk about some issues at the state level that need immediate attention," said state Rep. Ed Gainey (D-Lincoln-Lemington) during the discussion at Smithfield Street Church of Christ in Downtown. "There are bills in Harrisburg that we need to fight against in order to protect working families."
Some of the pieces of legislation the panel is objecting to are SB 10, a bill aimed at defunding so-called
"sanctuary cities"
; SB 300, a state effort to defund services at Planned Parenthood; and a series of "right-to-work" bills. (Right-to-work legislation, like SB 166 and SB 167, would allow non-union members to avoid paying into unions in unionized workplaces. Labor advocates say these laws undercut workers' right to organize.)
"These are really dangerous times ahead, where people are trying to strip our rights," said Pittsburgh City Council President Bruce Kraus (D-South Side) to the crowd of about 20 in attendance.
Steve Kelly is member of the Service Employees International Union and a local custodian. He said at the roundtable that if right-to-work laws are put in place, it could "totally destroy" workers' ability to collectively bargain.
"I can't tell you how scared it makes me," said Kelly.
Jeimy Sanchez-Ruiz of immigrant-rights group Casa San José said Pittsburgh's Latino-immigrant community is also frightened by bills like SB 10. Sanchez-Ruiz says SB 10, which would force local police officers to fully communicate and cooperate with federal immigration officials, would increase police racial profiling.
"We should not be afraid of our own police," said Sanchez-Ruiz. She added that bills like these could push immigrants, even those who are legal residents and U.S. citizens, further into the shadows in fear that their families might be separated through deportation.
Gainey said to combat these bills in Harrisburg, Pittsburghers must react with organization.
"We as people have to continue to organize and protest, but also bring new voices to Harrisburg," said Gainey.
And some of that organizing is already working. State reps.
Dom Costa
(D-Stanton Heights) and Tony DeLuca (D-Penn Hills) have both recently changed their stances on SB 10, vowing now to vote against the state's anti-sanctuary city bill, thanks to protests and pressure from local immigrant-rights groups.
A group of immigrant-rights advocates from Casa San José and the Thomas Merton Center protested at DeLuca's office on April 13; then staffers told the protesters that the state representative would change his vote on SB 10. (DeLuca still supports HB 459, a bill that would impose penalties on business that hire undocumented workers, which advocates argue could further encourage employers to keep all workers off the books, thus exposing employees, including the undocumented, to sub-standard wages and working conditions. Activists are pressuring DeLuca to change his stance on that bill too.)
Members of the April 14 roundtable told attendees they should participate in a May 1, May Day march for immigrant-rights to showcase their opposition to all of the bills discussed. Kelly of SEIU spoke about the importance of organized labor joining the causes of protecting healthcare and immigrant-rights.
"My heart breaks for what is happening to immigrants," said Kelly. "I will be there [at the march] with you. I will be there with all of the workers."
The
May Day March
will take place on May 1 at 3 p.m.at the intersection of Hot Metal and South Water streets in the South Side. And a related festival, open to the public, with food and music, will occur at Pittsburgh Federation Of Teachers Hall from 5:30 p.m. to 7:30 p.m.