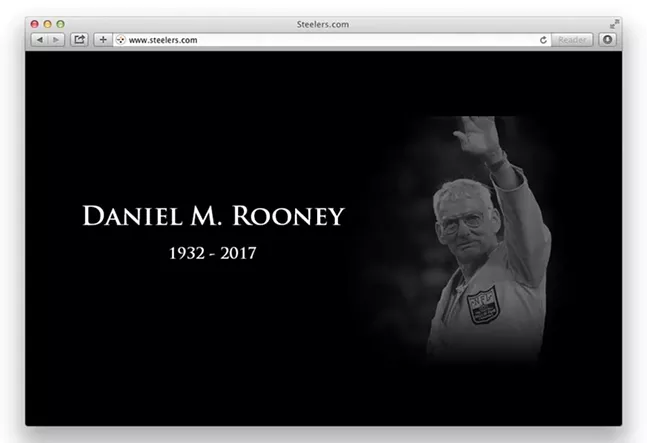 Dan Rooney, the longtime owner and chairman of the
Pittsburgh Steelers
has died today at age 84, the team announced. On both it's website and social media, the Steelers posted the above simple image.
Rooney became team president in 1975 but had been
taking on a bigger role with the franchise
since graduating from Duquesne University in 1955. He led the team to six Super Bowls but had a greater impact on the league and the country. Rooney led the charge to ensure that minority applicants were given a fair shot at head-coaching and senior management vacancies.
Reaction to Rooney's death was swift. NFL Commissioner Roger Goodell issued the following statement:
"Few men have contributed as much to the National Football League as Dan Rooney. A member of the Pro Football Hall of Fame, he was one of the finest men in the history of our game and it was a privilege to work alongside him for so many years. Dan's dedication to the game, to the players and coaches, to his beloved Pittsburgh, and to Steelers fans everywhere was unparalleled. He was a role model and trusted colleague to commissioners since Bert Bell, countless NFL owners, and so many others in and out of the NFL. A voice of reason on a wide range of topics, including diversity and labor relations, Dan always had the league's best interests at heart. For my part, Dan's friendship and counsel were both inspiring and irreplaceable. My heart goes out to Patricia, Art, and the entire Rooney family on the loss of this extraordinary man."
Pa. Gov. Tom Wolf wrote:
"Pennsylvania has lost a true icon and one of our most revered citizens, civic leaders and public servants. Dan Rooney was truly loyal and dedicated to the tremendous organization he built and the city and country that he loved to serve. On behalf of every Pennsylvanian, Frances and I express our deepest condolences to the Rooney family, Dan's friends and colleagues, and every member of Steeler Nation. He will be missed but his legacy will live-on forever in the hearts of the countless players, fans and citizens whom were lucky enough to experience his passion and grace."
From Pittsburgh Mayor Bill Peduto:
"Pittsburgh, and our nation, owes immeasurable gratitude to Ambassador Rooney.
Thank you for your service to our country. Thank you for your devotion to your family and the Steeler nation. Thank you for all you have done for Pittsburgh."

We'll have more on Dan Rooney in next week's issue. Below is a roundup of reaction from social media.