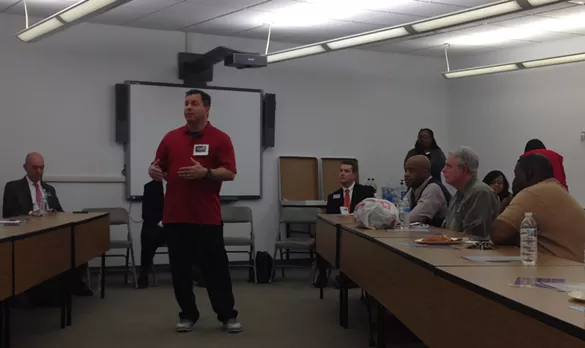 On April 5, a handful of candidates for local judgeships and Allegheny County Sheriff met with members of the
Alliance for Police Accountability
and general members of the public to make their cases for office. Elections like these generally get little attention, but Brandi Fisher of the
APA
says her group and others should follow these elections.
"We wanted to do this forum because judges are not talked about enough," she told the 15 attendees. "This is important when we talk about reforming the criminal justice system."
The candidates who spoke at the forum at the Kingsley Center, in Larimer, all Democrats, included statewide Commonwealth Court judicial candidate Irene Clark; statewide Superior Court judicial candidate William Caye; Allegheny County Sheriff candidate George Satler; Allegheny County Common Pleas court judges Rosemary Crawford and Patrick Connelly; and sitting Common Pleas judge David Spurgeon, who was appointed by Gov. Tom Wolf in 2016.
Satler, a Pittsburgh Police homicide detective currently on unpaid sabbatical, is challenging incumbent sheriff Bill Mullen. Despite its name, the Allegheny County Sheriff's Office doesn't function like a typical law-enforcement agency. It's mostly an arm of the courts that issues warrants. Satler said he wants to work to clear the backlog of warrants, which is currently at more than 10,000, and said that increasing communication between the county and municipal police departments could help.
Satler also wants to increase the sheriff department's presence combating the opioid crisis. "We should be going schools and working with students on a weekly basis," said Satler. "We need to coach people and educators about this crisis."
Clark is running for judge of Commonwealth Court, which is an appellate court directly under the state's Supreme Court that mostly handles civil matters. The Commonwealth court, for example, would handle any case wherein Pittsburgh wanted to institute a gun-control rule, said Clark.
Clark said she would bring a unique experience to the court because of her extensive background as legal counsel for statewide housing-advocacy group the Housing Alliance of Pennsylvania.
"I would work for the quality of life in our neighborhoods," said Clark.
There are two open seats on Commonwealth Court. The seven other seats are currently held by six Republicans and one Democrat.
The other statewide judicial candidate at the forum was William Caye. He's running for judge of the Superior Court, which is another appellate court under the state Supreme Court, which handles civil and criminal cases. Caye is a Pittsburgh native who currently lives in South Fayette. He said he supports more diversity in the court and wants to take on corruption in the Pennsylvania judicial system.
"The level of corruption in the judiciary is second to none," said Caye. "I am running against that. It's not the judge's courtroom, it's your courtroom."
There are four open seats on Superior Court. The other 11 seats are held by seven Republicans and four Democrats.
The three candidates running for Common Pleas Judge have all been "highly recommended" by the Allegheny County Bar Association.
All three candidates shared their history of advocacy with forum attendees. Connelly, a trial attorney for 23 years, volunteers as a mentor to children in public schools. Spurgeon, the currently governor-appointed judge, is a board member of the White Oak animal shelter. Crawford said she has experience as a lawyer defending victims of abuse. Crawford also mentioned, if elected, that she would be only the second African-American woman among the 43 elected judges in Allegheny County's Court of Common Pleas.
Fisher, of the APA, says that her organization will have a list of endorsed candidates in a couple weeks and will publish it at
apapgh.org
.
April 17 is the last day to
register to vote
in the primary election, which takes place May 16.