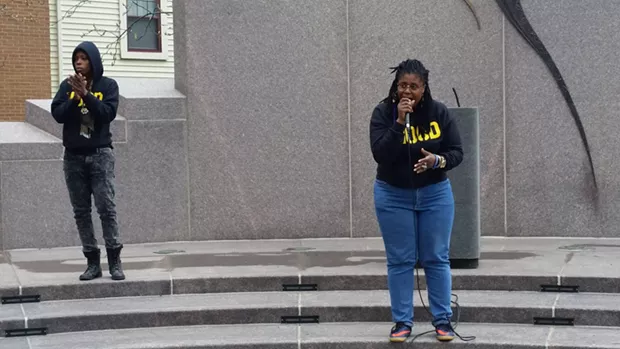 According to a 2016 report by the
Institute for Women's Policy Research
, at the current pace, women in Pennsylvania won't receive pay equal to men until 2072. That's too long to wait, said a group of women at a Equal Pay Day rally, at Freedom Corner in the Hill District earlier today.
"The time for me is right now. There is no more waiting," said Cheryl Hall-Russell, president and CEO of the Hill House Association. "It's inexcusable that in America we still have to have this conversation."
The rally, hosted by the Black Femme Excellence Co. and the Women and Girls Foundation, highlighted economic disparities facing women in the Pittsburgh region and focused especially on living conditions for women and femmes of color. Black Femme Excellence Co. is a "collective that centers the leadership, needs and merit of Black Femmes."
In 2015, black women were paid 63 percent of what white men made, according to The American Association of University Women's report "The Simple Truth About the Gender Pay Gap". For Hispanic women, the number was 54 percent.
"We all know that, across the board, women make less money than men, but we know that black women make even less than that," said India Hunter, community education coordinator for New Voices Pittsburgh, a reproductive-rights organization. "Black women who earn a bachelor's degree or higher often earn the same as white men with no degree. How is that even possible?"
According to Hunter, black women are more likely to work in the low-paying jobs like those in the service industry. According to AAUW, they're also "less likely to work in the higher-paying engineering and tech fields or managerial positions."
Cheryl Towers, vice president of programs for a local AAUW branch, urged the group at today's rally to support women running for public office and to consider running themselves. She said more women in leadership is the only way to achieve progress in equality for women.
"We're seeing renewed energy from women," Towers said. "There are now hundreds of women campaigning around the the country who never thought about running for office. Pennsylvania is awful for female representation. We have very few women in the legislature."