"This performance is flawed," goes one of the voice-over lines repeated throughout this latest dance-theater offering from
CorningWorks
' Glue Factory Project.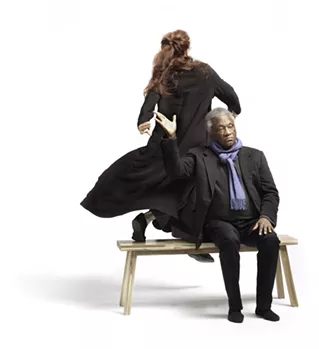 As seen last night, the show, a collaboration between company founder and artistic director Beth Corning and Seattle-based dance legend
Donald Byrd
, is largely a reflective study of perception, expressed in a series of duets and solos.
The opening sequence establishes a relationship between the two characters, male and female, exploring a lived-in interdependence: Sometimes they move together, sometimes one must right the other, who's fallen over.
The solos deepen the characters. A notable one finds Corning working with the show's lone prop, a short wooden bench. Confused, tentative and fearful, she seems to be hoping the bench will serve as an anchor of some kind, but in the end finds it, too, provides no surety.
A memorable solo by Byrd is a comical turn in which he's instructed by a disembodied voice to perform various movements ("shimmy," "hula-hoop"), only to be evaluated at the end. It's perhaps notable that Byrd's character in this sequence is the only one in the whole hour-long work who smiles very much. But is that because he's happy to be told what to do, or simply because he's performing, and performers smile?
Ambiguity runs throughout; the performers express a lot of emotion, but — again, as the voiceover warns — there's no real resolution (other than a formal one). "This performance will not make you happy," goes another line in the show's script. But with its thoughtful choreography and performances, and interesting lighting and musical cues, "What's Missing?" satisfies aesthetically.
Here is Steve Sucato's
preview
of the show for
City Paper
.
What's Missing?
has two more performances, tonight at 8 p.m. and the Sunday matinee. Tickets to tonight's performance are $25-30 and are available
here
. Admission to Sunday's show is pay-what-you can.
The New Hazlett is located at 6 Allegheny Ave., on the North Side.