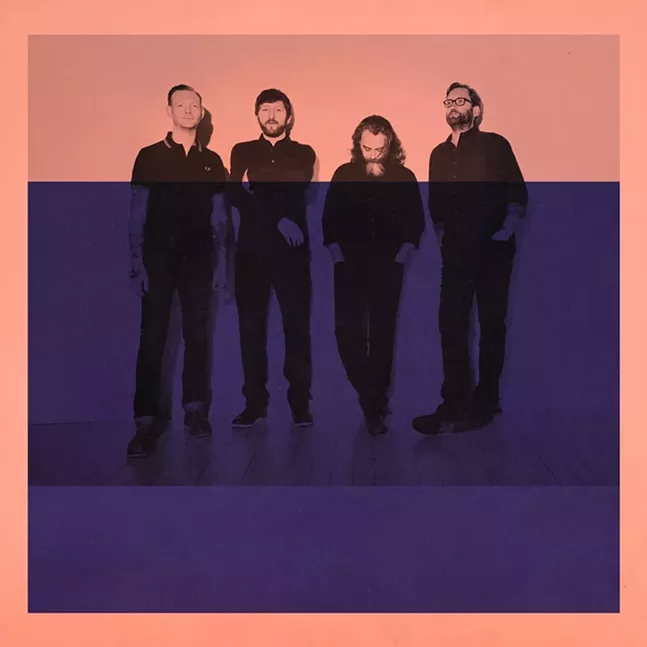 Minus the Bear has been around for 16 years.
Highly Refined Pirates
, released in 2002, begins with vocalist Jake Snider crooning, "And then we all bought yachts." It's a cheeky intro and far cry from the four-piece's reality at that time: traveling in a 15-passenger van, sleeping on kitchen floors, partying and trying to seize the moment, not knowing how long it would last.
The moment is ongoing, it turns out. The band has made a living from its work and now has 12 records on the books.
But after its 11th release, 2015's
Lost Loves
, the group had some soul-searching to do. Longtime drummer Erin Tate had to leave the band for medical reasons, and the remaining members were coming to terms with major life changes like marriage and fatherhood.
"We all did a lot of asking questions and kind of had to dig deep, being 15 years on. We were asking ourselves, 'What are we doing here? Why are we doing it? Is this something we still even want to do?'" said bassist Cory Murchy.
"Luckily, the answer was yes."
When I talked to bassist Murchy on the phone, the band was hanging out in Charlotte, N.C., almost halfway through a month-and-a-half of touring. Despite all of the changes in the band's collective life over the past few years, he sounded relaxed and happy.
"We still really love each other, and on this tour we're really enjoying the music. It's a powerful thing," he said.
The band is touring for its latest release,
Voids
. The album reflects a lot of the aforementioned conflicts, with darker, moodier lyrics and themes of loss infiltrating the innovative grooves and riffs that helped cultivate Minus the Bear's following to begin with.
Even though the band is in a happier place now, performing those morose songs is no burden.
"The thing is, for me, a lot of these songs are therapeutic. Being able to play them every night helps me exorcise those feelings and demons, and it's enjoyable to do it because we've fully worked through that shit. We've spent the last few years working on ourselves and each other," said Murchy.
The band is closer than ever, despite its members living across the globe, in Seattle, Tacoma and London. On this tour, rather than party or explore on their own, the members are spending most of their free time together, hanging out, talking and enjoying each other's company.
Just as the personal and musical lives of the band have ebbed and flowed over those 16 years, so has the fan base. No two records sound quite alike, so the amorphous fan base represents people with musical interests across the spectrum of MTB's sound.
"I personally love playing the older material and looking out to see people in the crowd singing along, like when we play 'Pachuca Sunrise.' To know those people have been with us for 12 years is so humbling," said Murchy.
Ultimately, the band has accomplished a lot in 16 years. But the band has more music to make, and
Voids
represents the beginning of a new era in MTB's songwriting.
"We still have something to say and music to write. We still believe in ourselves," said Murchy. "We're not done creating yet."
Minus the Bear performs with Beach Slang and Bayonne at Mr. Smalls on April 1. The all-ages show is at 7 p.m.
Tickets are $24.
Mr. Smalls is located at 400 Lincoln Ave., in Millvale.
For more information, call 412-821-4447 or see
www.mrsmalls.com
.