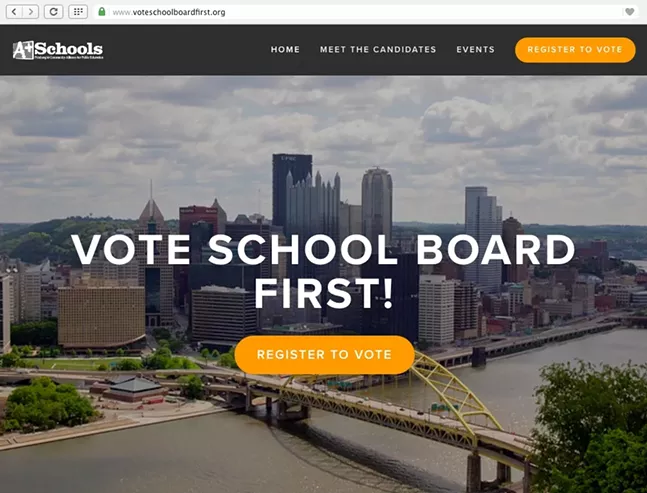 In a quality-of-life survey conducted last year, strong public schools were identified as the No. 1 priority for residents living in the eastern part of Pittsburgh. But despite this recognition of the importance of public education, in 2015, only 20 percent of registered voters voted in Pittsburgh's school-board election.
"We can't have strong neighborhoods without strong schools," David Breingan, executive director of Lawrenceville United, said at a press conference earlier today. "Yes, public schools are a family issue, and the strongest measure of our public schools is how they treat our most vulnerable students. But public schools are also a community-development issue. Because of the school-to-prison pipeline, they're also a public-safety issue. They're a workforce-development and a real-estate issue."
With this in mind, earlier today, education-advocacy group A+ Schools launched a campaign to raise awareness of Pittsburgh's upcoming school-board election. Its new website www.voteschoolboardfirst.org will provide information on each candidate vying for a seat in four Pittsburgh districts.
"We're going to try to close the information gap with this website," said A+ Executive Director James Fogarty. "We want to help you understand where the candidates stand on policy issues and transparency. ... When you go talk to these candidates, you should be able to ask them, 'What are you going to do about Weil [K-5]? What's going on at UPrep [6-12]? How are you going to make those schools better and what are you going to do to ensure kids in those buildings have access to a high-quality education?'"
In the upcoming May primary, incumbent Sylvia Wilson who represents District 1 is running unopposed. The District 3 race pits former Pittsburgh City Councilor Sala Udin against James Myers, director of community affairs and business development for Urban Innovation 21, an organization that helps businesses in under-served communities. In District 5, incumbent Terry Kennedy will face Ghadah Makoshi, founder of Pittsburgh Baby Equipment Rentals, a small business that rents baby equipment to Pittsburgh visitors. In District 7, Cynthia Falls will face newcomer Joseph Conrad Kearfott Burns. And in District 9 incumbent Carolyn Klug will face Veronica Edwards.
"We believe a high-quality education is a civil and human right," said Esther Bush, president and CEO of the Urban League of Greater Pittsburgh. "In these times, with uncertainty at the federal and state level, it is more important than ever for voters and black voters especially, to know who their school-board candidates are and understand their positions on the issues. It is critically important to be informed, and to understand they represent the promise of high-quality education for us all."
This year, Pittsburgh Public Schools' budget is $594.4 million, making it larger than the city of Pittsburgh's operating budget. At today's press conference, education advocates said this figure should lead even those without students in the district to have a greater interest in how their tax dollars are being spent.
"Sometimes we're so concerned with what's at the top of the ticket, we don't look at what's at the bottom," said Tim Stevens, chairman and CEO of the Black Political Empowerment Project.
A+ Schools is holding a School-Board Election Candidate Forum at 6 p.m. May 8 p.m. at the Hillman Auditorium at the Kaufmann Center.