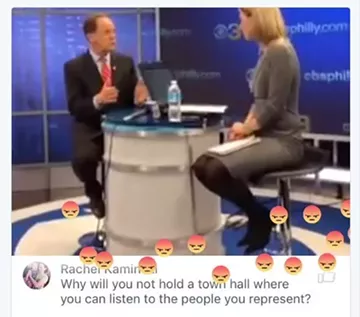 In the weeks following the large marches and protests at Pennsylvania offices of U.S. Sen. Pat Toomey, the Republican senator has taken some steps to meet with constituents who don't approve of his agenda. He held a meeting on Feb. 24 with a few members of Pittsburgh's
Tuesdays with Toomey
coalition, who have been organizing protests in Pittsburgh each week. And on Feb. 16, Toomey held a
telephone town hall
, where than 15,000 constituents listened in and 11 were allowed to ask questions.
On March 6, Toomey held another pseudo "talk to constituents" event, when he spoke to a Philadelphia TV reporter and answered some questions via social media. Toomey informed the public by tweeting 80 minutes before his TV appearance on
CBS 3 Philadelphia
.
During the 15-minute interview, Toomey answered questions about a few hot-button issues, including his opinion on U.S. Attorney General Jeff Sessions, who has come under criticism for statements about meetings with the Russian ambassador during the presidential campaign. Last week, Sessions recused himself from a possible investigation into President Donald Trump's ties to Russia during his campaign.
Toomey said he sees "absolutely no reason why [Sessions] needs to resign, in my view." He also spoke about the potential repeal of the Affordable Care Act and promised that health-care recipients would not be left without coverage. "We will not pull the rug out from anyone," said Toomey.
Toomey said that a repeal vote from Congress would likely happen in March, but that the process to replace the ACA could take two to three years. To ensure that patients with pre-existing conditions still receive care, Toomey proposed a placing those patients in a government-subsidized pool, "where the insurance companies compete to cover them."
However, when addressing the question of how to cover those who received coverage when some states expanded MediCaid through the ACA, Toomey was less specific and said "there is going to be a negotiation process."
One question that came from social media suggested that Toomey was a rubber stamp for Trump's agenda. Toomey rejected this notion and said that Trump has not proposed any legislation for him to support or reject. Toomey, who has voted in favor all of Trump's cabinet picks, said that he voted to confirm three-fourths of Barack Obama's cabinet nominees.
"I am going to be an independent voice," said Toomey. In the upcoming months, Toomey said he will be focusing on increasing national security and on growing the economy through pro-growth tax reform.
But some of Pittsburgh constituents are critical of the timing of Toomey's social-media interview.
"I think given the timing of these so-called town-hall events, it's pretty clear that Senator Toomey is not interested in making himself accessible to working people," says Mike Antonacci, of Pittsburgh.
Additionally, the interview proved difficult to access.
City Paper
waited for the video to load on CBS Philadelphia's website for several minutes without the video ever materializing. Eventually,
CP
was able to watch the interview through CBS Philadelphia's Facebook page, which filmed the interview via Facebook live, on a grainy and often shaky broadcast.
Twitter user Cathy Brennan, from Regent Square, also tried to watch the interview via the CBS Philadelphia website, but the video never loaded. Brennan's tweet said "@SenToomey Link didn't even work on my computer! I had a blank screen @CBSPhilly from 2:00 sharp! Losers!"
Toomey said during his televised interview that he doesn't know when he will hold an in-person town hall.