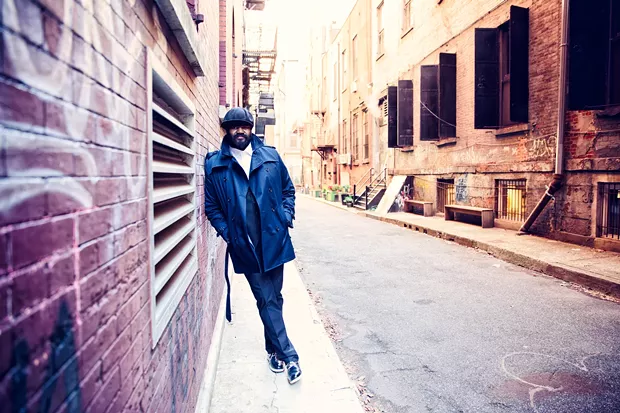 Jazz might not be front-and-center in the landscape of contemporary music, but vocalist Gregory Porter is helping to bring it there. The 45-year-old Sacramento native has been entrancing a new generation of jazz lovers since his 2010 debut,
Water
. It's not often you see so many generations under one roof for a concert, but that was the case at Porter's show at the August Wilson Center this week. Porter has almost a Mr. Rogers quality about him in the way he conveys lessons about morality through art, simplicity and art. In his signature tawny, brown-colored suit and his black Kangol Summer Spitfire hat, Porter's appeal and charm were undeniable on Wednesday night.
Porter's musical education began at church, which is evident in the way he connects with the crowd and in his impeccable vocal delivery (which earned him two Grammy wins for Best Jazz Vocal Album, most recently in 2017 for
Take Me to the Alley
). Porter performed that album's title track with a solemn demeanor; empathetically waxing about the people living in the "alley" and how we treat them. In "On My Way To Harlem," from 2012's
Be Goo
d, Porter reflects on that neighborhood's rich history and the changes its endured, channeling names like Duke Ellington, Marvin Gaye and Langston Hughes.
Speaking of legends, Porter brought up the recent death of Al Jarreau, though he admitted he didn't feel confident enough to pay tribute with a cover. Instead, his band's bassist played a passionate and hypnotizing medley celebrating Jarreau's legacy, which transitioned into "Musical Genocide."
A personal favorite of mine is a song called "No Love Dying" from 2013's
Liquid Spirit
, a beautifully composed piece lightly colored with stray piano notes and fluttering syncopation. Of course, it wasn't all ballads and love songs: the lively and upbeat "Liquid Spirit" energized the crowd with hand claps and foot stomps, peppered with Porter's encouragement to "sing that song" and "go 'head." Porter closed out the set with "Free," a horn-heavy blues piece about hard work and sacrifice. He ends the song with a "thank you" to the audience for allowing him to be himself, and to be free.