Pittsburgh has one of the smallest percentages of foreign-born people of any large U.S. city, but in Beechview on Feb. 16, it didn't feel like it. Although there are only 25,000 foreign-born residents among Pittsburgh's 306,000, more than 120 people, most of them Latino immigrants, came out to march as part of the national Day Without Immigrants campaign.
"We need to stand together for everybody, not just the documented immigrants, but the undocumented, too," said Evaline Aiken, who was born in Ecuador and now lives in the South Hills with her husband.
For the Day Without Immigrants campaign, also known in Spanish as Dia Sin Inmigrantes, events are being held on Feb. 16 across the country to showcase how integral immigrants are to every facet of life in the U.S. Immigrant workers and students walked out of work and school today to protest President Donald Trump's
executive orders on immigration
, particular the change in enforcement priorities for U.S. immigration officials. (On Feb. 10, for example, an immigrant in Seattle was detained by authorities even though he is a DACA recipient, meaning he crossed the border illegally as a young child and has since been given access to a work permit.)
In Pittsburgh, all four of Las Palmas grocery stores and eateries closed down in solidarity with the campaign. Also close were Edgar's Best Tacos, in the Strip District; El Milagro Mexican restaurant, in Beechview; and Bea Taco Town, in Banksville; Downtown's Bea Taco Town closed down in mid-afternoon.
Bea Taco owner Erick Martinez participated in the march because he said this country was "founded by immigrants." He stated how a wave of European immigrants came to the U.S in the early 1900s, [and that] immigrants from Latin America are just another wave.
Martinez, born in Mexico, crossed the border without documentation when he was 7, and has since received a work permit through DACA. He came out to march, not only to support his community, but to remind people that the ICE raids have been
causing his community anxiety
for years and will likely get worse under Trump.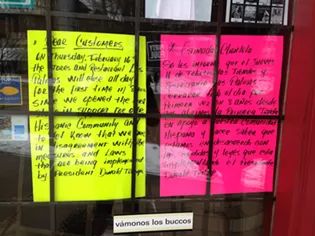 "Most of my community is participating in this campaign in their own way," said Martinez. "But not everyone is out here because they are afraid."
At the march, chants echoed in the streets in both English and Spanish, and marchers carried flags from Ecuador, Honduras and the U.S. Alma Brigido, the wife of the recently deported immigrant activist,
Martín Esquivel-Hernandez
, addressed the crowd.
"Immigrants have rights, we are here to fight for them," said Brigido in Spanish
And Latinos were not the only Pittsburgh immigrants participating the Day Without Immigrants campaign. Abdulkadir Chirambo is a
refugee from Somalia
and head of the United Somali Bantu of Greater Pittsburgh. He was not at the march, but he told
City Paper
that many in his community were walking out of work and school in solidarity with the campaign as well.
At the march, Kai Pang, an organizer with labor coalition Pittsburgh United and the son of Chinese immigrants, spoke to the crowd about the importance of embracing immigrants.
"We have immigrants in every sector of our economy," said Pang. "This is our community."