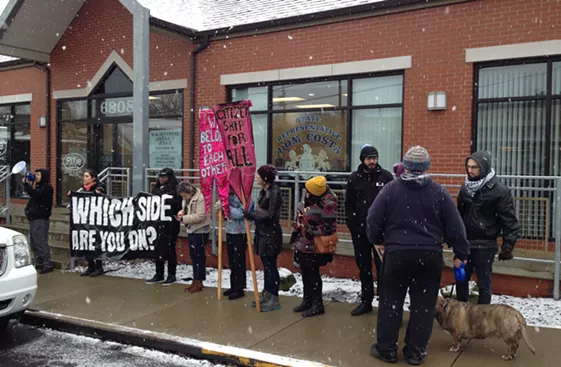 Pittsburgh-area state Rep. Dom Costa (D-Stanton Heights) was recently listed as a co-sponsor on HB 14, an anti-immigrant bill that prohibits the creation of "Sanctuary Campuses." This came as little surprise to
Pittsburgh City Paper,
since Costa co-sponsored several anti-immigrant bills last year alone. That's why we put him on our 2016
Shit List
.
But after many calls and visits from constituents, Costa announced on Feb. 1 that he was
"wrongly listed"
as a co-sponsor on HB 14 and said he doesn't support the bill. Many immigrant-rights activists remained skeptical.
A group of 25 protested outside Costa's office in Morningside on the morning of Feb. 2. Some were with immigrant-rights groups, others were just Costa constituents who disagree with his voting record on immigrants.
Brad Quartuccio chanted with the group of protesters. He felt compelled to protest after reading the stories about Costa's initial co-sponsorship of HB 14. "Dom is my rep and it has become very important
to me to oppose bills like these," said Quartuccio. "We need our state reps to represent us."
While the group was chanting outside, Gabe McMorland, of activist group the Thomas Merton Center; Maria Duarte, an undocumented Chatham student from Mexico; and others met with Costa to discuss his stances on immigrant bills. After the meeting, McMorland said that while Costa reiterated that he would vote no on HB 14, the meeting did not go very well overall.
"Dom Costa told a young Latina woman that he knows what it is like to be profiled, because some people assume he is Hispanic," said McMorland.
Apart from that gaffe, McMorland asked Costa to issue a public statement denouncing bills like HB 14. In a statement to
CP
, Costa wrote he refused to buckle to the group's demands and side with their position on "ILLEGAL and UNDOCUMENTED immigration."
"I told them my grandparents were immigrants and I am for immigration – but they have to be documented or at least going through the process to be documented," Costa said in the statement. "I also said that the cities have got to stand up and be part of the solution."
But McMorland questions Costa's support and understanding of state bills that would dismantle sanctuary cities. Those are cities where local law enforcement don't initiate contact with federal immigration officers.
"[Costa] said that he didn't think that anti-sanctuary-city bills would lead to targeting of undocumented immigrants and more deportations," said McMorland. "He said that police would not be out there trying to find undocumented people, but the bill he sponsored last year would have specifically required them to do just that."
The bill Costa voted for in 2016 was HB 1885, which proposed cutting state funding to cities where local law-enforcement officers who have "reasonable cause to believe" an immigrant is undocumented "shall immediately report" that immigrant to federal immigration officials. (This bill has since been modified and is now under consideration by the state senate as SB 10.)
Costa, who served as the Pittsburgh's chief of police for nine months in 2006, said in his statement that he believes "most Americans value playing by the rules, which includes following the established legal process for entering the county and gaining citizenship."
Costa defended his position to not issue a public statement supporting the protesters. "I will review any and all immigration-related bills that come before the House on [a] case-by-case basis," Costa said. "It would be foolish of me or any other legislator to issue a blanket statement on anything this complex."
McMorland added that Costa told him he would be more comfortable supporting a sanctuary-city bill that provided a path to citizenship. However, Pennsylvania's government has no authority to provide citizenship to immigrants. Only the federal government can do that.
"If he is genuine in his support," said McMorland, "then he certainly isn't very good at his job."
Additionally, Costa's claim that his co-sponsorship of HB 14 was accidental is still in question.
CP
spoke to a source in the Pennsylvania General Assembly, who requested anonymity, and who described the process of co-sponsoring a bill. According to the source, a co-sponsorship memorandum is sent to all legislators
and their staffs via email. At the bottom of that email, there is a link that allows other legislators to co-sponsor. Once that link is clicked, users are redirected to a web browser with a page describing the memorandum. (If a user is not logged in, he/she will have to login before proceeding.) At the bottom of the web browser is a green "co-sponsor" button. Once clicked, a small window will open telling users they are now co-sponsors. To un-co-sponsor, users just need to click the green button again.
SB 10, the state's bill to
de-fund sanctuary cities
, is currently in the state senate's appropriations committee. You can track its process at
www.legis.state.pa.us
.