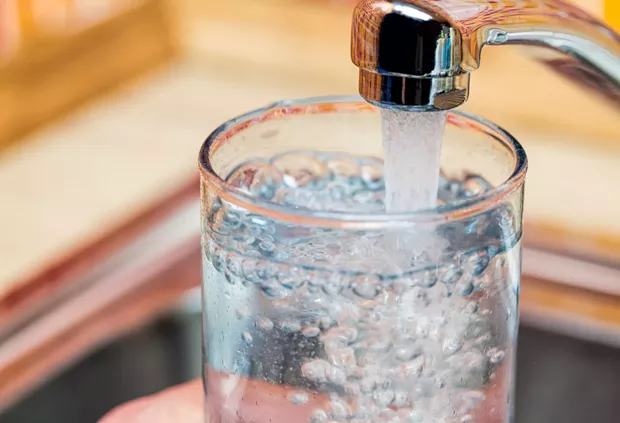 Last night, Pittsburgh Water and Sewer Authority issued a " precautionary boil and flush" advisory for more than two dozen Pittsburgh neighborhoods in the central and eastern parts of the city, which include more than 100,000 residents. The advisory was released after testing at one sight in the Highland Park Reservoir showed chlorine levels lower than the state's standards for drinking water.
"The temporary advisory is the result of recent disinfection and chlorine testing taken at a single location near the Highland Park drinking water filtration plant," PWSA said in a press release.
At a press conference in Homewood earlier today, PWSA interim director Bernard Lindstrom said that he doesn't believe this is a water-quality issue and the agency is taking precautionary measures to ensure safety in the tap water. Lindstrom said that advisory will remain for at least three days and that the issue was most likely caused thanks to a faulty chlorometer, a device that reads chlorine levels or a mechanical error of some kind.
Amidst public concerns over possible
giardia bacteria contamination
in the water, Gina Cyprych, PWSA director of water quality, said the authority is awaiting test results on contamination.
Pittsburgh Mayor Bill Peduto's chief of staff Kevin Acklin also said the city was "acting out of caution" by providing clean water at 15 distribution centers across the city and that the city is looking for clarity on how to move forward from the Department of Environmental Protection.
"We believe this is not a water-quality issue," said Acklin at the press conference. "We are waiting for a response on what to do from DEP."
There are 15 water distribution centers with 2,500-gallon water buffalo tanks in neighborhoods across the affected area.
When
Pittsburgh City Paper
visited the Oakland distribution center at Fire Station 14 earlier today, few people stopped by to fill up gallon jugs. During the time
CP
was there, far more people could be seen transporting cases of bottled water, but a nearby resident Aalexa who chose not to provide her last name, filled up at least six gallon jugs on two visits to the water buffalo.
"It kind of sucks because it's inconvenient," said Aalexa who received a robo call alerting her of the flush and boil advisory last night.. "But I appreciate that they learned some things from Flint, Mich. and were fast about responding."
Aalexa was fortunate to live near the distribution station but transportation to these centers can be difficult for those who don't have a car. In response, according to a statement, the city will be delivering bottled water to schools, community centers and residents "on a priority basis."
A statement from the city also said they have "stockpiled a large supply of bottled water," and have "been accepting donations of new sealed water bottles from interested providers."
Pittsburgh Public Schools superintendent Anthony Hamlet said at the press conference that all schools will be opened Feb. 2 and Feb. 3, after 22 schools closed down for Feb.1 following the advisory. Hamlet said that the 22 affected schools will use bottle water and they are "working to secure additional water."
And ride-hailing service company Uber today announced they're pledging $20,000 in free rides to and from water distribution centers in Pittsburgh.
"We want to ensure that transportation is not a barrier for Pittsburghers in need of safe, clean water," said Jennifer Krusius, general manager for Uber Pittsburgh. "Uber stands ready to help during this difficult time however we can."
According to a release from Uber, the first $10,000 will fund rides to all Uber riders in Pittsburgh and Uber says "the remaining $10,000 will go toward free rides for underserved communities, as identified by city officials." Trips to the centers will be free up to $10 per ride each way and each user may only use one free roundtrip ride. Uber says a "$10 ride on uberX covers the vast majority of rides within 5 miles of a distribution center."
Here's a list of the water distribution centers.
• Pittsburgh Engine Co. No. 7, 4603 Stanton Ave., Pittsburgh PA 15201
• Fire Station 6, 3958 Penn Ave. Pittsburgh PA 15224
• Fire Station 8, 149 N. Euclid Ave., Pittsburgh PA 15206
• Fire Station 10, 2501 Allequippa St. Pittsburgh PA 15213
• Fire Station 12, 4156 Winterburn Ave., Pittsburgh PA 15207
• Fire Station 14, 259 McKee Place Pittsburgh PA 15213
• Fire Station 15, 7024 Lemington Ave. Pittsburgh PA 15206
• Fire Station 17, 7601 Hamilton Ave., Pittsburgh PA 15208
• Fire Station 18, 5858 Northumberland St., Pittsburgh PA 15217
• Fire Station 19, 159 Homestead St., Pittsburgh PA 15218
• Fire Training Academy, 1402 Washington Blvd., Pittsburgh PA 15206
• Shop 'n Save, 1850 Centre Ave., Pittsburgh PA 15219 (Hill District)
• Giant Eagle, 6320 Shakespeare St. Pittsburgh PA 15206 (Shadyside)
• Morewood Gardens Apartments Parking Lot - Corner of Forbes Ave. & Morewood St. Pittsburgh PA 15213 (Oakland)
• Fire Station 13, Hazelwood - 200 Flowers Ave, Pittsburgh, PA 15207
Before using water for drinking, making ice, washing dishes, brushing teeth, and food preparation, people within the impacted area should do the following until further notice:
Flush your water tap by running water for 1 minute or longer, then

Boil water for 1 minute, and let it cool before consumption