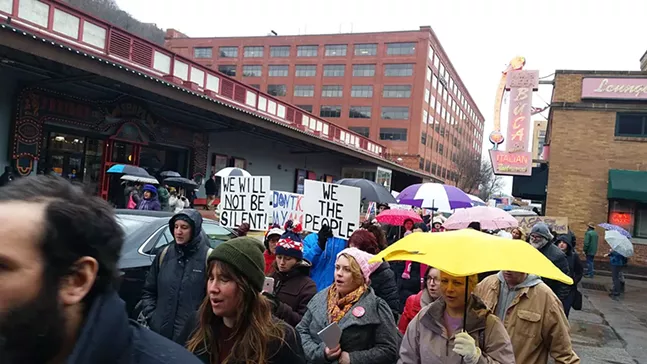 For the past few months, activists around Pennsylvania have been flooding the regional offices of U.S. Sen. Pat Toomey to challenge him in person on issues like health care, immigration and the environment. In response, staffers at the various offices have been meeting weekly with six representatives from each group.
A few weeks ago, Pittsburgh joined in on the effort dubbed Tuesdays with Toomey. The first week, approximately 40 protesters went to Toomey's local office in Station Square. Last week, the number of protesters rose to more than 200, according to organizers.
But this week, the Pittsburgh organizers received an email saying that Toomey staffers wouldn't be able to meet with them. And whether it was due to the staff's refusal or the controversial executive orders signed by President Donald Trump last week, earlier today, an estimated 250 protesters showed up at the senator's local office.
"Things are happening so fast in Washington," said Jennifer McDowell, co-chair of the local Tuesdays with Toomey. "It feel like every 15 minutes something happens that we have to stand against."
On Friday, Trump signed an executive order barring foreigners from several majority-Muslim nations from entering the United States, a move that has generated
serious backlash
domestically and abroad. But yesterday, Toomey released a statement supporting the executive order.
"I support the administration's decision to increase vetting and temporarily suspend the admission of certain individuals from states that sponsor or provide safe havens to terrorists, or are too weak to prosecute terrorists within their borders. Terrorists have successfully infiltrated refugee populations entering Europe and gone on to commit heinous acts of barbarity. I have long been concerned about our ability to distinguish between predominantly peaceful and innocent refugees, and the likely rare, but lethal, terrorists in the midst of those refugees coming from terror havens and lawless lands. That is why I, along with a bipartisan majority of the House and Senate, supported the SAFE Act, which called for enhanced vetting," Toomey said in a statement.
Many of the people who turned out today opposed Toomey's support for the executive order with signs and chants saying "refugees are welcome here." Other protesters marched to protect women's reproductive rights and to ask Toomey not to dismantle the Affordable Care Act and the expansion of Medicaid passed under President Barack Obama's administration.
"The people we serve, they depend on the Affordable Care Act. They depend on Medicaid expansion," said Kim Evert, CEO of Planned Parenthood of Western Pennsylvania. "If you take away the Affordable Care Act, if you take away Medicaid expansion, it hurts women's health".
Hundreds marched past Toomey's office and stopped at the Smithfield Street Bridge, where they invited participants to share their health-care stories.
One woman said she's had cancer four times in the past 11 years. Another man told the crowd the story of his mother, who he says died because she couldn't get health insurance. And a woman said that a family member couldn't receive a life-saving transplant until the doctor was told whether the person could afford post-op medications; the only way her family member could pay for these medications, the march participant said, was through Medicaid.
"I felt like the only power I had available is to put my body in the street," said another protester, Jennifer Lawton.
In addition to the street protests, thousands have been flooding Toomey's offices with calls and, when those calls weren't answered, they turned to the fax machine. According to a list compiled by the website
Fax Zero
, which lets people send faxes for free, in the past 24 hours, Toomey has received more faxes from users than any other representative, clocking in at 1,660.
"Toomey needs to understand that he works for all of us," said Melissa Harkes. "I'm hoping other people see us protesting and making a difference."