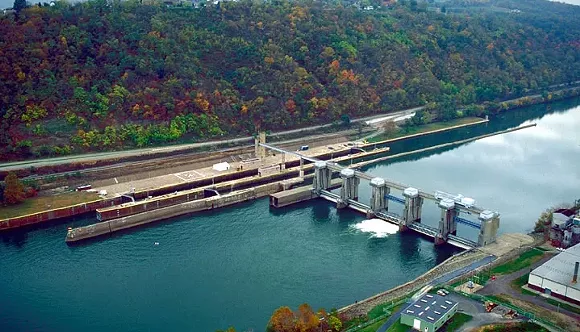 Okay infrastructure nerds, don't get too excited. A report obtained by the
Kansas City Star and McClatchyDC
reveals President Donald Trump's top 50 infrastructure project priorities, totaling $137.5 billion.
Pittsburgh-area projects are listed at 45 and 46 on the list and come with a $2.6 billion price-tag. But sorry to those North Hills residents, who
voted for Trump in troves
, you are not getting that light-rail line to Pittsburgh you have always wanted. In fact, the two Pittsburgh projects are more of the necessary, but boring variety.
Priority number 45 is a much-needed upgrade to the locks and dams on the Ohio River in Emsworth, Moon, and Beaver County. According to the
report
, these facilities are the "oldest and smallest lock chambers" on the Ohio River. And priority number 46, is also a lock and dam upgrade, this one on the Monongahela River in Charleroi. Not the sexiest of projects.
However, combing through the list shows Trump does have an inkling for supporting some pretty exciting infrastructure plans. A proposed high-speed rail line between Dallas and Houston is on the list at number 13. Also some green infrastructure plans make the list, including a wind farm in Wyoming and a storm water reduction plan in Cleveland.
And while Pittsburgh's plans are comparatively dull, both of the lock-and-dam projects would surely be a boon to the economies of these river towns (they could provide up to 2,600 jobs,according to the report). But even though Trump campaigned on providing $1 trillion in infrastructure spending, that doesn't mean any of the projects are close to a reality.
Any large infrastructure bill would need to get U.S. Congressional approval before going through, and Senate Majority Leader Mitch McConnell (R-Kentucky) stated after Trump'selection victory that a big infrastructure plan was
not a big priority
to Congressional Republicans, who control both the House and Senate.
Regardless, Pittsburgh is in need of an infrastructure boost. According to a 2011
Transportation for America repor
t, Pittsburgh has the highest percentage of structurally deficient
bridges
in the country at 30.4 percent. Oddly, number 6 on Trump's priority list is a project to address 15 of Philadelphia's structurally deficient bridges. Classic, Philly, always getting all the
Pennsylvania attention
.