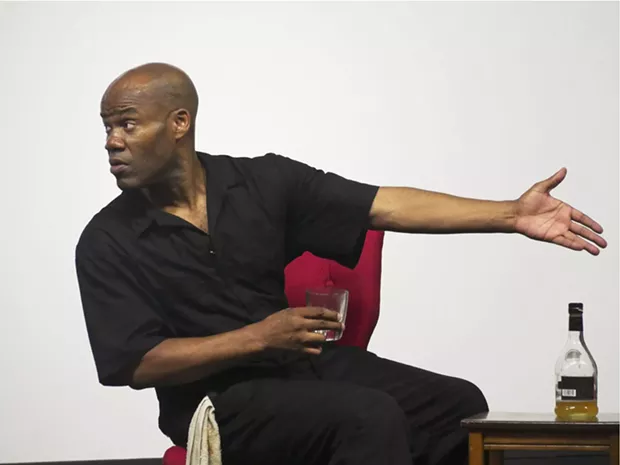 "With places I've grown up in the world, and things I've seen, it seems to be a shuffling thing: What is black?" says
Michael Phillip Edwards
. Edwards' 2015 play
I Am Not Sam
constitutes an investigation.
"One of the things that fascinated me is, at one point the Irish in America weren't considered white, but then after awhile they were allowed to be white," says Edwards by phone, shortly after arriving in Pittsburgh from his home in Los Angeles. That cultural shift, and the questions it poses about the nature of race and racial identity, fascinated Edwards. He decided to explore it through three generations of a fictional interracial family: an elderly black man, his white son-in-law, and his mixed-race grandson.
Edwards plays all three characters. He cites as inspirations performers like Richard Pryor and
Anna Deavere Smith
, in particular Smith's 1992 play
Twilight: Los Angeles, 1992
.
"She performs people and portrays their mannerisms. She doesn't come intellectual," says Edwards. "She lets people talk. When you embody these people, when you unify the voices and shapeshift into them, something else happens. If you separate them, it's a whole other type of statement. There's a statement in unifying characters and shape-shifting. One of the most basic ways of saying it is: We are all one. It's a statement to say we are all one."
Edwards is an actor and playwright perhaps best known for his semi-autobiographical radio play and 2005 feature film
Runt
. The solo stage version won the Scotsman Fringe First Award at the Edinburgh Fringe Festival.
Edwards says that researching race for him is actually a lifestyle, and wasn't particularly attached to
I Am Not Sam
. "We're in the information age, and I research daily! We literally can stop and ask a question. I consider it a joy. And then talking to people. Listening. I was writing something else, for another actor, and we were exploring race with that. And that spawned this play."
Edwards grew up in Canada, but his explorations are perfectly timed toward his adopted country's current political climate. "I'm amazed at Janice Burley Wilson [of the Pittsburgh Cultural Trust] bringing me in now with the election just complete and the country talking to itself right now. There are so many things in this play that are on time to that. The play's on time. I'm nervous about things that are said in this play."
I Am Not Sam
, directed by Tamika Lawson, runs at 8 p.m. both Friday and Saturday night.
Tickets are $28.25 and are available
here
.
The August Wilson Center is located at 980 Liberty Ave., Downtown.