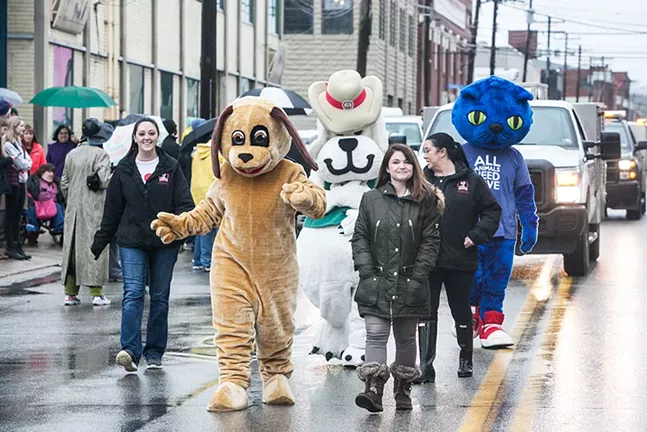 Pittsburgh's Animal Rescue League, in the process of moving from its shelter in Larimer to a new larger location a third-of-a-mile down the road in Homewood, invited the public to watch a Moving of the Animals Parade Monday afternoon.
Staff members and volunteers walking adoptable shelter animals to their new home were joined by shelter mascots, Animal Control and local politicians, including Allegheny County Executive Rich Fitzgerald, Mayor Bill Peduto and Pittsburgh city councilors Dan Gilman and Corey O'Connor. After the parade, Peduto held a ribbon-cutting ceremony outside the new shelter, and guests were invited inside to meet the animals and have congratulatory cake, which featured dog- and cat-shaped decorations.
In September, City Paper
brought you the news
that the Animal Rescue League and Western PA Humane Society were merging. The Humane Society is scheduled to remain open on the North Side, as is the Animal Rescue League Wildlife Center in Verona.
The new Animal Rescue League shelter will hold its official grand-opening celebration at 4 p.m., Sat., April 22, at 6926 Hamilton Ave., in Homewood.