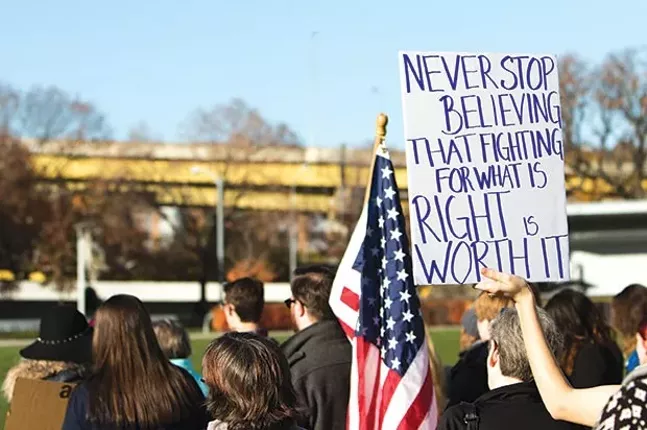 On Fri., Jan. 20, Donald Trump will be sworn in as the 45th president of the United States and people are understandably losing their shit.
But if you're looking for an outlet — a local cause or organization to support, a group of like-minded individuals to befriend or even just to channel your rage through marching and chanting — we've got you covered. Here's a list of events happening in Pittsburgh this week to help you get involved and stay involved over the next four years.
Sign Making Party- Women's March

Workshop PGH DIY School
5122 Penn Ave., Garfield
Jan. 18, 6 p.m. to 9 p.m.
Whether you're going to the march in Washington D.C. or staying in Pittsburgh to attend one of the women's marches here, this event invites you to come make signs in preparation.
The event page on Facebook invites people to "[g]et creative with energizing folks as you prep to make your voices heard. We will have everything needed for the signs such as supplies, paper, cardboard and paint. We'll also have [a] lathe and duct tape to make some soft wood covered posts. We'll pick up all the supplies if y'all donate a few bucks at the party. We welcome any art supplies, duct tape or anything fun!"
The People's Inauguration
Freedom Corner (Crawford Street and Centre Avenue), Hill District
Jan. 20, 12 p.m. to 2 p.m.
This event is aimed at combating racism, xenophobia, misogyny and corporate greed. The organizers are calling for economic, racial, reproductive, climate, education, disability, immigrant, LGBT justice and rights. They are demanding equality affordable healthcare and that elected leaders be held accountable.
A statement on the event's Facebook page reads:
"We believe that diversity makes us stronger.
We come from all corners of the world, and from all corners of our country.
We are fierce. We are strong. We are bold.
We are powerful because we are united.
We vow to stand against hatred in any form.
We vow to defend each other and fight for what we deserve.
Join us in resistance and solidarity.
Join us in the streets.
Join us in town halls, state capitols, and community meetings.
Join us to build a more equitable, sustainable and caring world for our children and generations to come."
Inauguration Day Alternative

August Wilson Center for African American Culture
980 Liberty Ave., Downtown
Jan. 20, 12 p.m. to 2 p.m.
The Friends of the August Wilson Center are hosting an event to celebrate achievements during the Obama administration and the impact the president had on the rights for minorities, women, and the LGBT and immigrant communities.
There will also be an open mic for those who want to share how they plan to fight back against the incoming Trump administration and Republican legislators.
According to the event's Facebook page: "It is expected that this event will create an opportunity for people to come together on Inauguration Day, at the August Wilson Center, with a healing and constructive event, as an alternative to sitting at home alone, lamenting the demoralizing defeat of the progressive agenda by the conservative shift to the extreme right, which elected Donald J. Trump, President of the United States."

Resist Trump
Point State Park, Downtown
Jan. 20, 4 p.m. to 7 p.m.
Socialist Alternative Pittsburgh and other local activists will be hosting a protest against Trump and racism, sexism, homophobia, xenophobia, and what they see as "the rising threat of fascism in the United States."
The group is calling for the formation of a new party for those not in the top 1 percent of wealthiest people. Additionally, they are calling for a national student walkout on Jan. 20.
The group is calling on others to join them "to help build a fighting movement to defeat the right and win major reforms for working people as we struggle toward a future without racism, without sexism, without poverty or hunger; a socialist future."
19th Annual Summit Against Racism

Pittsburgh Theological Seminary
616 N Highland Ave., East Liberty
Sat. Jan. 21, 8 a.m. to 5 p.m.
This two-decades old event was born out of the 1995 death of Jonny Gammage who was killed by police officers during a traffic stop. This year's theme will be "Polarization to Cooperation: How Do We Get There?" and according to the event's Facebook page, it will provide, "a forum for discussion about the current state of race relations in the U.S., what we have learned so far, and pathways to deeper understanding, healing and social action."
Women's March on Pittsburgh
Pittsburgh City-County Building
414 Grant St., Downtown
Jan. 21, 11 a.m. to 1 p.m.
While this event was originally planned as a sister march to the national mach in Washington D.C., there is currently uncertainty about whether the Pittsburgh march is recognized by the national organization.
A statement on the event's Facebook page reads:
"[W]e will unite in Pittsburgh to march in solidarity with communities most affected by the hate, intolerance and acts of violence being perpetuated throughout the nation - -among many are communities of women, immigrants, people of color, people who identify as LGBTQIA and people with disabilities. We stand for religious freedom, human rights, climate Justice, racial Justice, economic Justice, and reproductive Justice. Together, we will send a message to our leaders, and the world, the United States of America stands for the values of human decency, equal rights, and freedom from discrimination."
Our Feminism Must Be Intersectional Rally/March

Penn Plaza Apartments
5704 Penn Ave., East Liberty
Jan. 21, 11 a.m. to 1 p.m.
This event has been advertised as "a hollaback march to the one in D.C." and is being held in East Liberty so participants will have the opportunity to attend the Summit Against Racism. The organizers invite the public to join them "in intersectional solidarity and collective resistance, this is a safe space and we're currently working out all the ways to be welcoming to ALL, including people of color, trans women, gender nonconforming people, those with disabilities, young children and the elders alike."
Reproductive Rights Rally
Cathedral of Learning, Oakland
Jan. 22, 2 p.m. to 4 p.m.
This day marks the 44th anniversary of Roe v. Wade, which protects abortion rights in America, and according to the event's Facebook page, "Although we have had 44 years of legalized abortion, we still have a long way to go to ensure safe and accessible reproductive healthcare." This event hosted by Pitt's American Association of University Women will culminate with a discussion about reproductive rights and justice in room CL 324.
Stay tuned for coverage of these events online over the next few days and in print on Wednesday Jan. 25 where we'll delve into the controversy that has transpired between the two women's marches being organized on Jan. 21.