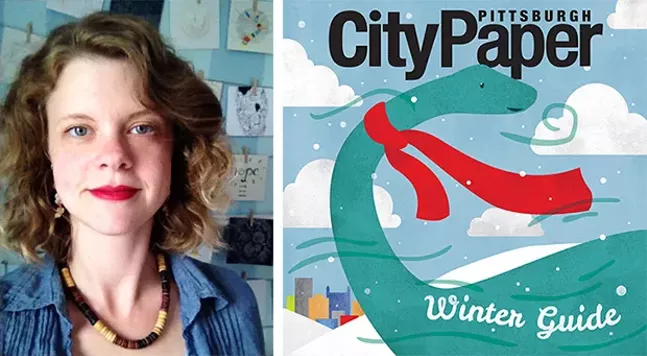 This week's Winter Guide cover is by Pittsburgh artist Rachel Arnold Sager. Local folks will recognize her playful illustration of Dippy the Dinosaur, a life-size statue on permanent display outside of the Carnegie Museums of Art and Natural History in Oakland. That giant scarf he's wearing on our cover? In real life, he's often sporting a knitted scarf during Pittsburgh's cold season too!
Rachel is a self-proclaimed "dinosaur nut" whose artwork often depicts things close to her heart. Her
#girlslikethesetoo
project re-imagined objects typically thought of as things only boys dig — like trucks and robots and bugs — and transformed them as gender-neutral illustrations: A firetruck is pink; and a worm, a whimsical shade of blue, has a smiley face.
In addition to illustration, Rachel also works as a graphic designer at
Second Block Studio
, a business she owns with her husband. They live in the Westwood neighborhood of Pittsburgh with a toddler and a geriatric dog. We caught up with Rachel over email after she was finished with this week's illustration.

Did you always know you wanted to be an artist?
I've always enjoyed art and storytelling of any kind — I was a ballerina for several years and took art classes growing up. When I graduated from high school, I realized I might be able to incorporate art into how I made my living. That blew my mind, and I had to give it a shot.

Where did you learn your skills?
Working at an ad agency really sharpened my general design and communication skills. Illustration was something I did after-hours and on the weekends, and I've just kept with it. Practice, reading, taking classes and becoming more involved with the creative community in Pittsburgh has really allowed me to embrace this as part of what I can offer as a visual artist.
Do you have any favorite Pittsburgh artists?
The work of
strawberryluna
,
Kim Fox
and
Dane Horvath
are some of my local favorites, and it seems like I discover someone new all the time! There are a lot of talented artists here.

Your recent #girlslikethesetoo project is really rad. I know my 2-year-old niece who is currently obsessed with trucks would love that pink firetruck illustration. Did having a young daughter influence that project?
My daughter had a big influence on that project for sure! She likes hearts and ponies and the color pink ... but she also loves dinosaurs, construction equipment and robots.
Illustrating a bunch of things that are usually considered "boy" interests in a more gender-neutral way was really important to me. I'd like to think that any child can appreciate a sweet monster truck, whether it's pink or purple or green. Let's just let kids be kids without applying our own stereotypes as they play.

You've also done a bunch of other daily illustration projects. In December, you posted a holiday "ornament a day" drawing on your Instagram account. Before that, you completed a "100 days" project, where you created an original piece of 5-by-5-inch art every day for 100 days. Do you ever get burnt out, or do those projects help keep you creative?
Daily projects are definitely a challenge, but I get so much out of them. The
holiday ornaments
were a way to launch my new art-only Instagram account, as well as show gratitude to people that enjoy my work. My 100 Days
project
was all about experimenting with different concepts and media. Since most of my work is digital, committing to 100 days of handwork was really tough! But I learned so much from it, and I made some work I never would have created otherwise. And strangely enough, by the end, I felt like I ran out of time; I still didn't get to do everything that I wanted!
I can't recommend a daily project highly enough — whether it's sketching or writing or music ... for a week or a month or 100 days. If you can commit and really stick it out, you'll learn a lot about yourself and what you're capable of accomplishing. It's why I keep doing them.
Soon after you pitched illustrating Dippy on this week's cover, I saw you wrote online that your daughter "legit just cried for the woolly mammoth model after I told her they went extinct." I'm guessing that means you've passed on your love for the Carnegie Museums as well?
Oh, yes! You can never tell what kids are going to like, but my enthusiasm seems to have rubbed off. We say "hi" to Dippy every time we are in Oakland! Pittsburgh is so lucky to have such world-class museums, and I continue to discover new things all the time. I've been doing research on the Allegheny Observatory for another illustration project, and now I can't wait to get in there for a tour when they open up to visitors in the spring. And I'm sure I'll discover some other amazing facility or resource next week.
In addition to illustrating, you also work with your husband at Second Block Studio doing graphic design. What's it like working with your husband? Are there any challenges to working at home?
Working with my husband is pretty great. He's my anchor, creative soundboard and co-conspirator. We are always honest with each other, and that's vital to any relationship —- business or personal. After working so hard for someone else, I try not to sweat the challenges that come up because I'm working from home. I'm in control of my workload and clients, and that feels amazing. Working out of a home studio also allows me to spend quite a bit of time with my 3-year-old daughter, which I'm really grateful for.
What's your dream assignment?
I have a soft spot for print, so I'd like to do a magazine cover with some additional illustrations inside. I'd also love to do a children's book one day.
Since this week is our annual Winter Guide issue, what's your favorite winter activity to do in Pittsburgh?
Hiking in the snow and sledding!

Are you working on anything currently we can keep on the lookout for?
The Pittsburgh Society of Illustrators will have an art exhibit at the Heinz History Center this summer called "Art of Facts: Uncovering Pittsburgh Stories," and I'm really excited about my contribution to that show. I'm planning a daily alphabet series on my
Instagram
, and I'll also be hitting up some craft shows this year with prints — if you see me, please stop by and say "hi." And of course you can always find my work on
Etsy
.