After what is now a well-known feud between President-elect Donald Trump and civil-rights icon and Georgia congressman John Lewis, there has been a growing number of politicians boycotting the Jan. 20 presidential inauguration.
Add Congressman Mike Doyle (D-Forest Hills) to that list. Doyle said in a noontime tweet today, "I'm going to #StandWithJohnLewis. I won't attend the Inauguration on Friday."
Matt Dinkel, head of communications for Doyle, would not elaborate on the exact reasons why Doyle wasn't attending, but said the public scuffle between Trump and Lewis was "certainly the deciding factor." Dinkel could not say if this was the first time that Doyle has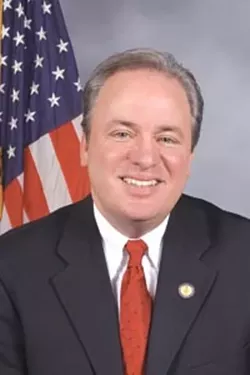 missed a presidential inauguration.
About an hour after Doyle's tweet, there has been an outpouring of support on Twitter for his decision. As of press time, he received 35 replies (almost all of them positive) and 160 likes.
Lewis said on Meet the Press Jan 14 that he didn't see Trump as a
"legitimate"
president, citing Russia's influence in the election. Lewis also said, for this reason, that he would not be attending Trump's inauguration.
Trump in response, took to Twitter, as he does, to hurl insults at Lewis. "Congressman John Lewis should finally focus on the burning and crime infested inner-cities of the U.S.," tweeted Trump on Jan 14. "I can use all the help I can get!"
In response, many congressional Democrats have decided to boycott the inaugurations. According to the
Washington Post
, Doyle joins at least
51 other House Democrats
in deciding not to attend the event. So far, Matthew Cartwritght (D-Moosic) is the only Pa. House Democrat who has not stated publicly whether he is attending Trump's inauguration. The other four, including Doyle, are all not attending.