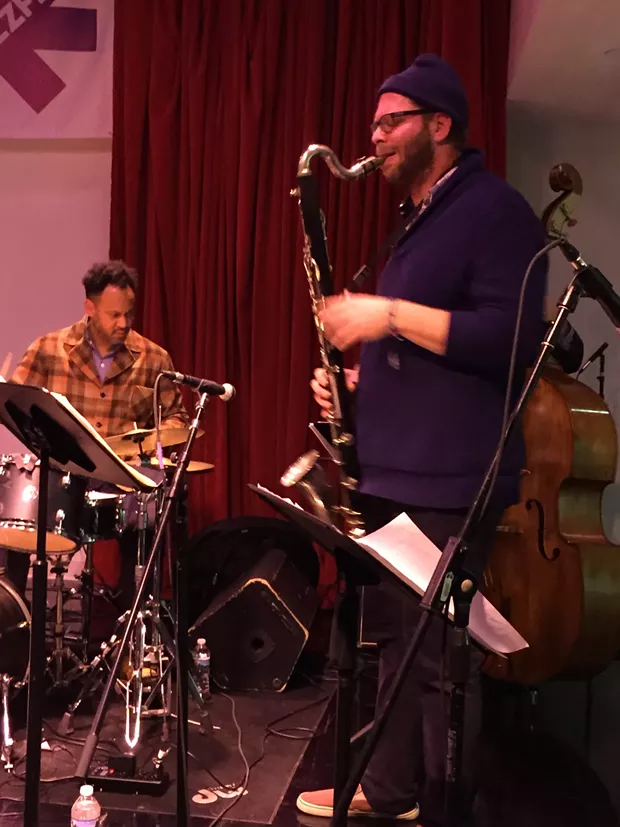 "6 Days. Over 150 Jazz Groups. 600+ Musicians," declares the program for the 13th Annual NYC Winter Jazzfest, which took place in New York City Jan. 5-10.
And yet some knuckleheads feel the need to ponder whether or not jazz is dead. After a weekend traipsing around Manhattan, my feet might not be alive and well, but the music is.
This year, music wasn't the only thing served up in the festival. Issues of racial and social justice threaded through the performances, from specific pieces that addressed them to a panel discussion titled "Social Justice and the Role of Music," which featured musicians and representatives from the American Civil Liberties Union and Black Lives Matter. Between sets at virtually every performance space, slides of festival performers were projected onstage, with quotes from each musician expressing solidarity. The boldest examples of jazz have always held these issues at arm's length, which makes perfect sense since the music is built on the concept of group interaction and discussed with terms like "communication," "expression" and "freedom."
While the weekend included myriad sets at a number of performance spaces, Thursday night featured just a couple of kick-off events. That means everyone clamored to get into (Le) Poisson Rouge to see veteran saxophonist Pharoah Sanders, leaving yours truly out in the cold. Tickets to the Jazz Concert for Disability Pride proved a little too costly, but The Stone offered a cheaper alternative (albeit one not affiliated with the festival). Situated on the Lower East Side, and virtually nothing more than a room with folding chairs and good acoustics, the John Zorn-directed Stone featured a week-long residency by drummer Jerry Granelli. Celebrating "76 years on the planet and 60 years of performance of improvised music," Granelli lead a quartet with Jane Ira Bloom (soprano saxophone), Dave Douglas (trumpet) and Mark Dresser (bass) through a rambunctious set of originals and a spritely Ornette Coleman cover. For all his 76 years, Granelli played with the fury and enthusiasm of someone a third his age. "You're a brave man," Bloom told me, as I took one of the few remaining seats at the 9 p.m. show, adjacent to a music stand used by Douglas, who stood less than five feet from me during the hour-long performance.
Friday evening, with the Jazz Connect Conference wrapped up, it was time to secure the all-access wristband at the New School Tishman Auditorium, at Fifth Avenue and 13th Street; several of the performances took place within a two-block radius. In the building's auditorium, the final moments of Craig Harris' ensemble Breathe started the weekend off on a high note. Or notes, actually. There's nothing as joyous as the sound of a 40-piece ensemble collectively wailing together over a polyrhythmic groove. Thelonious Monk used to talk about "lifting the bandstand" during a performance. The power of Breathe's sound could have lifted the whole block.
After that, a two-piece might have seemed anti-climactic. But since half the duo was NYCWJF artist-in-residence Andrew Cyrille, that was not the case. A drummer who seems to be experiencing a career renaissance that eclipses his important tenure with pianist Cecil Taylor in the '60s, Cyrille paired up with tenor saxophonist Bill McHenry for a sparse but engaging set that included folky melodies ("Drum Song for Leadbelly"), a Monk classic ("Epistrophy") and a more avant piece ("Drum Man Cyrille"), in which Cyrille's bass drum sounded like a droning note. Cyrille played three more times with as many groups during the festival, but unfortunately his other sets conflicted with other must-see acts.
Around the corner at the New School's 12th Street Auditorium, tenor saxophonist Melissa Aldana expanded her usual tenor/bass/drums trio to a sextet, adding piano, vibes and trumpet. The Chilean native, who won the Thelonious Monk International Saxophone Competition in 2013, continues to be one of the instrument's most impressive soloists. The moods in her set recalled 1960s-era Miles Davis, but everything felt more involved, from the writing to the solos. Aldana and her bandmates had the look of conservatory students (Aldana is 28), but they countered that vision with a full-blown maturity in their playing.
Earlier in the evening, there had been no room in the Glass Box Theater to see trumpeter Jonathan Finlayson, so I wasn't going to take any chances on missing Mike Reed's Flesh & Bone, who were set to play in the same intimate space immediately following Aldana. Reed, a drummer from Chicago, who has also done a lot to support original music in that city, brought a sextet that included bass clarinetist (and half-brother of comedian Amy Schumer) Jason Stein and alto saxophonist Greg Ward, both of whom released some of 2016's best jazz albums under their own names. Reed's music moves like a modern, turbo-charged version of Charles Mingus. The drummer and bassist Jason Roebke held down the fort, while the horns took off in whatever direction the mood required. Marvin Tate took things even deeper with spoken-word interludes that captured the social-political concerns of the festival. While these kinds of verbal breaks can occasionally bog down such a performance, I found myself wanting to hear more of Tate's impassioned delivery. When this band releases an album, buy it. Better yet, buy two.
Between the closing roar of Craig Harris' ensemble and Reed's unflagging intensity, that might have been enough. But the night was still young. And drummer Jim Black was playing a few flights up from the Glass Box in the obviously named 5th Floor Theater. Last year, he set up shop in the same place with a piano trio. Tonight, pianist Elias Stemeser traded the 88s for an overdriven synthesizer. Chris Tordini moved from upright to bass guitar, and tenor saxophonist Loftur Gudmundsson proved to be a great partner-in-arms to Stemeser. Black, whose newest batch of songs combined anthemic riffs with free blowing, never ceases to astound, always utilizing every part of his drum kit, including the two crash cymbals that look broken or cut in half.
The city supposedly never sleeps, so I saw no reason to either. Onto the M train to the Village — Bleeker Street to be exact — where tenor saxophone quartet Battle Trance was in the middle of an extensive performance at Subculture. Purists might recoil at the sounds these guys create, but for more than half an hour, they roared out ugly overtones, sang through their mouthpieces like choir boys, screeched out harmonics and — when things seems the loosest — magically came together on a low squonk. Don't miss them when they come to Pittsburgh in the coming months.
Saturday began where Friday night ended for me. Back at Subculture, trumpeter Peter Evans (once a member of the wild and zany quartet Mostly Other People Do the Killing) was finishing up a set marked by extended technique on his horn, filtered through samplers and keyboards by his bandmates.
Pianist Kris Davis followed, performing with three collaborators who appeared on her recent set of duets,
Duopoly
. While that album had some intriguing moments, seeing the interactions unfold onstage gave it extra life. Billy Drummond joined her for Monk's "Eronel," playing so sparsely at first that a patron's footsteps in Subculture were more audible than him or Davis. Angelica Sanchez joined her next, taking the piano while Davis shifted to electric piano. The two of them carefully divided duties in solos and chord changes, resulting in some delightfully angular poking and pounding. When alto saxophonist Tim Berne had his turn with Davis, her accompaniment in the upper register sounded like shattering glass, and led to a performance with more energy than their studio outing.
The Tishman Auditorium was filled to the rafters with eager listeners ready for various artists on the ECM label, which began in Germany 48 years ago and continues to release a wealth of jazz and classical releases. Saxophonist Ravi Coltrane and pianist David Virelles haven't released an album for the imprint together, although the latter now has dabbled in his own version of world music on two discs for them so far. Still they made a strong pairing in the auditorium. Playing tenor, soprano and sopranino saxophones, Coltrane often played with a lithe tone that would fit in well on ECM and made a good contrast to Virelles' heavier attack. The saxophonist never uses his late, iconic father (John Coltrane) to elevate his own status, but he's also not averse to digging into material from his father's legacy. His brief version of "Monk's Mood," the deep cut Thelonious Monk ballad, went way out of tempo, much like Dad did with the composer at Carnegie Hall in 1957. Later, Coltrane donned his sopranino (a horn rarely heard outside of more avant-garde situations) for a slow, methodical take on "Lush Life," the ballad Billy Strayhorn wrote while still living in Pittsburgh.
This makes me sound like a real tourist, but I couldn't help but think that SOB's takes its name not as an abbreviation of "Sounds of Brazil" but due to the fact that they charge $12 for a mixed drink served in a plastic cup. On the other hand, since no booze was sold at any of the New School venues, and since the roughly 8-ounce drink produced a great buzz, it was worth it. The real reason to travel to SOB's was Marc Ribot's Young Philadelphians were putting their harmolodic spin on some classic (albeit slightly cheesy) '70s R&B hits. Last year, I slightly disparaged the band's
Live in Tokyo
disc due to the lackadaisical vocals bringing down an otherwise solid performance by two of the most ingenious guitarists in modern rock or jazz (Ribot, Mary Halvorson) and a funky rhythm section that has close connections to both genuine funk and Ornette Coleman's harmolodic approach (bassist Jamaaladeen Tacuma, drummer G. Calvin Weston). In person, the vocals were mere trimmings to a wild re-imagining of tunes like "Fly Robin Fly" and "The Hustle." The quartet definitely elevates them to levels that Silver Convention and Van McCoy never imagined when they first recorded them.
In keeping with the modern twist on things, my Winter JazzFest ended back at the 5th Floor Theater with TALIBAM! HARD VIBE. Drummer Kevin Shea (another member of Mostly Other People Do the Killing, who once lived in Pittsburgh) and keyboardist Matt Mottel have been blowing listeners' ears away with their irreverent, free improvisation in TALIBAM for several years. Adding MOPDtK's Ron Stabinsky on additional keyboards and Matt Nelson on tenor "a-xophone" (essentially a tenor with electronics attached to it), they band rocked hard on an extended piece. Quite honestly, their set is now a blur not because of the performance but because by that point in the evening, I was spent. Shea slipped me a copy of their upcoming disc on the legendary ESP imprint, which will help me relive the evening though.
The one regret of the trip was missing the Liberation Music Orchestra, which played Tuesday night, two days after I returned home. The late bassist Charlie Haden first launched the ensemble in 1969, playing politically charged music "dedicated to creating a better world … where men of all governments realize the vital importance of life and strive to protect rather than destroy it." Even with Haden's passing in 2014, the Orchestra lives on, in this case with the University of Pittsburgh's Geri Allen leading it. Maybe she'll bring it to town someday.