In an
interview
last month,
Fences
star and director Denzel Washington mentioned a Hill District man who lives behind the house where much of the filming for the movie was done. According to Washington, the man, known only as Mr. Greenlee, frequently offered the crew coffee.
"The neighborhood was a part of making the film; the energy, everybody's love for August," Washington said in the interview. "Mr. Greenlee, who lived behind the house we used for Troy and Rose's house, became a part of the movie. He'd always come out, ask. 'Hey, what are you doing?' 'We're shooting Mr. Greenlee.' 'All right. Want some coffee?' That's all he'd ask, do we want coffee."
Last night, at a private screening of the film, based on the play by Pittsburgh native August Wilson, Washington took time out of his brief comments to recognize Mr. Greenlee for his hospitality.
The screening at SouthSide Works Cinemas was for local film cast and crew along with residents of the Hill District where much of the film was shot.
"I know you'll enjoy it. It started here. It's only right that we finish it here," Washington said. "This is our last screening. I wanted to get back here to Pittsburgh. August Wilson belongs to you. Pittsburgh belongs to you.
Fences
belongs to you."
The story of
Fences
, based on Wilson's 1983 play, centers around a man struggling to provide for his family in the 1950s.
"People have been asking me everywhere we go, what do I want people to get from this movie and I tell them, it depends on what you bring to it," said Washington. "For some it's mothers, for some it's sons, for some it's fathers."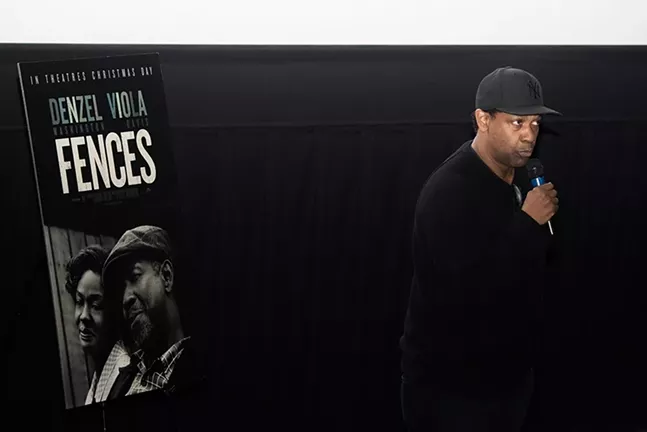 Fences
is one of Hill District-born playwright Wilson's 10 plays set in each decade from 1900 to 1990, known as the Pittsburgh Cycle. Paramount Pictures originally purchased the rights to the film in 1987, but it took nearly two decades for the film to be made because Wilson insisted on a black director.
"He's one of the greatest writers not just in American history, but world history," Washington said. "It is a pleasure and honor, a responsibility and a privilege to bring this to the screen. The responses have been more than we could have imagined."