Let's be real here: I'm a huge fan of the wrestling entertainment industry. Each time I encounter a naysayer, those, "You know it's fake, right?" scrooges and skeptical grumps, all I want to do is drag them to a live WWE event and let them witness the magic. There are few things in this world that feel more electric than descending into the 100s of the PPG Paints Arena to be greeted by an untouched wrestling ring accented with extravagant Jumbotrons bearing the namesake of the event.
Sunday night was no different, as the (albeit, pretty small) crowd was full of excitement from the young and old who gathered to watch fas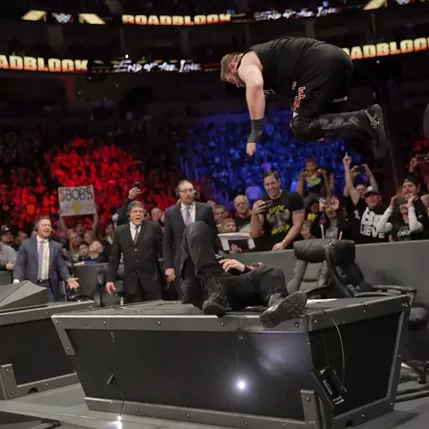 t-paced, carefully choreographed fights built upon dramatic story lines and hear some tremendous smack talk in the name of WWE's 15th and final pay-per-view of the year, Roadblock: End of the Line.
If that sounds like a lot of pay-per-views, it is. The amount of PPVs, in my humble opinion, dilutes the opportunity for creative story lines or big shocks because there are just way too many to manage in addition to the weekly appearances of RAW and Smackdown Live. Everything that happened at this PPV totally could have happened on a loaded episode of RAW, but I'm hoping that we get a crazy RAW to complement the action witnessed at Roadblock.
That said, there was some incredible wrestling and storytelling witnessed at Roadblock: EOTL. Here's the match-by-match breakdown:
Rusev def. Big Cass by Count Out
It is a real shame that his match was a pre-show event, because Enzo Amore's smack talking was on fire last night (I'm still chuckling about the Wikileaks digs at Rusev's wife, Lana the Ravishing Russian). There was so much RAW hype leading up to this event with the hotel room beat down of Enzo two weeks ago and the "Rusev and Lana: Behind Closed Doors" promo last week, so for this to be relegated to the pre-show was pretty odd. It also was rather by the book, ending with a count out so neither wrestler looked weak. I understand neither Big Cass nor Rusev can afford to look weak given their gimmicks, but the match's outcome was no surprise.

Cesaro & Sheamus def. The New Day to become the new tag-team Champions
After just beating Demolition's record as the longest reigning WWE World Tag Team Champions, The New Day lost in an incredible match to the odd couple of Cesaro & Sheamus. It was a bit of a shock to see the New Day lose their title so quickly after beating the record, but the extra cheating shenanigans seem to indicate they're headed for a total heel turn, which should be pretty cool. The wrestling was excellent, Cesaro and Sheamus' fake tag at the end to win the match was genius, and the crowd's hilarious split reactions to Sheamus (boos) and Cesaro (cheers) was almost absurd. Overall, this match was a highlight of the night.
Sami Zayn def. Braun Strowman by surviving 10 minutes in the ring with Strowman
When WWE must put an explainer description on the results of this match, you know it wasn't great. I'll be frank, this match was a confusing waste of time. I have no idea who they're trying to build up, the only good part was the last few minutes, and I don't understand why they are wasting Zayn's talent as a dynamic wrestler to pin him against some brute force whose gimmick is literally being big and scary and undefeatable, despite the fact he's not even close to an actual championship story line.
Unless Nia Jaxx (the brute force, undefeatable woman wrestler on RAW's roster) and Strowman start to feud, I really have no comprehension of what Braun's shtick or purpose is. Give Sami Zayn a championship run or at least have him beef with someone that will give the crowd some fast-paced, high-flying action instead of this boring, predictable beat down nonsense.

Seth Rollins def. Chris Jericho
This match was a lot of fun to watch, complete with a little Kevin Owens interference to solidify the rift in JerichKO's beautiful bromance. It was a necessary set up for what turned out to be the main event, and it showed off the prowess of both superstars. All around a great match to witness, even if I really had a hard time picking who I wanted to win because I love both superstars and their gimmicks.
Rich Swann def. TJ Perkins and The Brian Kendrick to retain the Cruiserweight belt

The Cruiserweight match was pretty cool. Swann is such an awesome, charismatic character. His intro music is fun, he's so speedy and dynamic. The match was pretty good, technical as most Cruiserweight matches are, but there was noticeably less of the acrobatic action that makes this weight class fun to watch in the first place.
In response, the crowd was pretty quiet, but the character development of these wrestlers is split between three shows: RAW, Smackdown, and 205 Live, so you can't blame the audience for being a little cold. The crowd did pop, however, when Neville aka "The Man that Gravity Forgot" came out after the match and tured heel, whooping everyone in the ring starting with Rich Swann. I'm excited to see what Neville does in the division.
Charlotte def. Sasha Banks in an Ironman Match in Sudden Death Overtime to regain the Women's Championship Title
Charlotte arrived first, starkly alone after disowning her father, Ric Flair, and pushing away her usual allies in the name of winning on her own. It was refreshing to see her alone and assured, but the crowd erupted when Sasha Bank's music began. Banks is just such a likable character for her scrappy youth and bravery. The minute the timer started for this 30-minute ironman match, the crowd was invested. It was tense, it was defiant. There were moments of shock, comebacks from both superstars, and so much tension, all of which built up to its conclusion in sudden death overtime.
As much as I didn't want this match to be predictable, I think we all deep-down knew that Charlotte was going to win, as she always wins during PPVs and Sasha always wins on RAW. This match, thirty minutes of brain and brawn trying to outsmart the other for the most pins, had some excellent and impressive moments, but it ended the way it always ends. Charlotte Flair works a previously injured limb, eventually Sasha taps to the figure eight, roll the credits. This was supposed to be the end of Charlotte and Sasha's long-standing beef (please, God, let this be the end), but I guess we'll see on Monday Night RAW.
Kevin Owens def. Roman Reigns via disqualification to retain the WWE Universal Title
I went into this match expecting a lot of the same old, same old, but I was pleasantly surprised by the action and big hits from both Owens and Reigns. At this point I desperately had to pee, but I stuck around until the end because I wanted to see who would overcome. Of course, Kevin Owens did not win fair and square (he's a heel, after all) and won thanks to the interference of Jericho. Interesting that Jericho chose to go after Owens instead of Reigns to secure the DQ, but nonetheless we get that picture perfect hug of two friends forgiving each other after hard times. I can't wait to see that friendship implode for good, because that feud is going to be magical.
My favorite part of this match may have been the surprise Shield reunion after its conclusion, complete with both Jericho and Kevin Owens getting hucked through announcer tables (swoon). Watching Reigns and Rollins team up, fist bump and all, was a super fun conclusion to a middling PPV.