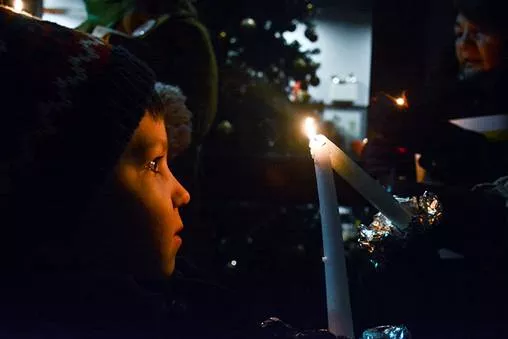 Rob Conroy knows exactly where he was four years ago on Dec. 14, 2012.
Conroy, a anti-gun-violence advocate with CeaseFire Pa., was at the final day of a conference for fellow advocates in Washington, D.C., discussing tactics and strategies to combat gun deaths.
As they spoke, news started filtering in about an incident at an elementary school in Newtown, Conn. It started as only one wounded. Then a teacher was announced dead. Next came news that a few children were casualties as well. The number of dead rose still higher.
As everyone was preparing to catch their flights home, the final tally from that day became clear — 26 dead, including six teachers and 20 children. As "horror filled his heart," Conway recalled weeping around him — as well as a resolve building.
"Every single person stopped in their tracks," Conroy said. "[And] everyone just wanted to know 'what can we do?'"
That call for action led him and 30 other Pittsburgh residents to gather at Jeron X. Grayson Community Center in the Hill District on the fourth anniversary of the tragedy to reflect on their grief from that day. They also thought of the 35,177 gun deaths from the day of the massacre to 2014 — the most recent year for which the Centers for Disease Control and Prevention has data.
Kate Oravec, a retired educator, attended the meeting as a member of Moms Demand Action for Gun Sense in America. Remembering the lock-down drills she practiced, Oravec said that the feeling of even an imaginary shooting was "enough" for her.
"I put myself in my school [during a school shooting] ... I can't even imagine," she said.
Some attendees, like Penn Hills resident
Wynona Harper
, didn't need to stretch their imaginations to feel the loss from guns. Three years ago, on Nov. 14, Harper lost her son, Jamar Hawkins, who was shot and killed.
In response to the violence, she joined CeaseFire Pa., as well as forming Jamar Place of Peace, an activist group that hopes to "redirect" the "dysfunction" in neighborhoods like her own that led to her son's death.
"[Gun violence] comes from where they live at," Harper said. "We have to come together to help one another."
Speaking to the crowd, community activists like Rich Carrington, of Voices Against Violence, and Tim Stevens, of the Black Political Empowerment Project, implored the crowd to hold onto the energy that brought them to the community center on the frigid night and use it to continue to pursue activism — whether by attending more meetings or pressuring their representatives in Harrisburg and Washington, D.C.
"We owe it to ourselves to not let this issue be buried in the graves of the children because we are tired," Stevens said.
The night concluded with a candlelight vigil and prayer outside of the community center led by Rev. Liddy Barlow of the Christian Associates of Southwest Pennsylvania. Barlow said she attended the event to bring attention to the "violence in the streets" she feels her faith should be more vocal about.
To ward off the cold, attendees huddled deep into their coats as they cupped flickering orange flames in their hands. Some began to cry, leaning onto compatriots for support as Barlow began to list the first names of victims at the Sandy Hook school in Newtown — "Madeline," "Noah" and "James."
Through the tears, Barlow still tried to present hope.
"We are here because we have not lost faith," Barlow said. "We still believe we can make a difference."