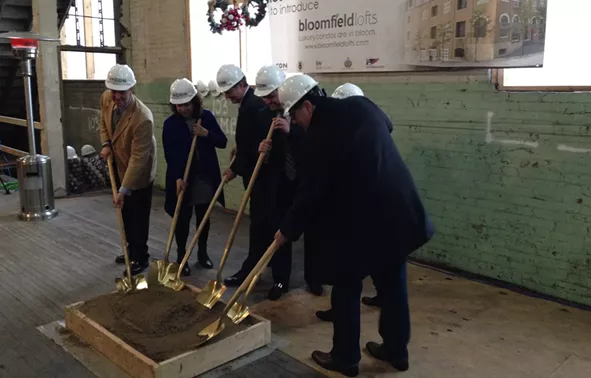 A neighborhood with historical Italian roots, Bloomfield is taking a step toward joining neighborhoods like Lawrenceville, the Strip District and East Liberty in the luxury-apartment boom.
"We are happy to invest millions of dollars into this neighborhood," said Jason Lardo, owner of ICON Development, which is financing and rehabbing an old factory. "It's beautiful for the neighborhood to embrace us."
Lardo, who spoke at Dec. 6 groundbreaking event complete with live jazz and a cocktail bar, said that six of the 18 units have already sold, and that most of the buyers are from a younger crowd. Bloomfield Lofts offers condos for sale ranging from $269,000 to $451,000. Add in up to $324 in monthly homeowner's-association fees, and these units are sure to become some of the most expensive homes in Bloomfield. According to U.S. Census figures, the average home price in the section of Bloomfield where the lofts will be built was $139,000 in 2014, up from $87,000 in 2010.
The building, on Cypress Street, sat vacant for more than 20 years and previously housed a laundry company. Pittsburgh Mayor Bill Peduto was happy that some investment was coming to the neighborhood and that the building was being repurposed instead of torn down.
"When you look at a project like this, you can see its history," said Peduto at the event. "It's great this building could find a new way to accomplish an adaptive reuse."
However, the new luxury condos also contribute to Pittsburgh's upscale-apartment boom that has increased rents throughout the city, especially in Lawrenceville and East Liberty, driving longtime
low-income residents into the suburbs
. (Bloomfield had largely avoided upscale development over the years, but still saw its average rent rise from $642 in 2010 to $875 in 2014, according to Census figures.)
The Bloomfield Lofts are pure market-rate housing, and don't have any affordable-housing components. Peduto said that in the future he would like to see new housing developments like these include affordable units, but said those require different financing structures where developers seek government subsidies.
But Peduto said projects like Bloomfield Lofts can help keep some other rents down, since Bloomfield has experienced demand (the population has grown slightly over the years, according to the Census) and new units help to grow the housing stock instead of putting more pressure on a limited number of homes.