Never-predictable Quantum Theatre surprises again, this time with a chamber opera about neurology. It's a heady show, with gorgeous music (by Michael Nyman) beautifully played by a small orchestra and beautifully sung by the three-person cast.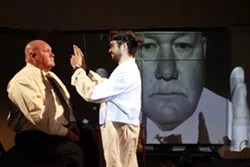 The source material was a 1985 nonfiction best-seller by Oliver Sacks, a collection of essayistic case studies about people with unusual neurological conditions. (The title character, a famous concert singer, can see just fine, but his brain can't process visual images; instead he uses music to navigate the world. He easily masters schematic thought – he's brilliant at mental chess – but in one scene it takes him two minutes to name the glove in his hand a glove.)
Quantum's production is this 1986 work's Pittsburgh premiere. Here's Ted Hoover's
review
for
City Paper
.
One remarkable thing about the opera itself is that the libretto, by Christopher Rawlence, Michael Morris and Sacks, is drawn almost verbatim from Sacks' book. And if you don't consider that notable,
you
try finding the music in lines like "I could make no sense of what I'd seen in terms of conventional neurology."
(Side note: The late Sacks, who was a longtime favorite on public radio's ace show
Radiolab
, himself had an unusual neurological condition known as face-blindness.)
The show, staged in a vacant first-floor office space in East Liberty, has four more performances. Wednesday's is sold out, but tickets remain for Thursday, Friday and Sunday.
The venue is at 200 N. Highland Ave. Tickets are $38 and are available
here
.